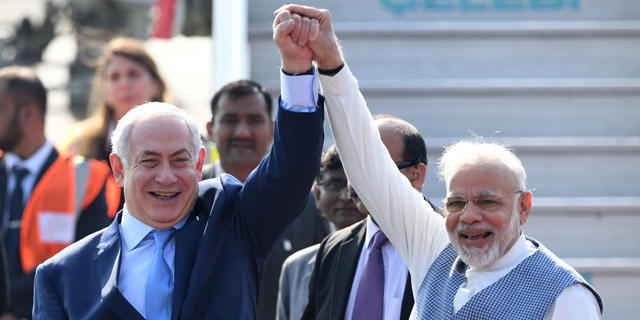 Netanyahu Postponing India Trip, Report Says
On Tuesday, Israeli news outlet Ynet reported that Netanyahu canceled his meeting with Austrian president Alexander Van der Bellen due to illness
Adi Pick
|
09:09 08.02.2019
Israeli Prime Minister Benjamin Netanyahu was scheduled to visit "India only for a day on February 11 and a meeting with Prime Minister Narendra Modi has been confirmed"
according to
the Indian television news outlet, Channel 18. On Monday, Indian news magazine The Week reported that the visit appears to have been postponed.
For daily updates, subscribe to our newsletter by clicking here.
The Israeli foreign ministry declined to comment on the planned trip.
reported
that Netanyahu canceled his meeting with Austrian president Alexander Van der Bellen "due to illness". The Israeli national security advisor Meir Ben-Shabbat met with Indian Prime Minister Narendra Modi in India last month. Netanyahu tweeted about the visit, and said that "security deals" were discussed.
National Security Adviser (NSA) Meir Ben-Shabbat returned from on Tuesday night from a visit to India during which he met with Indian Prime Minister @narendramodi . During the visit, Prime Minister Benjamin Netanyahu spoke by telephone with his Indian counterpart. pic.twitter.com/Ven1XtExxH

— PM of Israel (@IsraeliPM) January 17, 2019
Since their founding in the late 1940s, the two countries maintained stable, yet relatively cold, diplomatic relations. In 1992, Israel and India established full diplomatic relations. Recent years have seen bilateral relations between the countries blossom. In January, the Israeli prime minister made a state visit to India, reciprocating a visit to Israel by Modi, a first by an Indian prime minister. Both prime ministers were accompanied by business delegations looking to further intensify trade. India accounted for 49% of Israeli arms export between 2013 and 2017, making Israel the third largest supplier to India, according to the 2017 arms transfer report by the Stockholm International Peace Research Institute (SIPRI). In 2017 alone, $2 billion worth of missile system deals were signed between state-owned Israel Aerospace Industries (IAI) and India, amounting to nearly 22% of Israel's overall $9.2 billion in arms exports that year.