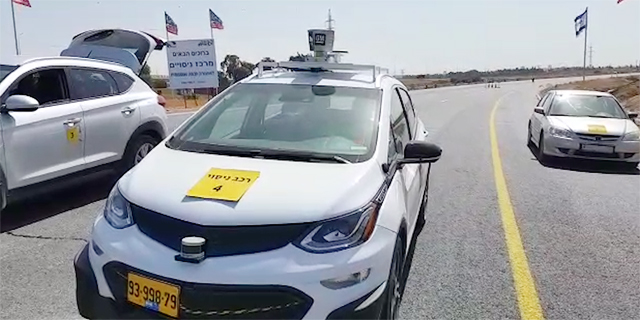 Despite Tech Prowess, Israel Ranks Low on Autonomous Vehicle Readiness
Israel is home to 500 to 600 automotive-related companies, around a fifth of which focus on autonomous technologies, according to KPMG
Lilach Baumer
|
12:13 18.02.2019
Israel is a hub of autonomous vehicle technologies, but when it comes to readiness for the future car it ranks below the median. A 2019 Autonomous Vehicle Readiness Index published by global accounting firm KPMG placed Israel in 14th place out of 25 countries surveyed.
For daily updates, subscribe to our newsletter by clicking here.
In 2017, Intel acquired automotive chipmaker Mobileye, turning the latter's Jerusalem headquarters into its global center for driverless cars operations. Automakers including General Motors and Mercedes-Benz are developing autonomous technologies in the country, and Volkswagen has recently partnered with Mobileye on a
robotaxi
service intended to
launch
in Israel later in 2019.
Daimler
and Volkswagen subsidiaries
Skoda
and
Porsche
invested in Anagog Ltd., a Tel Aviv startup whose AI technology can track drivers and predict their needs based on data from their mobile phones.
BP Ventures, the venture capital arm of multinational oil and gas company BP PLC, invested in Israel-based quick-charging battery startup StoreDot Ltd., as did Daimler.
General Motors is testing autonomous cars on
dedicated roads
in Israel, as do Mobileye and Tel Aviv-based auto machine vision startup Nexar Ltd. "Perhaps the most interesting thing about AVs in Israel are the investments being made to create them," said in the report Hillel Schuster, head of management consulting at KPMG Israel. "Most of Israel's businesses are oriented towards creating solutions for international companies." A more recent development in the Israeli automotive sector is the increasing interest of Chinese players, as part of growing Chinese
interest
in Israeli technologies. Mobileye is again spearheading the expansion with
15 partnerships
with Chinese auto manufacturers, including Baoding, China-headquartered Great Wall Motors Company Ltd., state-owned Dongfeng Motor Corporation and Shanghai General Motors,
Baidu
, and the
Beijing Public Transport Corporation
. Other companies including LiDAR startup
Innoviz Technologies
Ltd. and radar for autonomous vehicles developer
Arbe Robotics
are also making inroads into China.