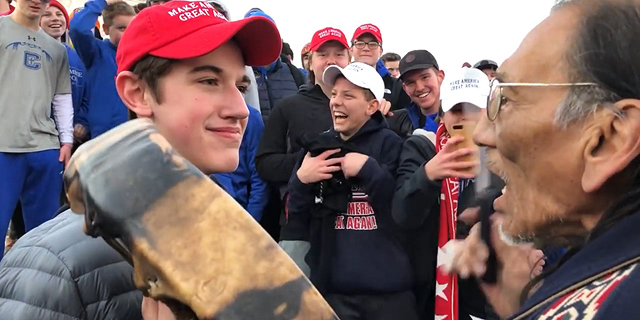 Opinion
Does the Right to Be Forgotten Mean Never Having to Say You're Sorry?
Taking down offensive online content when it becomes problematic to our narrative is not a new concept but a standard operating procedure, replacing the socially responsible practice of acknowledging mistakes and apologizing for them
Dov Greenbaum
|
09:18 15.03.2019
Early this year the U.S. Twittersphere was raging over a video of a teen wearing an arguably provocative "Make America Great Again" (MAGA) hat who appeared to be mocking a Native American elder with a drum at the Lincoln Memorial in Washington D.C. In the age of immediate information, a 24-hour news cycle, and a desire to always be the first to report, the short video of that altercation stirred many armchair warriors on both sides of the political divide to immediately express their visceral feelings on social media.
For daily updates, subscribe to our newsletter by clicking here.
As information continued to come in regarding the incident in the following days, it appeared that the short video may have misrepresented the situation. While established news sources issued corrections and clarifications, many of those aforementioned part-time pundits who tweeted conclusions that fit their desired narrative, including some well-respected journalists, simply deleted their initial tweets that could now be seen as inappropriate if not outright malicious.
Taking down offensive online content when it becomes problematic to our narrative is not a new concept. At this point, it is simply standard operating procedure—when you do something very publicly that you now regret, first thing, remove it from your social media presence. But, as the cover-up is often worse than the underlying sin, the deletion of an inappropriate tweet made in haste often calls even more attention to its author; the internet never forgets, and if it did, screenshots of your follies always exist somewhere.
The repercussions of a cover-up notwithstanding, deleting rather than acknowledging your mistakes effectively sanctions the option of avoiding the socially responsible response of apologizing. Arguably an undesirable societal trend in the long run, the ability to delete your past blunders is actually being promoted by current European legislation.
With the right to be forgotten enmeshed in the General Data Protection Regulation (GDPR) of the European Union, we will likely see even more of this behavior: rather than acknowledging our errors, we can delete them and demand that other entities, such as Google, Bing, or Twitter, make them subsequently inaccessible.
While a number of multimillion-dollar lawsuits relating to the Washington incident are now pending, another landmark case, relating to medical negligence, forced Google to delete references to a Dutch doctor on an unofficial blacklist website. Although the doctor was suspended from practicing medicine, her suspension was later successfully appealed and she was allowed to practice again, but she remained on the site. The court found Google's results linking her name to the blacklist to be unfairly prejudicial.
Fortunately, the law doesn't always advocate complete removal of access to information. For example, while Google was fined by the French Commission nationale de l'informatique et des libertés in 2016 for not removing information from all of its internet domains, as per a right to be forgotten ruling, including those sites outside of the territorial scope of France's jurisdiction, that decision will likely soon be overturned. The European Union Court of Justice's legal adviser suggested earlier this month, in response to the ruling, that Google's obligations under the GDPR, only apply to European citizens and to search results within the European Union: "the fundamental right to be forgotten must be balanced against other fundamental rights, such as the right to data protection and the right to privacy, as well as the legitimate public interest in accessing the information sought." It is likely that the court will endorse this opinion.
Similarly, some technology companies openly promote unfettered access to information and transparency. After initially shutting down accounts that showcased deleted tweets from politicians, in 2016 Twitter began to allow such accounts to continue to function, claiming that what politicians say and do ought to be part of a permanent public record as it creates accountability.
There might even be a legal requirement in some cases to make sure that the public record of at least some tweets is not tampered with. The U.S. Presidential Records Act (PRA) of 1978 defines broadly what sort of documents must be preserved by a presidential administration. According to many legal scholars, the law likely covers even the relatively recent microblogging technology exemplified by Twitter. To wit, David Ferriero, the current Archivist of the United States, has advised both the legislative and executive branches that every tweet from the president effectively becomes an official document and cannot be completely deleted, which means that even though the president can personally delete his tweets on Twitter, they should be maintained, under the PRA, within the official presidential records for posterity.
And even if the president was to successfully delete a tweet and wrongfully withhold it from the National Archive, there are innumerable bots roaming the internet recording everything the president, or any person of interest, for that matter, tweets, in perpetuity, including the now arguably misinterpreted image of the confrontation between that Catholic teen wearing a MAGA hat and the Native American elder with a drum, albeit without the important subsequently arising contextual information.
Returning to that Lincoln Memorial event, what has become painfully obvious from this and similarly videoed events is that even authentic video and images cannot always reflect the whole truth in any situation. Different camera perspectives will always support different conclusions. This is all the more disconcerting when people start creating authentic-looking videos, or even faces, from scratch, creating entirely new facts and realities with the express purpose of fomenting discord or worse, as a subset of the growing fake news industry. What we need now is to establish technological methods to quickly verify and provide context, which take no longer than it does to tweet.
In the meantime, I think the best we can hope for is a responsible use of Twitter, at least by journalists and news sources, so that they don't even need to consider deleting regretful tweets, as well as the inclusion of contextual information, whenever possible. Keep in mind, that I am not 100% sure about this whole thing, but I think it is important that I share my thoughts. Worst case scenario, I can just delete this post.
Dov Greenbaum, JD PhD, is the director of the Zvi Meitar Institute for Legal Implications of Emerging Technologies and Professor at the Harry Radzyner Law School, both at the Interdisciplinary Center (IDC) Herzliya.