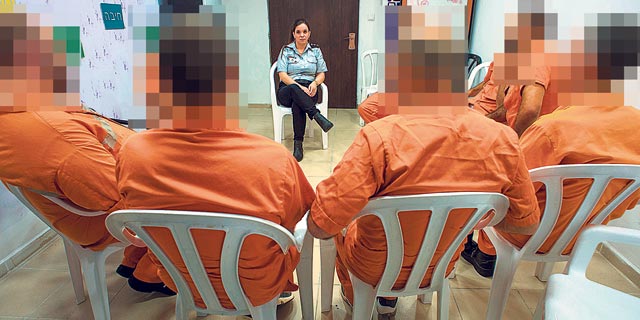 Behind Bars in an Israeli White Collar Prison
In an effort to track the motivations and causes for white collar crimes, Calcalist reporter Tzally Greenberg visited a prison in central Israel
Tzally Greenberg
|
17:54 24.04.2019
Over 500 white-collar criminals—including businessmen, top executives, stock brokers, and contractors—are currently incarcerated in Israeli prisons. I spent a day in a prison in central Israel, also attending a group therapy meeting for prisoners incarcerated for fraud charges. The meeting outlined the common grounds between the different offenders, including their personal backgrounds and vulnerabilities, and unraveled the ease of crossing the line when swimming among the sharks.
For daily updates, subscribe to our newsletter by clicking here.
The number of prisoners convicted of fraud charges in Israel grew by 78% in just two years, from 300 to 535, according to the Israel Prison Service. Among the better-known Israeli white collar prisoners are David Kohn, former senior deputy director general of Israel Electric Corporation; Arie Lanzberg, a former executive for Israeli investment firm Klal Finance Ltd.;
Eyal Hadad, the owner of Israel-based fashion chain Selection-Fashion Stores Ltd.
; Tal Yegerman, a financial advisor for Peled-Givony Group, headed by ex-police chief Rafi Peled, who was also convicted of fraud in 2012; and
Israeli multi-millionaire businessman Nochi Dankner
.
Data collected to date shows that white collar criminals are normally better educated and hold better positions than other types of criminals. 70% of them are between the ages of 36 and 55. 85% of criminals involved in fraud are male.
The group meeting was attended by 10 prisoners, all sitting in a circle, and two social workers—prison officers Karin Ron and Ayala Toib. The prisoners were about halfway through a 20-meeting workshop. Each prisoner has his own story: Y was caught cheating in a tender; A was charged with bribery; S issued fake receipts; G was caught for fraud; and O is serving time for tax violations.
"Money blinds you," S said when the social workers asked the members of the group about their personal motivations to commit crimes. "You get scared at first, but the urge to make money is just too strong, and when you get away with it once and end up with a lot of money on your hands, you just do it again, you don't have any reason to stop.". The six-month-long therapy program for white collar criminals has a long waiting list and only accepts prisoners with a short sentence or those nearing the end of their term. Most of these criminals name money as their main motivation, but there is often emotional motivation, such as a sense of failure or a desire to prove one's self, said Avital Weiz, a high ranking officer in the Israel Prison Service, in an interview. When they open up in group it could help them realize they are not the only ones experiencing these feelings, she added. "It is not just about money," A said in the meeting. "At least for me it was also about fear—what will happen if I don't do this or that," he added. "I was afraid to lose my status and did not feel like I had a choice." "It's a matter of survival," said Y, "of how things are run in this country." As a contractor, Y made bids for hundreds of tenders. "The only way to win a tender is to cheat—you either cheat your employees or your suppliers, or you cheat your client," he said.
The most important thing is not why but how, said O. "The kinds of offenses we are in for require sophistication, patience, and professional expertise," he added.
The entire group agreed, embarking on self-congratulatory rants. "Do you realize how hard it was to plan our crimes?" Y asked the social workers. "The organizations we cheated should have hired us."
At the end of the meeting, each prisoner is required to share what they learned. Almost every one of them repeated the same mantra as if they memorized it ahead of an upcoming parole hearing—"I received many meaningful tools that will no doubt help me in the future."
Former convict Zvika Rabin told Calcalist in a recent interview that he saw no value in the group meetings. In his experience, he said, prisoners go through the process only to better their position in upcoming parole hearings and increase the likelihood that their requests for leave will be approved.
In most cases, these people are considered normative in almost every aspect of their lives, but have difficulties trusting others, Weiz said. These difficulties are often characterized by emotional suppression, a sense of loneliness and an unwillingness to receive help, she added. "This type of criminal will often rationalize their actions, and will feel the need to put up a front reflecting a sense of success and moral high ground," she said. That is why there is a big emphasis on opening up and telling the truth when treating scammers, she added.