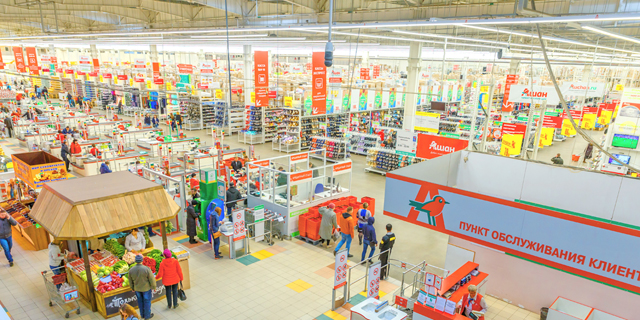 Big Retail Is Watching
Advanced monitoring technologies are now in the service of the retail industry, used to identify potential customers, manipulate their movements inside the stores, and make them buy more
Keren Tsuriel Harari
|
19:26 29.04.2019
You are walking through your neighborhood supermarket. On your right, the vegetable section; on your left, the canned foods. As you pass the cereal aisle, your phone receives a new message: "Hi! The last time you were here you bought Cheerios. If you want to rebuy it, the product is right in front of you. Buy now, and you will receive a special 10% discount."
For daily updates, subscribe to our newsletter by clicking here.
Welcome to the world of proximity marketing—an industry with one clear goal: to hook consumers at the exact right time when a product's immediate availability makes a purchase the inevitable conclusion. You thought Amazon's no checkout stores were exciting? Well, think bigger.
financial information company Marketwatch
, and is expected to reach almost $15 billion by 2024. Less conservative estimates put it at four times that number. Macy's stores, for example, have around 4,000 beacons installed. When customers who have the Macy's app installed enter the store, Macy's knows. Accurate within a few tens of centimeters, the beacons monitor the customers' in-store movements, pushing tailored offers through the app. Macy's launched its location-based marketing program in 2015, using a game called "walk in and win" to get customers to download its app. In an age when e-commerce is often said to herald the end of brick and mortar stores, Macy's is hoping that aggressive marketing technologies could help it keep its head above water. The retailer, which in recent years announced the closing of several stores due to declining sales, has reported a slight increase in revenues between 2018 and 2019, giving it its current market capitalization of $7.48 billion on NYSE. While the company does not provide numbers for its app, the company previously stated its satisfaction with its performance and its impact on sales.
Nike's app enables customers to scan the barcode of each item at its flagship store in New York in order to receive information about colors, sizes, and available stock, and ask for items to be delivered to the fitting rooms. Finish retail tech company SmartCart SA develops a smart shopping cart that knows the layout of the store and can cross-reference it with a customer's shopping list to direct consumers to the relevant aisles.
Virtual or augmented reality technologies have also been harnessed in the service of retailers, enabling consumers to visualize how certain furniture will look in their home, or "try on" thousands of cosmetic products using an app.
Despite Israeli companies and entrepreneurs being at the forefront of retail technology
, local retailers are lagging behind. The only local player currently cautiously dipping its toes in advanced retail technology is Israeli drugstore chain Super-Pharm. The chain will soon offer customers the option of notifying a store of their arrival so packages will be readied for pickup in advance. Customers using the chain's pharmacies will not need to use their medical identification card but instead will be identified via the store's Wi-Fi or beacons.