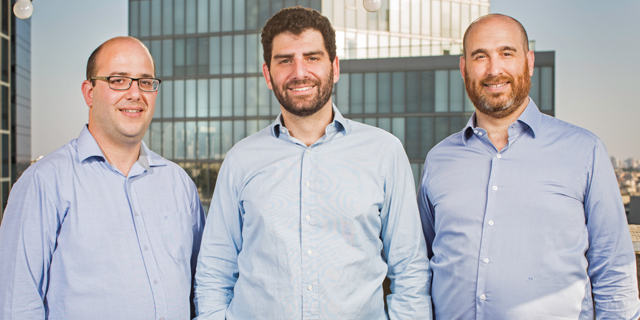 QEDIT Partners With Ant Financial, VMware, RGAX, Raises $10 Million
Founded in 2016, QEDIT develops a privacy layer for enterprise blockchain networks, using zero-knowledge proof cryptography
Lilach Baumer
|
10:00 07.05.2019
QED-it Systems Ltd. (QEDIT) is partnering with Ant Financial, VMware Inc., and RGAX, the accelerator of Reinsurance Group of America Inc. (RGA), to inspect their privacy solutions. QEDIT made the announcement Tuesday.
For daily updates, subscribe to our newsletter by clicking here.
QEDIT also announced the closing of a $10 million series A round led by MizMaa Ventures, and participated by investors including Ant Financial, RGAX, Meron Capital, venture capital firm Jovono, and Target Global. The company intends to use the funding to continue developing its privacy protocol and to boost its sales teams and partnerships.
QEDIT's founders Aviv Zohar (left), Jonathan Rouach, and Ruben Arnold. Photo: Ronen Goldman
צילום: רונן גולדמן
Founded in 2016, QEDIT develops a privacy layer for enterprise blockchain networks, using zero-knowledge proof cryptography. The company's products comply with data privacy management requirements such as GDPR, enabling companies to use real-time data for more efficient audit processes.
One of the company's founders is Aviv Zohar, a cryptocurrency pioneer and a researcher at the school of engineering and computer science of the Hebrew University of Jerusalem. Co-founder and CEO Jonathan Rouach is the founder of Israeli cryptocurrency exchange Bits of Gold Ltd. Co-founder Ruben Arnold is the company's chief financial officer.
The new partnerships will enable QEDIT to make current working practices in the finance and insurance industries more efficient, Rouach said in a statement.
Ant Financial and QEDIT have a similar vision for data protection and privacy, said in a statement Geoff Jiang, Ant Financial vice president and general manager of its technology and business innovation group. Such privacy applications are necessary for Ant Financial to expand its operations in the financial sector, he added.