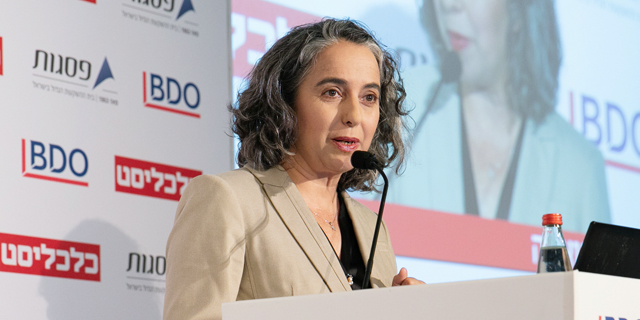 Capital Markets Conference
Resignation Wave of Finance Executives the Result of Extraneous Regulation, Says ISA Chair
Anat Guetta, the chairwoman of the Israel Securities Authority, spoke Wednesday at Calcalist's annual Capital Markets Conference in Tel Aviv
Naomi Zoref
|
13:52 03.07.2019
Israel Securities Authority (ISA) Chairwoman Anat Guetta announced Wednesday a committee established with the objective of examining the regulatory architecture needed to promote and establish digital markets in Israel. Guetta spoke at Calcalist's annual Capital Markets Conference held in Tel Aviv in partnership with Psagot and the Israeli branch of international accounting firm BDO.
For daily updates, subscribe to our newsletter by clicking here.
Digital markets are the culmination of the technical transformation traditional processes such as raising capital, going public, and trading on stock exchanges are undergoing, Guetta said.
The new committee's recommendations will help the ISA realize its future objectives, she said.
The public has a vested interest in the way institutional investors operate concerning the companies they are invested in, Guetta said. Institutional activism should mean whether such investors are passive or active, that is, being on the lookout and taking responsibility for the money they hold in trust for the public, she said. Institutional investors must handle those funds carefully, as though they were their own property and investment, she said, adding that that is a basic expectation. Israel's institutional market is very centralized, and in recent years institutional investors have been growing even more powerful, a trend that is expected to continue, Guetta said. They have been taking over several power positions in the market, such as the banks' traditional roles in the business credit sector, and they also play a significant role in Israel's growing fintech ecosystem and in the capital market. Her responsibility as a regulator is to ensure that institutional investors use their power in a balanced, reasonable way, Guetta said. According to Guetta, in Europe and in many other developed countries institutional investors voluntarily adhere to a non-official code of conduct called the Stewardship code. The code's main objective is to ensure those investors are active and engage in corporate governance in the interest of the public. Guetta said that she is working to instill a similar code in Israel, in collaboration with Israel's capital markets regulator Moshe Bareket, with the intention of putting in place normative infrastructure in addition to regulatory infrastructure. Guetta also commented on the
wave of executive resignations
seen in Israel's financial sector, the latest being Sunday's exit announcement of Rakefet Russak-Aminoach, CEO and president of Bank Leumi, one of Israel's two largest banks. Russak-Aminoach was preceded by the resignation of Lilach Asher-Topilsky, the CEO of Israel Discount Bank Ltd., and Arik Pinto, the CEO of Bank Hapoalim.