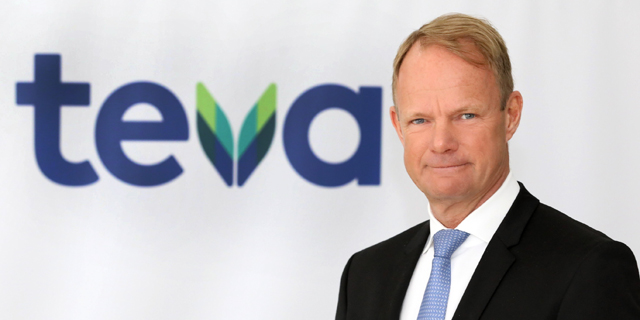 PoV
Where is Kåre Schultz?
The Danish CEO was drafted to save Teva straight off the successful turnaround of pharma company Lundbeck. Since then, the Israeli company's market cap dropped by 66%, but Schultz has stayed mum
Sophie Shulman
|
18:14 17.07.2019
In 2017, when Kåre Schultz was announced as the new CEO of Teva Pharmaceutical Industries Ltd., the market breathed a sigh of relief. Then-CEO of Copenhagen-headquartered pharmaceutical company H. Lundbeck A/S, Schultz was considered a hard but capable leader, one who cut 17% of Lundbeck's workforce but in doing so turned the failing company around. Since his appointment at Teva, however, Schultz has stayed mum as the company is deteriorating around him.
For daily updates, subscribe to our newsletter by clicking here.
It is no longer about analyst expectations. Teva must now comment on the situation, even if only to its shareholders and employees. The last time—the only time outside of earning calls—that Schultz discussed Teva was at a JP Morgan conference in January. He might not realize that Teva is not the same company it used to be, and that he can not continue down the same path. A more active approach might be required if he wants his shareholders to grant the company patience.
$85 million settlement
with the state of Oklahoma in an opioid abuse suit. The company stated it wants to put the matter behind it, but Teva is facing many more similar lawsuits, and they could potentially result in much higher settlements or fines. Johnson & Johnson, which declined to settle in Oklahoma, is now facing trial with the demand to pay over $17 billion. The fact that all opioid manufacturers are facing the same legal troubles in the U.S. also lessens the chance for a takeover. However, it increases the risk of Teva being sold for parts if buyers are found for only segments of the company. Teva is not alone in its struggles among drugmakers, as downward pressure on drug prices in the U.S. is affecting all market players. It is also impacting the stock performance of its rivals, especially Mylan, which Teva targeted for a hostile takeover under Vigodman in 2015, and failed. Mylan's stock crashed by around 60% over the past year, tipping the company below the $10 billion market capitalization mark. In retrospect, it seems the criticism flung by both sides in 2015 turned out to be correct, as those two companies are currently the weakest performers of their class. The current U.S. EpiPen crisis is a good illustration of the current situation of both Teva and Mylan. Epinephrine is a very inexpensive hormone used to treat anaphylaxis, a severe allergic reaction to food or insect stings that can be fatal if not treated immediately. Mylan's EpiPen is unique in the market due to its delivery system, which calibrates the dosage very precisely, and the company has faced much criticism for hiking its price repeatedly since it acquired the product in 2007 from Merck KGaA. Mylan's EpiPen is now sold for around $600 in the U.S., and the company has long struggled to create an adequate supply, leading to constant shortages and a unique opportunity for generic manufacturers. Teva's generic version, launched in late 2018, is sold for less than $300 in the U.S., but pharmacists regularly report that despite the demand for it, Teva's product is also nonexistent as the company cannot keep up.