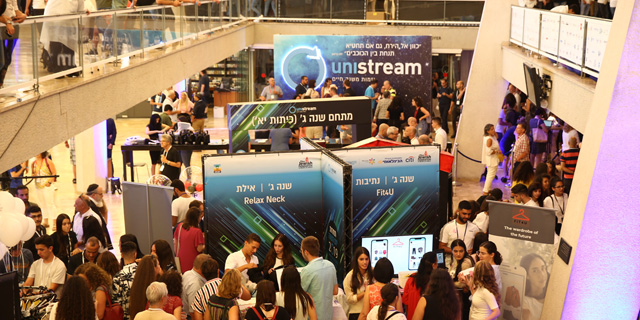 Diaper Change Startup Takes Cake at Unistream's Underprivileged Teen Startup Competition
Israeli nonprofit Unistream, operates a multi-year after school program aiming to impart underprivileged teens with entrepreneurship and leadership skills
Hagar Ravet
|
17:56 25.07.2019
Unistream, an Israeli nonprofit that operates a multi-year after school program aiming to impart underprivileged teens with entrepreneurship and leadership skills, held its annual startup competition Wednesday. Over 4,000 teens and young adults from both Jewish and Arab communities currently participate in the program active in 75 locations throughout Israel.
Unistream operates 21 entrepreneurship hubs that assist highschoolers set up their own businesses, from brainstorming, to prototyping and sometimes even registering patents. As mentees, the young entrepreneurs get access to some 4,500 entrepreneurs and business executives, including Adi Soffer-Teeni, Facebook Israel's general manager, , Avi Katz, founder of Tel Aviv-listed cafe and supermarket chain Cofix Group Ltd., and Shelly Landsmann, former general manager of Microsoft Israel, who stepped down earlier this month.
This year, 80 startups led by youth participating in the organization's activities from all over the country took part in the competition and were awarded prizes in two major categories: outstanding business, and social impact.
The outstanding business award for twelfth grade students was handed to Genie, a group from southern Israeli town Ashkelon, who developed a smart device that identifies when a diaper needs changing. In the same category for eleventh graders, Homeet from Hadera took home first place, with an app that connects tourists with local cooks. Smart Shoes, a group from the central Israeli town Netanya that developed smart shoes for senior citizens, won second place for the social impact category, while a group from the southern Bedouin town of Segev Shalom won first place for a project that promotes educational services to senior citizens, with an emphasis on the Bedouin population. Other projects participating in this year's competition included a drone carrying a first-aid kit intended for the treatment of injuries in remote locations, a disposable device that tests food for the presence of allergens, and a system that prevents children being accidentally left inside vehicles. Unistream was founded in 2001 by Rony Zarom, an Israeli serial entrepreneur who previously founded Exalink Ltd., acquired by Comverse Technology Inc. in 2000 for around $480 million. Zarom, who came from an underprivileged background himself, founded the organization to bridge the widening socio-economic gaps in Israel.
The winning team
developed strips for individualized allergen detection in food and won a NIS 10,000 ($2,700) prize and a trip to an overseas conference.