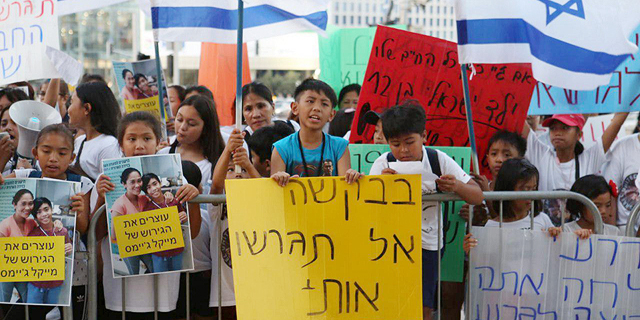 Legal Scholars Ask El Al to Stop Transporting Deported Israel-Born Children of Migrant Workers
Researchers from the University of Haifa alleged in a letter to El Al that its part in flying deportees makes it an active party in the potential harm that may incur children who are being severed from their known environment
Lital Dobrovitsky
|
17:07 27.08.2019
The Law and Education Policy Clinic at the University of Haifa has pleaded with Israel's national carrier El Al Israel Airlines Ltd. to stop transporting forcibly deported children born in Israel to migrant workers. The letter, sent Monday to El Al by Haran Reichman, who heads the clinic, stated that "El Al's decision to take part in the deportation" makes it an active party in an act that may contribute to the potential harm that may incur the children who are being severed from their known environment.
El Al chose not to respond to Calcalist's request for comment. Since July, Israel has arrested dozens of migrant workers whose visas were not renewed along with their children who were born and raised in the country. Israeli law stipulates that in order to have their visas renewed, migrant workers who give birth are required to send the child to their homelands before returning to work in Israel alone. Many opt to keep the child with them, effectively remaining in the country with no legal status.
appealed to Prime Minister Benjamin Netanyahu
, asking him to stop the deportation of these families.