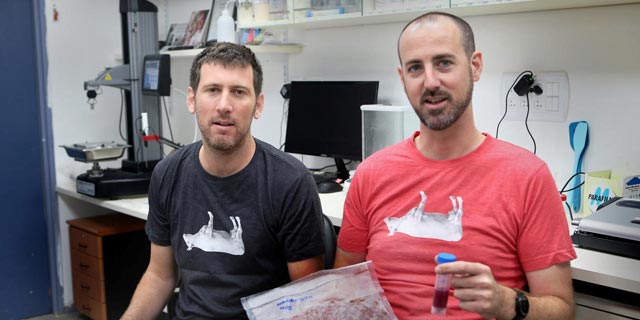 This Israeli Startup Aims to Redefine Meat
Israel-based Redefine Meat, which develops technology for 3D printing alternative meat products, announced the completion of a $6 million seed round Wednesday
Meir Orbach
|
17:20 11.09.2019
The alternative meat market has been reaching new heights in the past year, bolstered by the successful initial public offering of Beyond Meat. A recent addition to this buzzing industry is Israel-based Redefine Meat Ltd., a company founded in 2018 that develops technology for 3D printing alternative meat products, which on Wednesday announced the closing of a $6 million seed round.
"We do not want to sell food just to non-meat eaters, but also to meat eaters who are looking for something more," Eshchar Ben-Shitrit, Redefine Meat's co-founder and CEO, said in an interview with Calcalist.
The round was led by Jeremy Coller's CPT Capital, one of the first investors in Beyond Meat and Impossible Foods, with participation by Israel-based Hanaco Ventures and German poultry company the PHW Group.
Based in Ness Ziona, a town in central Israel, Redefine Meat currently employs 13 people, among them food engineers, chefs, and 3D-printing engineers. The company got its start in an accelerator program operated by the European Union, where it ended up winning first place.
"It was then we understood we were doing something interesting," Ben-Shitrit said. "People were excited not just by the taste of our products, which are very different from anything on the market, but by our new approach to manufacturing."
Ben-Shitrit and co-founder Adam Lahav met while working at HP in digital printing tech development. "Printing is a very interesting industry, technologically, but it is not very exciting," Ben-Shitrit said, adding that he himself had stopped eating meat four years ago.
Though Ben-Shitrit acknowledges the success of Beyond Meat and Impossible Foods and the way they managed to open people's minds to new possibilities, he thinks the real revolution has yet to happen. Beyond Meat, for example, is manufacturing its products the same way similar products have been manufactured for decades, he said. "We thought about how we could bring our digital printing abilities to the industry, and decided to use 3D-printers for our vegan meat. We realized the problem with vegan meat products today is not just its taste and ingredients, but the manufacturing process itself, which is very outdated."
For Redefine Meat, Ben-Shitrit said, it is not just about introducing a new product, but also about introducing a new technology.
Redefine Meat is aiming to get its products in restaurants by 2020, and reach serial production by 2021. The company is planning a different approach to wholesaling, Lahav said. "We will create extracts of our steaks and send them to manufacturers outside of Israel. Every supermarket will have a small manufacturing facility, where they will be able to print the amount they need using our printers," he said.
The two state their product mimics the mouthfeel of real beef steak, including the fat and fiber, and they are aiming for a price tag of $35 per kilogram.
Redefine Meat founders Adam Lahav (left) and Eshchar Ben-Shitrit. Photo: Avi Mualem