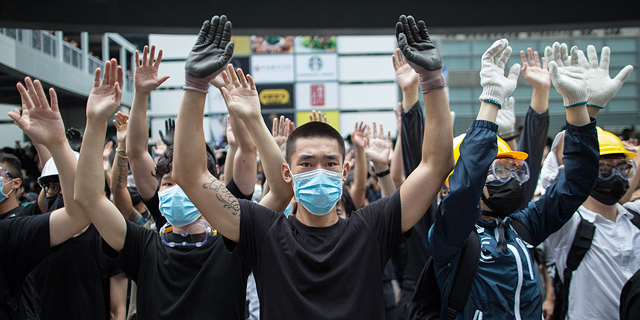 Expert
Can Facial Recognition Technologies, Privacy, and the Freedom of Expression Co-Exist?
Tech policy experts Limor Shmerling Magazanik and Noam Rosen outline possible measures to reduce privacy infringement caused by law enforcement agencies' use of facial recognition software
Limor Shmerling Magazanik and Noam Rosen
|
18:15 10.11.2019
The Hong Kong government issued an order last month, which prohibits demonstrators from wearing masks so that law enforcement authorities can identify them. Demonstrators were also reported lately to have knocked down smart lamp posts across the city for fear the Chinese government is using the posts to spy on them. Deployed initially to track illegal waste disposal and traffic conditions, including through capturing license plates, the lampposts in Hong Kong have embedded sensors and cameras. As an alternative to masks, demonstrators have resorted to more creative ways, such as jamming the facial recognition cameras by shining laser lights onto the lense. Facial recognition technologies can tell if two images are of the same person. They work by generating a unique profile of a person's facial biometrics and matching it with the biometric image data in already tagged images. The technology is effective even if only part of the face is exposed, sometimes even when a person turns their back to the camera. It works on photos acquired both by still or video photography when that person is on the move. When the system matches between two facial profiles, the program generates a numerical value, which indicates the probability of the two faces belonging to the same person.
To summarize, the legislator ought to ensure that facial recognition technology does not infringe on the right to privacy and freedom of expression in its quest to reap the benefits technology has to offer in terms of public safety.
Law enforcement authorities, for their part, need to spell out the purpose for which they implement the technology so that its use of facial recognition is only made when not using it would put the public in real danger. They must commit to collecting only data that is accurate, relevant, and essential to the stated purpose and not use the data for any other purpose. Whenever running a facial recognition program to identify specific persons, if the match returns a negative result, the police must purge the biometric data related to this mismatch. Whenever the system detects a match, a human examiner must be named to inspect it before taking further action, to minimize the chances of a false-positive. The law-enforcement body must also have rigorous information security controls in place and comply with all legal and regulatory requirements and restrictions that apply to the use of surveillance cameras in the public sphere. Limor Shmerling Magazanik is the managing director of Tel Aviv-based policy think tank the Israeli Tech Policy Institute and a senior research fellow at the Future of Privacy Forum.
Noam Rosen is a legal advocate and a policy counselor for the Israel Tech Policy Institute.