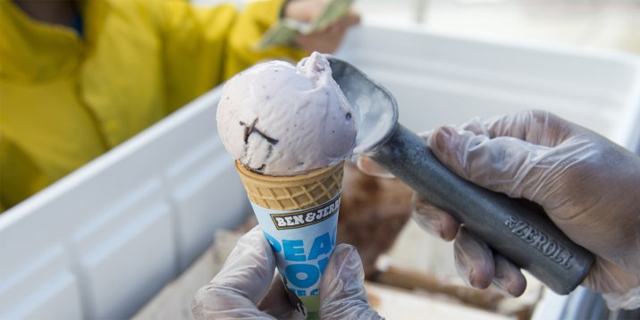 Expert
Everything Is Political, Especially Ben & Jerry's
The socially conscious ice cream company released a new flavor urging Israeli voters to take part in the country's general election on Monday, providing a perfect opportunity to examine the politics behind its use of technology and how it reflects on the Likud campaign app scandals
Dov Greenbaum
|
12:41 02.03.2020
There is a saying in Hebrew: "third time, ice cream," which may derive from a similar German expression that calls for buying a drink for an acquaintance the next time you meet fortuitously and coincidentally. Taking the popular Israeli phrase literally, Ben & Jerry's, the Vermont based ice cream company known for its socially conscious endeavors, on Wednesday,
announced
on Instagram One Sweet Vote, a new ice cream flavor specific for the Israeli election being held Monday, for the third time in under a year. The new flavor is only available in the company's two factory stores in Yavne in central Israel and in Be'er Tuvia in the country's south.
While the company itself has ostensibly remained above politics in Israel, its founders, Ben Cohen and Jerry Greenfield, are clear as to their political motivations, as they are undoubtedly enamored with Bernie Sanders, their local senator and namesake of an entire line of their ice cream.
For all their hokey charm, Ben & Jerry's, which is actually owned by food giant Unilever, has embraced many areas of technology in its development of new ice cream and in its social justice efforts. Notably, as a condition of the company's sale to Unilever, the founders demanded and got an independent board that would remain focused on the company's longstanding social goals. For example, the company funded its own special line of freezers that were specifically designed to contribute less to climate change.
As a company, Ben & Jerry's —in an arguably a misguide effort— also uses only non-genetically altered (GMO) and fair-trade ingredients. The company also
employs blockchain technology
to help with its goal to donate carbon credits to offset the environmental impact of every scoop of its ice cream.
Ben & Jerry's is also an early adopter of crowdsourcing in developing its new ice cream flavors. Parent company Unilever just announced another marketing coup— the potential drone delivery of Ben & Jerry's ice cream in New York. But, perhaps its greatest gimmick has been offering of the cookie dough, from its cookie dough ice cream, for sale as a separate snack, starting last month, driving consumers to develop new hacks for this sweet treat.
Ben & Jerry's has also been very effective at leveraging social media, as well as augmented reality apps to market its brand better than most of its competitors. Although, perhaps too well, as its multinational food giant parent recently pledged to tone down its ice cream marketing efforts to children, in order to fight child obesity.
But Ben & Jerry's is not the only party with a stake in the upcoming Israeli election employing technology to promote its cause. The campaign management app developed by Elector Software Ltd. for Prime Minister Benjamin Netanyahu's Likud party was supposed to be a key tool in winning additional parliament seats in the upcoming election by employing network effects. Instead, the app has ostensibly been shown to be a huge security risk, making the country's entire voter registry available to hackers worldwide, twice, also exposing the inner working of Likud's campaign. For what it's worth, Elector has repeatedly denied many of the claimed failings and it should be noted that many other political parties similarly use the app, with no incident.
Days later, a separate breach, this time from Likud's own website, leaked the voter registry once more and an unknown party has also started pushing out hundreds of thousands of potentially malicious SMS messages to Likud supporters across the country.
The multiple vulnerabilities exposed in Likud's online campaign tools highlight the cybersecurity regulation failings of Israel, which is ironically considered a cybersecurity powerhouse.
In general, app developers seek to shield themselves from such privacy intrusions, both via cybersecurity as well as through legal means such as terms of use agreements. It is no secret, however, that none of us have read said terms of use and some of these companies' efforts to limit liability are likely unenforceable. One notable example of this absurdity is Amazon Web Services' clause limiting the company's liability in case of a zombie apocalypse."However, this restriction will not apply in the event of the occurrence (certified by the U.S. Centers for Disease Control or successor body) of a widespread viral infection transmitted via bites or contact with bodily fluids that causes human corpses to reanimate and seek to consume living human flesh, blood, brain or nerve tissue and is likely to result in the fall of organized civilization," the terms read.
The zombie apocalypse may happen sooner than AWS expected, at least figuratively, as in a scathing analysis of the failures of the Israeli political system, The New York Times recently referred to the entire Israeli electorate as comprised of zombies.
But, Israeli voters are not the only zombies associated with elections. Ben & Jerry's flavors often come back to life, just like zombies, resurrected from Ben & Jerry's ice cream graveyard, according to the desires and votes of faithful customers. Hopefully, Ben & Jerry's will not have a reason to bring back "One Sweet Vote." After all, we have no idiom for something happening for the fourth time.
Dov Greenbaum is a director at the Zvi Meitar Institute for Legal Implications of Emerging Technologies, at Israeli academic institute IDC Herzliya.