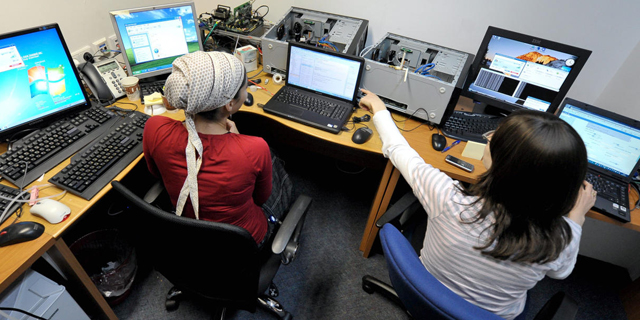 Majority of Israeli Women in Tech Are Not Actually Involved in Tech, New Survey Shows
According to the survey, which questioned 250 women, 68% of female startup workers in Israel do not occupy technological positions; more than 40% have experienced pay discrimination due to their gender
Maayan Manela
|
17:45 09.03.2020
Most women employed by startup companies in Israel do not occupy technological positions, according to a new survey published Monday by business strategy firm Extra Mind PR. The survey questioned 250 women working for dozens of startups in Israel and was conducted in collaboration with data storage company WekaIO Inc., predictive care startup Clew Medical Ltd., fintech startup Fundbox Inc., cybersecurity startup IntSights Cyber Intelligence Ltd., and online event planning startup HoneyBook Inc.
Of those questioned, just 32% worked in research and development, while 20% worked in human resources and recruitment, 17% as analysts, 4% in marketing, and 5% in administration.
Up until a decade ago, the local tech sector was entirely a man's world, Osnat Rosenwax, vice president of human resources at Clew, told Calcalist. This has been drastically changing in the past few years but the road to equality is still long, she added.
Over 40% of the women questioned said they experienced pay discrimination due to their gender at some point in their careers and 16% said they were unsure if they were discriminated against. "I think pay discrimination belongs to the old world and does not exist in tech, where we have exact by-yearly examinations to make sure people in the same job are being paid equally," Jenia Medvedev, vice president of HR at Fundbox, told Calcalist. Even if, during negotiations, a female candidate ask for lower pay than her male colleagues, it is customary for the startup industry to match her pay, she added. In such a small industry, where employees change workplaces frequently and openly discuss their pay, a company that is perceived as discriminatory when it comes to salaries might face severe ramifications, Medvedev said. Most of the women questioned, 62% said they did not experience gender-based discrimination during processing and hiring in the startup industry, while 30% said they were discriminated against. Of those questioned, 61% said they were happy with the work-life balance in their careers. On average, women working for startups companies spend nine hours at work each day, the survey showed. More than half of the women questioned, 53%, stated they had no children, while 45% have children and the remaining 2% said they plan on having children in the near future. The younger the company the more it focuses solely on building its product, so issues like diversity are often pushed aside, Omri Palmon, co-founder and chief operating officer at WekaIO, told Calcalist. "When I first started working for IBM in 2008, I was amazed by how many women they had at executive positions," he said. Later, Palmon found out that save for one, all of these women were childless. It is impossible to separate inequality from deeper social issues, he said.
Nearly a quarter of the women questioned said they experienced sexual harassment during their careers while 5% reported they experienced small incidents that were not necessarily considered harassment but which they felt were dismissive or disturbing towards them as women. Most women, 71%, said they did not experience sexual harassment of any kind in the workplace.
"In general, I do not think the startup industry encourages sexual harassment or improper conduct in the workplace," Alon Arvatz, co-founder of IntSights, told Calcalist. Arvatz said he believes it is the company's management's job to create a safe work environment and to communicate to its employees that such behavior will not be tolerated. About a third of the women questioned were veterans of Israeli military tech units, 57% had a bachelor's degree, and 31% had a master's degree. Only 3% were self-taught or graduates of non-academic programs.