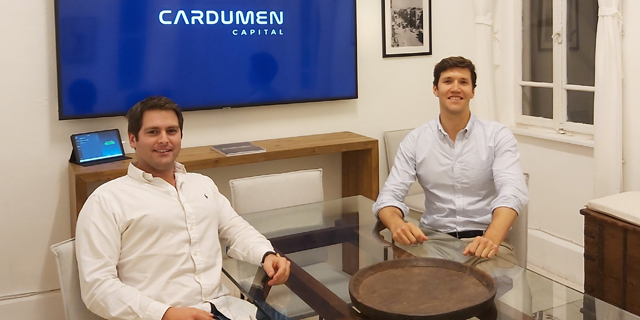 Interview
Spanish-Israeli Venture Fund Cardumen Capital Raises $60 Million in Commitments
Cardumen focuses on early stage deep tech startups. The fund is led by former Samsung Ventures investors Gonzalo Martinez de Azagra and Roy Gottlieb
Amarelle Wenkert
|
09:05 12.03.2020
On Thursday, Tel Aviv-based venture capital firm Cardumen Capital announced it had secured $60 million in commitments for its first fund. Led by former corporate investors Gonzalo Martinez de Azagra and Roy Gottlieb, Cardumen has set its sights on deep tech B2B startups in early development stages. In a January interview with Calcalist, Gottlieb said that the two are looking to invest in what he called "the usual suspects:" artificial intelligence, cybersecurity, big data, IoT, and industry 4.0 startups. Cardumen, which already has six portfolio companies under its belt, is looking to make at least 10 more investments within the next two years, aiming at initial investments of $1 million to $3 million per company, they said. Among the firm's portfolio companies are Israeli wireless charging company Humavox Ltd., 3D imaging startup MultiVu Technologies Ltd., and wireless communication technology company CoreTigo Ltd.
announced
the fund in 2017. During his tenure at Samsung Ventures, Martinez de Azagra backed companies such as Tel Aviv-based 3D sensing startup PrimeSense, later acquired by Apple; Replay Technologies, a developer of 3D video technologies later acquired by Intel; and Corephotonics, a developer of cameras for mobile devices
acquired
last year by Samsung. The move from corporate investment to an independent venture capital firm means a shorter decision process and a greater focus on financial returns, according to Martinez de Azagra and Gottlieb. "Corporate VCs look for a double bottom line. They want financial returns, but more importantly, they are looking for strategic value," Martinez de Azagra said. "I think good corporate VCs aspire to be like financial VCs and use them as role models. They try to make deals that make financial sense with structures that are adequate and appropriate to their markets. But it is not entirely up to them; there are internal politics of the corporate world that sometimes make decisions on the corporate venture side somewhat dysfunctional." At Samsung Ventures, Gottlieb said, the path to a deal was more complicated. "We had to think about what's in it for Samsung, and then find the internal sponsor that could push the deal forward, and these are processes that require time, months even," he said. "In a market as competitive as we now see in Israel, days and weeks matter. We are a lean team; the fastest we have been able to approve a deal is 48 hours, so far." Cardumen is backed by Spanish bank Banco Sabadell and Spanish oil and gas company Repsol S.A. Other backers include other corporations, financial institutions, and individual investors, primarily from Europe and Latin America. "We have been working for many years with large corporates," Martinez de Azagra said. "In the past, we brought corporate investors like Samsung and Accenture to Israel, and now we are looking to do the same for new corporates." As far as investments in Israel, European and Latin American companies have begun catching up to the trend, he said. "Europe was late to understand the importance of the startup nation." Cardumen's backers, Martinez de Azagra said, are now looking for more than just financial returns. "These are large companies interested in entering Israel and investing in Israel," he said. "They want to work with Israeli startups and they are also looking for proof of concepts, pilots, and technology integrations."
Some, Gottlieb reminds, already have. In September 2019, Cardumen backer Sabadell invested directly in Israeli cybersecurity Kovrr Inc., as part of a $5.5 million seed round.
Speaking about Cardumen's investment strategy, Martinez de Azagra said they strive to co-invest with leading venture capital firms and corporates. "Our investments are designed to promote M&As," he said. "Our fundamental assumption is that most of our companies are going to get acquired."
"Personally, I look for a team that brings the right background, the right storyline to what they do. A good team-product-market fit," Gottlieb said. "I'm looking for strong synergy and long-term relationships between members of the team. We are not huge fans of teams that have met three to six months ago and just started working together."