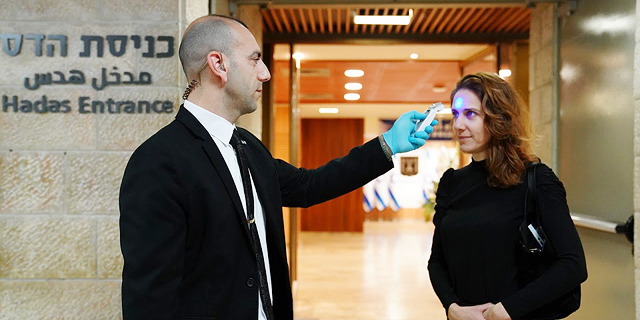 Coronavirus
Knesset to Vote on Establishment of Four Committees Under Heavy Restrictions
Monday's voting and speeches will occur in rounds of six Knesset members allowed to enter the hall at a time
Tofi Stoler
|
16:00 23.03.2020
As regulations to prevent the spread of coronavirus (Covid-19) continue to tighten in Israel, the Israeli parliament (the Knesset) will gather, under heavy restrictions, Monday afternoon to vote on the appointment of four committees. Monday's voting and speeches will occur in rounds of six Knesset members allowed to enter the hall at a time, the Knesset announced Sunday. Seven of the 120 Knesset members are currently in quarantine and have been asked to refrain from arriving at the parliament house.
Three weeks after the March 2 election, the country's third in under a year, the committees have yet to be assembled. This is due to disagreements on their desired size between the two largest parties—sitting Prime Minister Benjamin Netanyahu's Likud party and former Israeli military Chief of Staff Benny Gantz's Blue and White party. Last week, the Knesset's Speaker Yuli Edelstein, who is a member of Likud party, decided to postpone the establishment of the committees claiming not enough parliament members would be able to attend the vote.
Edelstein later agreed to hold the vote Monday but Likud and other parties in the right-wing bloc, amounting to 58 parliament members, announced they will not attend in protest of the votes being held without the blocs having reached an agreement. Another pressing matter on the Knesset's agenda is the appointment of a new speaker which is normally done on the same day as the swearing-in of the newly elected parliament members. This too was not done to date due to Edelstein's objection, which he claimed stems from the fact that a new government has yet to be established, meaning a speaker selected at this point might not be a part of the coalition, once formed, and might hamper the next government's actions.
postponed
until May due to coronavirus restrictions. On Monday, Israel's Supreme Court ordered Edelstein to let it know by 5 p.m. whether he intends to hold a vote on the appointment of a new speaker by Wednesday, otherwise, it would have to rule on the matter. The court stated the decision was made in light of the opinions of the country's attorney general and the Knesset's legal advisor that the vote should be held without much further delay.
Zvi Zerahia contributed reporting.