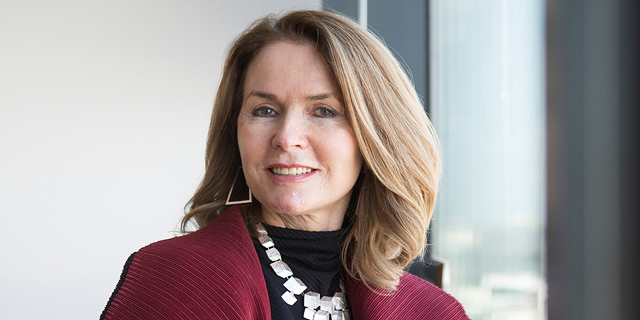 Interview
Israel's Top Tech Woman Shares Four Insights on Change
A conversation with Michal Braverman-Blumenstyk, head of Microsoft Israel research and development and one of the world's leading women in tech, about the ability to undergo change in order to go the distance
Diana Bahur-Nir
|
22:00 14.04.2020
These are strange times. In the current coronavirus (Covid-19) turmoil, anything that is not directly related to the crisis gets cast aside. All eyes are on survival efforts, and everything else is filtered in a bland greyish shade. For that precise reason the conversation with Michal Braverman-Blumenstyk, head of Microsoft Israel research and development and vice president of global technology for cloud security and artificial intelligence, is so significant. These are times of disruption, and this is a conversation about the crucial ability to change.
The conversation is about being able to bring about rapid business change amid the current chaos, but more than that it is about being able to go through personal change. A change that takes place over an entire lifetime, but in a determined fashion. A necessary change if one wants to climb to the pinnacle of the tech world and establish oneself as Israel's top cyber woman.
"Replacing the Business Model"
"If I were the CEO of a startup, I'd be asking myself what am I learning from the current circumstances that can help me become stronger," said Braverman-Blumenstyk. "Will my product remain viable for a long time, and if so, how do I ensure it becomes essential?" It may be easy for you to say that since you're at the top of a giant company that needn't worry about survival. Startups, meanwhile, have suddenly become very vulnerable. "I'm a history buff and have a great love for Winston Churchill, he is one of my heroes. I'm a big believer in something he was quoted as saying: 'never let a good crisis go to waste.' Startup companies that won't learn from the current crisis will not succeed. Clearly, companies that entered the crisis in a strong position will weather it better, while smaller companies in their early days and without a product on the market will face difficulty raising money. It is only natural that investors will be much more prudent. But this is a perfect point in time to test how vital your product really is. Companies whose product meets the requirements of the market will survive because the requirements are intact. We are in a slump and everybody is rethinking what is essential to them, but when the crisis passes the needs will re-emerge. The companies whose products are 'nice to have' rather than essential will become more vulnerable. "We are already seeing that companies that deal in remote work solutions, remote studies, delivery services, medicine, and data distribution are all blossoming. The whole cloud-based work industry is also growing by leaps and bounds. It is because you don't need to physically go to the location of the cloud, you get all the services to home. Take Zoom for example, which is a competitor of (Microsoft's) Teams. Now that everyone is working remotely, Zoom is gaining strength. They are doing great work and meeting a vital need at the moment. The crisis must be leveraged towards finding additional business opportunities, helping clients become more efficient and if need be, changing the business model. Not every startup can shift its business model overnight. "Let me give you an example: when I worked at a startup called Cyota, we developed an amazing technology that didn't do too well. Later on, we found out that the technology could make up part of a new product that suited the changes that were taking place in the banking sector. We changed our model. "Startups need to study the crisis and find ways to leverage it to their benefit rather than scream 'Oh My God' and take on a bunker mentality. They must change their plans so their business model is more suited to the current job market's needs. Remote work, for example, will require better data security and there are other directions to follow." So there won't be a collapse after the pandemic is over? "If it were up to me, I'd give the 'all clear' signal. Most of the startup companies are working on real products that meet real demands. That is why I'm a big believer in the local startup sector. We at Microsoft always have an eye on interesting projects and we will continue to acquire companies that meet our customers' needs—cloud computing, artificial intelligence, cybersecurity. I can't tell which companies they will be and when we will buy them, but I can say that we will continue to do so. In fact, the coronavirus crisis drew our attention to new fields that perhaps we ignored beforehand. The crisis is expanding the scope of my searches, which will create opportunities for many companies. When this tsunami is over there will be entire sectors and industries, both in Israel and around the world, that will emerge as being extremely vital." Can you give an example? "For example the field of Telemedicine that deals with remote diagnostics and treatments. Clearly, this is in high demand right now, but even after the immediate crisis is over, there will be a demand for medical aid to remote locations in Africa or isolated villages in India that don't have access to adequate medical services. In truth, anything related to remote customer support will likely see a spike in demand. There are other fields that I can't talk about right now, but I definitely see huge growth opportunities for many companies. That's why I remain very optimistic." The question is who will survive to reach that point of optimism. At the moment, companies aren't selling anything and feel like there is no one to work with. "It is temporary. But let's shift our perspective for a moment. One of the great strengths of the Israeli tech sector is the impressive mix of startups alongside huge multinationals. The multinationals help the startups out. I was a startup and a large multinational bought me up. Under its wing, I was able to grow and develop and eventually moved into a multinational myself. Assaf Rappaport founded Adallom, an amazing startup that was purchased by Microsoft, and Assaf became the CEO of its research and development center in Israel. He was a fantastic CEO and now has decided that he wants to go back and start again as a startup. The Israeli tech scene is dynamic. Small companies and multinationals cross-pollinate. There is always room for the good ones." CHANGE #2 "Remembering I'm a Woman" Braverman-Blumenstyk, 54, has two adult daughters. She currently resides in central Israeli town Hod Hasharon with her partner of the last 30 years, a children's dentist. For years, she says, she denied that women faced obstacles that prevented them from succeeding in the workplace, a denial she says she now regrets. "My impulse in the early days was to ignore the fact that I am a woman. I did notice that I was one of the only women around, but I insisted on ignoring it. I believe that thinking about it in gender terms would play into the hands of the other side." Why? "You want to be recognized as a technological or business leader. Nobody notes on a man's gender and I always thought that if I made it an issue, it would become an issue and I would be playing into the hands of those who think women are different. And the notable shortage of women in senior managerial roles didn't change your mind? "I believed it should be ignored. I hoped that when there would be enough excellent women around things would sort themselves out." What changed your mind? "My position shifted after I was appointed as CEO of RSA (the American company that acquired Cyota in 2005) and was invited to a conference on female leadership at Harvard. I was insulted that I wasn't invited simply to a leadership conference, but went anyways. The experience opened my eyes. I began reading studies on the differences between men and women when it comes to building career paths and learned there is a critical difference that's to blame for so few women being at the tip of the pyramid. I understood why too many women get stuck in middle management." What did you come to realize? "That men and women build their careers differently. Women tend to think that if they do their job extremely well someone above them will notice and pull them up. Men understand that they need to pay attention to the people who can promote them. The result is that women fail to construct good career networks while for men it comes naturally. When you are looking for someone to fill a senior position, you don't go on LinkedIn to search for them. You need to be able to bank on it that someone who knows you nominates you as a candidate for your next role. That is the role of the 'good old boys club.' Women meanwhile don't combine their social and professional networks. When I got back from that conference I reached the understanding that as far as my career path was concerned, I could no longer ignore the fact that I'm a woman. I realized I had made a mistake and that I had to change my attitude." How?
"I started helping women to advance in their careers."
Affirmative action? "No, affirmative action is disastrous. It harms women and is not the way to advance their cause. We must never be accused of moving ahead just because someone discriminated in our favor. I am a believer in giving people fishing rods, not fish, and affirmative action is a fish and a spoiled one at that. One thing that does demand correction is male managers who don't recruit women or whose statistics show have no women on their team. So, how do you advance women? "Instead of practicing affirmative action, I prefer to mentor many young women. Together with (venture capitalist) Rina Shainski I launched UPWARD-Israel, an organization that promotes networking among senior businesswomen to help them reach the next rung on the professional ladder. At Microsoft, we support DigiGirlz, which exposes young women to technology and we cooperate with many other organizations promoting women in the tech sector. "We have to take a lot of action early on, from birth if possible, because the gap between men and women widens at a very early stage. We must encourage girls from a very young age to dare and choose to do things that are beyond what is expected of them. We must motivate them to enter the technology sector and ensure they have a path to it. Scientific or math-based studies give you more options, even if at the end of the day you decide to become an author. They develop skills that enable you to do anything in a better way. I need to show young women that one doesn't have to come at the expense of another, you can be cool and be a tech guru. And yet, women who enter the tech field still get paid less than their male counterparts. "At Microsoft, we have discovered in recent years that women ask for less pay than their counterparts, and we update a candidate if her salary expectations were lower. The policy is to pay every individual their worth. We look at their impact, their influence on and contribution to the company's business success. It is perfectly fine for parents to choose the hours of the day that are convenient for them to do their jobs and we don't log hours. Anyone who comes forward with a great idea that solves a technological problem is awarded relative to the contribution to the business. It is the general rule, but naturally women gain more from it. We have also promoted female employees who were on maternity leave since the promotion meetings were scheduled for a certain time of year and women on maternity leave deserve promotions too. This is the best way to handle the issue of salaries." CHANGE #3 "Exceed the expectations" Braverman-Blumenstyk learned to dare to exceed what was expected of her from her father. "I was born in Tel Aviv, the child of Yitzhak and Tseira, a middle-class family. My mother was a primary school teacher and my father owned a small laundromat. I was a daddy's girl, the daughter of an intellectual who loved to read and pushed me to excel. What I gained from him and helped me throughout the years was the ability to dare. It is something a lot of women clash up against because women stop being encouraged, stop being challenged, from a young age. "Our small living room was stacked floor to ceiling with books and it was made clear I had to excel at school. My father really loved sports and because of him I'm addicted to it too. As a girl, I was on the track and field team, I played basketball, and at my father's encouragement, I swam, even though I didn't enjoy it as much. Today I run, participate in triathlons, I'm hooked. My father was a very influential figure in my life. I was born when he was about 50 and from a very early age he taught me to dare." In what way? "He made me feel like he gets why I do the things I do. I was a very naughty child, always climbing trees and playing with the boys. My neighbor from across the hall, his name was Arik Kopelman and he was three years older than me and much stronger, but it didn't stop me from fighting with him and coming home bruised. My father would say 'everything's fine, there is nothing to worry about.' "I loved to run around, climb trees, I guess these days I would be diagnosed as hyperactive. But since my grades were good, nobody was bothered by it. Studies were always pretty easy for me. I always loved math, I matriculated high school at the highest levels of the science-based subjects and served in the Israel Air Force's electronic warfare unit. CHANGE #4 "Shifting your convictions" "In my youth, I had very strong feelings against marriage, but by the age of 20 I was married already, while still in the army. I was first among my friends to do it. That's the way I am, I have strong opinions but if reality changes, I shift my convictions. I've done so several times throughout my career and I don't regret it." Why did you get married at 20? "I simply fell in love. I was doing my military service, he had been in the U.S. for a year studying dentistry and when he returned to Israel for a vacation we decided to get married. We made the right choice and we have two charming daughters. "After the military, I joined him and began taking computer science courses at a university in New Jersey. I went on to complete a computer science Ph.D. program at Columbia University, specializing in artificial intelligence. At university, like in the army, I was in the minority in terms of gender. I was sure I would spend my life on the academic track between research and teaching, and then, at age 24 I gave birth to my first daughter. That was a trigger for change." In what way? "I had never held a baby before that. Until then children didn't really interest me. So what do you do? You need to read. I quickly realized that if you don't care for girls properly from a very early age, they will not reach their full potential. "I read a study about mothers at the park and the freedom they enable a male toddler compared to the freedom they give a girl before telling them to 'stop and come back.' There is a distinct statistical difference. Since I was raised by my father, I knew that nurturing the ability to dare was a huge contributor to success. All the studies showed that boys are rewarded for taking risks far more often than girls. I decided I would not dress my daughter up in pink. I bought her toy trucks and tractors and electronic games. She didn't have a single doll. You went a little extreme, no? "Yes. Until at one stage she became very adamant and demanded a Barbie doll. She continued playing with Barbie dolls, alongside trucks and tractors, until the relatively late age of 11. With my younger daughter, who was born 10 years later, I realized I'd have to make adjustments. She got dolls from the start, along with toy vehicles and electronic games. "But in addition to that, the birth of my first daughter was a trigger to change things that I had previously held convictions about, like my academic career and doing things I really want to do. I finished my Master's degree, I started working at a software company, and suddenly, what fun! I entered the real world. I was doing something that someone else would benefit from. I notified the university that I would not be continuing on the Ph.D. track, despite my parent's disapproval and I began my programming career. "I loved New York City, I felt like a woman of the world, but after nine years we decided to return to Israel. I kept on working for the same company, running projects for them, and every time something here upset me, I got on a plane to the U.S. "In Israel, I worked at several startups in development roles. At the time, I held disdain for anything that wasn't math-based, like marketing or business management. I got over that too. I studied management to gain new tools and began getting promoted to management roles. When I worked at RadView Inc. I realized that my kick was combining technology with business, seeing that things I initiated and developed reach many people around the world. "Later (Israel's Defense Minister who was then the founder of Cyota) Naftali Bennett interviewed me for a position at Cyota. To this day we remain good friends although we try to steer away from talking politics when we meet. We were among the pioneers in machine learning until we were bought by RSA and became RSA-Israel. "At the end of 2006, after the Second Lebanon War, Naftali decided he was leaving the company to enter politics and I was appointed manager of RSA-Israel. I was determined that we lead our own product line and not just settle for receiving instructions from above. R&D centers in Israel must initiate and lead, not just develop. When you initiate innovation strategies, you ensure you cannot be replaced. You can give out instructions from anywhere in the world. "In the beginning RSA refused, but I managed to convince them. I challenged them to give me a year and if at the end of it we were unsuccessful, I'd resign. The tactic worked. The number of clients increased and the local team grew from 80 to more than 300 people. We became RSA's second-leading product line with sales topping $200 million at a time when all of RSA was earning sales of $800 million." So how did you get to Microsoft? "Microsoft had head hunted me when I was still the CEO of RSA-Israel, but I didn't want to leave my position. Seven years later, in 2013, I was ready. Microsoft re-entered the picture and I was more available. Microsoft wanted me to establish a cybersecurity division. They flew me to the U.S. and as is the custom in a company of that size, I was interviewed by about 10 senior executives, including (current Microsoft CEO) Satya Nadella. They wanted me to relocate, but I was able to convince them that the cybersecurity ecosystem in Israel is very strong, due in large part to the Israel Defense Force's technological units, multinational companies' research centers that are based here, and good university programs. "I established the cybersecurity center here and have been Microsoft's research center's CEO for about a month. For the past two and a half years I have also functioned as the CTO of the company's cloud and enterprise security division, a job that I love, so I run the company's strategy when it comes to security.