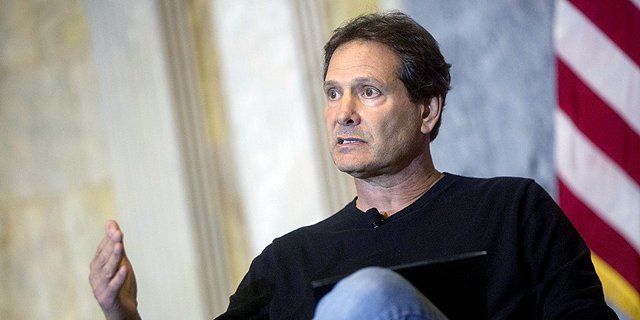 Interview
Interview | Covid-19 accelerates the demise of cash, says PayPal CEO
In an interview with Calcalist, Dan Schulman outlines PayPal's rise during the coronavirus outbreak and why he believes employee financial health is key to a company's success
Sophie Shulman
|
12:43 19.06.2020
The coronavirus (Covid-19) crisis was nothing but good news for PayPal Holdings Inc. While millions of businesses around the world were crashing due to prolonged lockdowns, the online payment giant just grew and grew. Since the beginning of 2020, Paypal's stock jumped by 40% and it is currently trading at a market capitalization of $189.3 billion on Nasdaq.
According to PayPal CEO and President Dan Schulman, the company has seen, in just the past few months, growth equivalent to two or even four years. "Covid-19 has somewhat dramatically accelerated the movement of all things from physical to digital," he said in a video interview with Calcalist.
Schulman joined Paypal with a resume full of success stories, at the helm of companies including telecommunications giant AT&T, online travel agency Priceline.com LLC, Virgin Mobile USA, and credit card company American Express. When, in 2014, PayPal's parent company, eBay decided to split into two separate public entities, Schulman was brought in to take the lead. In the first few years of the transition, the company was at a standstill but, then, Schulman went on an ambitious shopping spree to help it shake its image as the digital payment industry's one-trick pony.
Still, nothing could have prepared PayPal for Covid-19. All of a sudden, the entire world was homebound and developed an itch for online shopping. As a result, in April, PayPal saw a 22% increase in processed payments year-over-year and on May 1 alone it broke this year's Black Friday and Cyber Monday records. Throughout April, PayPal saw an average of 250,000 new users a day and by the end of the month, it had 360 million active user accounts. Schulman believes that the second quarter of 2020 will see between 15 million and 20 million new users. Do you think that in a couple of years we won't use cash at all?
"A lot of people have been wrong predicting the death of cash, but I definitely feel we are going to see an acceleration in the demise of cash. We already see 60% of our users would prefer not to handle cash."
PayPal now accounts for 60% of the digital payment market, but its competitors are multiplying and gaining strength, especially in the sub-sector of mobile payment apps. PayPal managed to significantly improve its stance in this sector with its 2013 acquisition of Braintree, the parent company of the most popular customer-to-customer payment transfer app Venmo, but is still facing competition from industry juggernauts including Amazon, Google, and Apple.
For online shopping, however, PayPal is still the most common payment method and is used by 78% of the 500 largest online retailers, according to an analysis conducted by research firm MoffettNathanson in late 2019. Amazon Pay is the second most popular service, available at 11% of the top 500 online retail sites, and Apple Pay is available in just 1% of them.
Not all payment processing companies enjoyed the same prosperity as PayPal did during the coronavirus era. Its main U.S. adversary Square Inc., for example, reported losses for the first quarter of 2020. PayPal itself suffered a significant blow due to the sudden drop in the tourism and mobility industries but compensated for it by increasing its presence in online shops. Aren't you afraid of strong competitors taking a bite of your market share?
"It is an extraordinary large adjustable market that could be as large as $100 trillion, so there isn't going to be one player that dominates this market, there are going to be quite a number of important players. PayPal is obviously a market leader, we have over 225 million users on our digital platform. Almost one in three online shoppers in Israel uses the PayPal platform, predominantly for cross border transactions, with the U.S. the U.K., and Germany being the top three markets."
Out of 3.5 million Israelis shopping online, about 1 million have PayPal accounts. The number of new accounts in the country saw a surge in April, with the most popular transactions being for gardening equipment, baby supplies, dietary supplements, books, furniture, and toys. How does PayPal view Israel today, as a market or more as a research and development center?
"Both. It is an important market because Israelis are quite advanced in their use of technology and the amount of talent inside of Israel makes it a very attractive place for us to recruit from."
While PayPal has hundreds of employees in Israel and it is its largest center outside the U.S., out of the nine companies it acquired since Schulman took the helm, just one—CyActive Security Ltd.—was Israeli. Do you have plans to acquire additional Israeli companies?
"I would never talk to you about that, but clearly, PayPal is emerging from this crisis as a very strong company, financially. We have been quite acquisitive over the years and there is no reason to think that we won't continue to be if we find a company or a set of capabilities that might accelerate our time to market."
Despite its
status as a fintech powerhouse
, Israel's regulations heavily restrict most services in the sector, while U.S. regulators are far more lenient, allowing for broader adoption of fintech technologies by the public. That is partly why while Israeli small business owners were storming government websites that could not handle the traffic to receive Covid-19 relief packages, their American counterparts got their money at lightning speed. For the purpose of dispensing loans as part of the U.S. Paycheck Protection Program (PPP) to assist small businesses, PayPal was approved as a bank. Over $500 billion were handed out in loans since the program started. At the end of the day, do you want to be a bank? "The reason the U.S. government was so interested in working with us is that we address a part of the small business market that traditional banks don't. "We are one of the five largest providers of working capital (short term small loans for businesses, SS) in the U.S. We have lent over $15 billion of working capital over the past several years. Seventy percent of those loans have gone into neighborhoods where the median income is below the national average, where 10 or more banks have closed branches. We are disproportionately serving vulnerable populations, minority owned businesses, women-owned businesses, because we use technology to make decisions not relying on bureau scores, not relying on a tremendous amount of physical documentation. We can make a decision in five minutes that typically takes 30 hours. "If you look at our statistics for the PPP program, on average, our loan size has been under $30,000, while banks are averaging at over $125,000. So, we are looking after small businesses." In the post-mortem of the 2008 financial aid plans, it became apparent that the tax money of 99% of the population was actually used to bail out the top 1% in Wall Street. Do you think this time funds were divided more equally? "Governments around the world have learned lessons from the last crisis. What impressed me is that governments acted quite quickly and aggressively and because of the scale and the scope of what they were trying to do, there were bound to be systems crashing because it is difficult to get these volumes through systems that are used to handling much less. But I do believe that, as we are moving more and more towards electronic means of payments and digital wallets that can manage and move this money in an efficient and cost-effective manner, it will lead to a more efficient and more equal spread of benefits. "On the consumer's side, it just makes no sense in this day and age to mail a check, they may not be living where you are mailing the check to, and even if they get it they have to leave the house, stand in line, pay a fee. Governments across the world are seeing a rise in digital payments which are so much more efficient." Schulman, 62, is known for his radical world view which he translates into action: 13 years ago, he accepted an invitation from non-profit organization StandUp for Kids to take a week off from Virgin Mobile and experience life as a street beggar; he canceled plans to set up a PayPal center in North Carolina, due to anti-transgender legislation; and has said more than once he practices "reverse-Friedmanism." Schulman argues against Nobel Prize-winning economist Milton Friedman's views, claiming that a company's purpose is not solely to make money for shareholders and that businesses prosper when they take into account their broader constituents, namely their employees and customers. The coronavirus crisis allowed Schulman to test his views in the real world. Since the crisis started, Schulman said, PayPal has not let any employees go. Almost all of its staff is working from home and will continue to do so in the upcoming months, he added. "I believe my job is to serve multiple constituencies and that the role of PayPal is not just to maximize short term profits at the expense of doing the right thing. We have put in place a very extensive financial health program for employees," he said. "For entry level and call center employees, we lowered the cost of benefits by 58%; we gave every PayPal employee equity in the company, so they could share in our successes and be able to save money and have a degree of financial health. I believe that if you have passionate, financially secure employees, you serve your customers better and attract the best talent. There is no bigger competitive advantage than talented, passionate, engaged, secure employees." Do you feel like the aftermath of Covid-19 is an opportunity for a massive social change? "I think a lot of trends that we are seeing coming out of Covid-19 will change the way we think, work, and live. I am excited about being able to sit back and rethink and not necessarily extrapolate from what was but from what could be. If I had said to my team, a year ago, that I want 100% of us working from home, they would have said I was crazy and that it would take years to do. We did it in three weeks. What you can really do and accomplish when you are focused on something is amazing, things you never could have imagined."