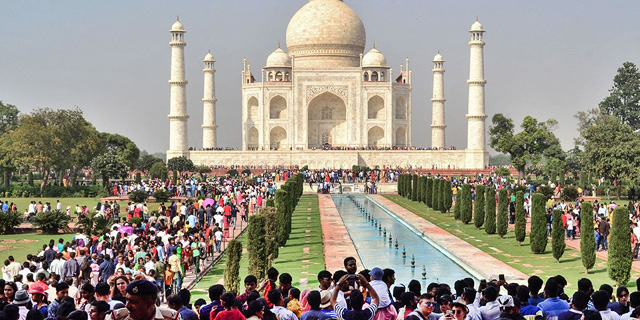 Analysis
Why western tech giants are storming India's emerging digital market
A mix of geopolitical tensions, regulatory uncertainty, and the growing distrust between the biggest global powers is pushing the likes of Apple, Google, and Facebook to invest billions of dollars in what could be the tech's industry next gold mine
Viki Auslender
|
08:41 26.07.2020
In the past few years, India has gradually become the hottest tech center in the world and it appears as though it had reached a boiling point this week, when Google announced it will be investing $10 billion to bring internet access to the 1.35 billion residents of India within the next five to seven years.
Google's India Digitization Fund will operate "through a mix of equity investments, partnerships, and operational, infrastructure, and ecosystem investments," Google CEO Sundar Pichai, himself a native of India, said at a Google live-streamed event.
Two days later, Google announced $4.5 billion of the fund's budget will go to Mumbai-headquartered Reliance Jio Infocomm Ltd., India's largest telecommunications company. With 388 million subscribers, Jio is currently in a rush to create the country's digital infrastructure, offering an array of apps covering every aspect of life, from payment services and e-commerce to entertainment.
Since the coronavirus (Covid-19) crisis, one after the other, tech giants and multinationals began to announce massive investments in India. Amazon went first, pledging $1 billion in January and others followed: Apple's iPhone parts suppliers are reportedly planning to set up or expand factories in the country; Microsoft has agreed to set up a campus employing 4,000 people in Uttar Pradesh in northern India; and retail giant Walmart led a $1.2 billion investment in Bangalore-based e-commerce company Flipkart Internet Pvt. Ltd.
Google is by no means the first American giant to back Jio. It was preceded by a $97 million investment by Qualcomm Technologies Inc., Intel's $253.5 million investment , and Facebook's massive $5.7 billion investment.
But, the interest in India is nothing new. The Asian country, whose residents are gradually and enthusiastically connecting to the digital world, is perceived as a promising market for growth, a practical gold mine. And, yet, the abundance of funds during a global pandemic that has brutally hit India, as well as the rest of the world, is somewhat abnormal.
In addition to the pandemic, India is also currently in the process of aggressively tightening its digital borders and claiming cybernetic sovereignty in terms of data transfer, privacy, government oversight, and taxation—in other words, everything technology giants are wary of.
What pushes them to invest nonetheless appears to be a mix of geopolitical tensions, regulatory uncertainty, and the growing distrust between the biggest global powers.
Halt, digital border ahead
American companies have been investing in India in full force for years, but China is not far behind them. According to data from Mumbai-based foreign policy think tank Gateway House, the main investors in 13 out of India's 26 unicorn companies are Chinese funds and companies. This seems a bit surprising due to the military tension between China and India that dates back to 1975. Just last month, 20 Indian soldiers were killed in clashes between the bordering states in the disputed Ladakh region.
The ongoing dispute with China, along with the nationalistic line led by Prime Minister Narendra Modi, is one reason India is attracting western capital. India has been known to try to get the best of both worlds, up until April, when it finally decided to change its foreign investment rules to require government approval for any China-linked investor. This was not the last step India took in this direction.
After the confrontation in Ladakh, India declared a wide ban on 59 Chinese mobile apps—including the exceedingly popular short video sharing app TikTok, Tencent Holdings Ltd.'s messaging app WeChat, and apps owned by e-commerce giant Alibaba and multinational Baidu Inc.—claiming they were secretly spying on Indian citizens on behalf of the Chinese government.
A fight to the last byte
The anti-Chinese sentiment in India goes well with the U.S.' campaign against the powerhouse that is forcing the world to pledge allegiance either to the Americans or the Chinese. It is a digital cold war that revolves around the most important resource of the current time: data.
This conflict ranges far beyond the trade war U.S. President Donald Trump was pushing for and includes a complete delegitimization process against China, as if it were the only nation in the world that tracked civilians, used anti-democratic means of policing, or violently imposed its will.
Among other steps, the U.S. has called upon the world's nations to limit the implementation of technologies developed by Chinese companies and embargo them; has banned some Chinese companies from operating in its territory; repeatedly warned against using apps such as TikTok; and is even reportedly planning to cancel the visas of Chinese graduate students and researchers who have ties to universities affiliated with the Chinese army.
Last month, European Union President Ursula von der Leyen called China a "negotiating partner, an economic competitor, and systemic rival,"emphasizing, in particular, the country's disagreements with the EU when it comes to intellectual property, investment, and human rights. Under U.S. pressure, the U.K. announced last week it would ban Chinese technology giant Huawei Technologies Co. Ltd. from taking part in laying the infrastructure for the country's 5G high-speed wireless network.
The Trump administration has been vocal in its criticism of India's ties with China, and, addressing the possibility of the Asian country letting Huawei in on its 5G network, U.S. Secretary of Commerce Wilbur Ross said last year the U.S. hopes its "geopolitical partner India does not inadvertently subject itself to untoward security risk."
Ross then added "anybody who thinks we are doing this for protectionism simply doesn't know the facts."
While the world's strongest nations are exchanging blows, western tech giants are going in for the prize. To them, India seems very attractive: it is as large a market as China, has a democracy of sorts, and is pushing aside their Chinese competitors for them.
This means companies can enjoy relatively transparent regulation, as can be expected in a democracy, along with an ocean of untouched personal data on hundreds of millions of existing users and additional hundreds of millions of potential future users. This great potential comes at a very good timing for technology giants, as the coronavirus crisis brings with it, for the first time in many years, a fear of slowdown for the industry, which is already evident in the financial reports of some of these giants.
The crown jewel
Last week, Apple had an unusual victory in the European front when it managed to reverse a decision that would see it cough up 13 million euros (approximately $15 million) in retroactive taxes. This ruling came as a massive blow to the EU and to Margrethe Vestager, the European Commissioner for Competition, who led the original decision meant to stop the tax evasion party of tech giants in the continent.
The blow may have been hard but it is still just a temporary setback and tech giants are currently raging a daily battle against numerous regulators around the world including in the U.S. These regulators leave no stone unturned and are examining every possible angle to attack the giants through: their anti-competition practices, their trade of user data, their tax evasion mechanisms, exploitive employment terms, and locked-out profits.
It is no wonder that just two days after the ruling, Vestager launched a wide-ranging antitrust probe focused on digital assistants Siri, Alexa, and Google Home. T
he regulatory changes and legal battles that pursue create an ongoing and expensive task as well as an uncertain business environment for tech companies. And this is where India comes in.
The global activity by tech companies requires now, more than ever, a confident strategy. If companies continue to rely on grabbing whatever they can and fighting regulators in court, it would eventually become impossible for them to do business. The west cannot change India more than it can China, but it also cannot ignore either of them. If these Asian powerhouses manage to create the right mechanisms for collaboration, they can ensure a steady stream of business, without fear of embargo on mobile apps or online services.