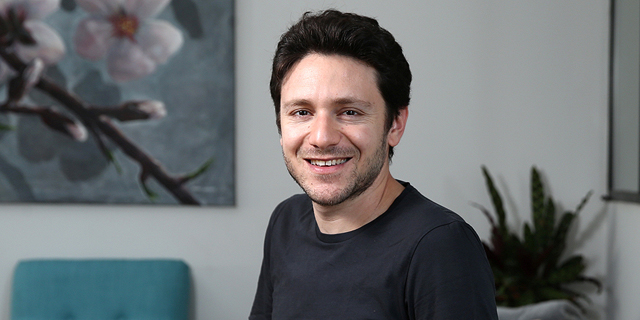 Facebook wants to lure in startups, says its B2B marketing manager, citing success of Instagram's merger
Jonathan Nimrodi, manager of Facebook's EMEA B2B marketing team believes the social media giant can offer startups a pain-free way to digitize their business model, especially in the Covid-19 era
Raphael Kahan
|
16:32, 03.08.20
Advertising, Facebook's main growth engine, has been going through a rough patch over the past year. Yet, the company, which has suffered from repeated calls for boycott recently as well as several probes from the U.S. government, does not seem to be worried. Its
latest quarterly report
, published Thursday, indicates these accusations just don't seem to impact the company's performance.
In a recent appearance in front of the U.S. Congress, founder and CEO Mark Zuckerberg brushed aside claims of abuse of market power and monopolizing the social media market and his message seems to have echoed throughout the company's ranks. "We face fierce competition on a daily basis and we think it is a good thing," Jonathan Nimrodi, who is the manager of Facebook's EMEA (Europe, the Middle East, and Africa) business-to-business (B2B) marketing team, told Calcalist.
Nimrodi focuses mainly on startups, which he sees as a vertical unique to Israel. Facebook's goal is to attract entrepreneurs looking to use the social media giant's platform to enter international markets.
Startups are a double-edged sword for Facebook. On the one hand, the multi-billion dollar company is doing its best to nurture as close as possible a relationship with them. Throughout the interview, for example, Nimrodi kept mentioning how team management and productivity unicorn Monday.com Labs Ltd. is a close partner.
On the other hand, a claim that keeps resurfacing is that Facebook is using its ties with startups to identify potential competition and crush it, either by mimicking its product or service—utilizing its massive user base as an advantage—or by acquiring it.
The first method was the one Facebook chose to handle Snap Inc., when it created the story feature on Facebook and Instagram, which mimics almost entirely Snapchat's business model, just with billions of users. Now, it is attempting to do the same to Beijing-based company ByteDance Technology Co. Ltd., the developer of short video sharing app TikTok. According to Nimrodi, however, Facebook is looking to attract startups and entrepreneurs as they are already using its services and understand the company's strengths.
While more veteran companies might be deterred from using Facebook for operational needs, startups find it to be an easy and quick solution. Quoting his CEO, Nimrodi gives Instagram as an example of the growth potential connecting with Facebook can offer startups. When Facebook acquired the photo-sharing social network in 2012, he said, it only had 12 employees. "When you look at its success today you cannot help but tie that to its merger with Facebook," he said. "Our main goal is to help build a community and connect people all over the world," he added.
You could say that nowadays, B2B is the name of the game and is at the heart of the business model of many companies. "People are shocked when I tell them Facebook is also a software company for businesses," Nimrodi said.
But, selling services to business clients is very different from advertising to consumers. It ranges from setting up an online shop based on a corporate Facebook or Instagram page to a messaging service offered by another Facebook subsidiary, Whatsapp, to businesses looking to sell products through chat. Such a service was recently launched in India and the company plans to add payment processing services to its offering to make selling and managing a shop on Facebook and its subsidiary services easier.
"The coronavirus (Covid-19) crisis accelerated the digitization process of businesses," Nimrodi said. "Facebook wants to become the one-stop-shop for it, making digitization cheaper and easier," he explained.
Before joining Facebook four years ago, 33-year-old Nimrodi owned his own performance marketing company called Cookie Jar Marketing. As a big client working for startups, Nimrodi got to know Facebook's team and the way it operates. His first steps in tech were as a growth marketer at cloud management company Cloudyn Software Ltd., acquired by Microsoft in 2017 for several tens of millions of dollars. To this day, Nimrodi is still disappointed that the company did not continue to operate as a product-centric company and was instead swallowed by one of its clients for a relatively low price.
"There are a lot of B2B companies with great people out here," Nimrodi said, "and they want to be product-based companies." When securing capital, he said, these companies have to accelerate their growth simply to justify their valuation. To do that, according to Nimrodi, they start selling their product even if it is not ready yet. "Then, they set up sales teams in the U.S., huge local teams that eat up all of the company's cash, and as soon as they start selling, their focus shifts from the product to sales," he explained.
When a big enterprise customer starts asking for adjustments to the products, Nimrodi said, the company stops developing it and starts customizing it and that is how many companies hit a wall. "We are talking about companies like Cloudyn, Dynamic Yield Ltd., or Clicktale Ltd., that had the potential to develop," he said, "but they came to a halt because they shifted to sales-based growth and then they were acquired based on their business activity and not their product."
In other instances, Nimrodi warned, the acquiring company is interested in the technology but the merger would spell the end of the smaller company. As an example, he gave Israeli facial recognition startup Face.com, acquired and swallowed by Facebook as it integrated the technology into its own service.
The way advertising on Facebook works is by matching ads with a specific profile of users. To do that, the company uses an internal system and the personal data of its main commodity—its billions of users.
From a business perspective, it's a whole different ballpark because there is a paying customer that wants to keep owning their data. According to Nimrodi, what Facebook is trying to do is use the same marketing methodologies it uses for consumer advertising and apply them to its B2B activity.
"All the information that we gather is completely aggregative, we don't see it and neither does the advertiser," he said. "We do know what pages you follow or what interests you have, so ads can target you based on these parameters and that is true for both the business-to-consumer (B2C) and the B2B model."
But Facebook's ad targeting system does not work as well for B2B, Nimrodi said. "We believe that the best targeting comes from first-hand information," he said, "so we want the information gathered by the advertising company itself to be used to reach the right potential audience." Facebook would aggregate this information anonymously to adjust it to the client's goals, he explained.
Facebook would not be privy to the company's information, Nimrodi said, but the goal could be to reach a user who, according to their profile, manages a team on the lookout for new technologies. "While millennials don't tend to pay for apps for personal consumption they will invest money when it comes to their business," he said. "Traditionally, to sell to corporates, you had to go through c-level executives but today, middle management is a lot more autonomous when it comes to purchasing tools for the use of their teams," he added.
Asked if Facebook's public image doesn't hurt his team's efforts, Nimrodi said startups are aware of the challenges of running a giant tech company. "We explain the situation to them," he said, " and we respect every decision made by our partners and take their feedback very seriously."
Preventing hate speech is among Facebook's highest priorities, Nimrodi said. "Today, 90% of hate speech on the platform is removed prior to publication through technological means," he said, adding the company invests billions in doing so and has a team of 35,000 people addressing the matter.