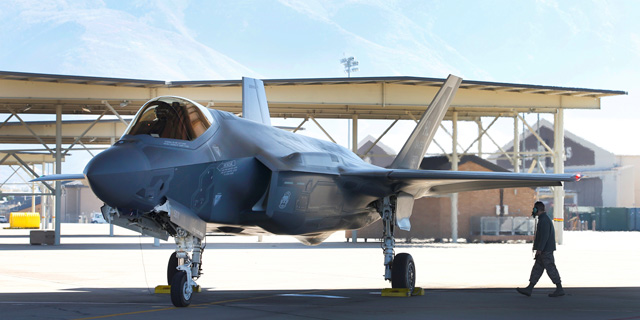 Report: Secret clause of Israel-UAE deal lifts U.S. embargo on sale of F-35s to the Gulf state
UAE ruler conditioned the peace deal on its ability to purchase advanced weapons system; Prime Minister's Office says Israel hasn't changed its policy
A hidden clause in the much-anticipated
agreement
to normalize Israel's ties with the UAE states that in return for advancing diplomatic and commercial relations, the Persian Gulf powerhouse will be allowed to complete a huge arms deal with the U.S., Yedioth Ahronoth reporter Nachum Barnea reported Tuesday, citing American and Emirati officials. According to the report, the deal in which the UAE would purchase tens of billions of dollars worth of F-35 fighter jets, advanced UAVs, and more, which was long frozen due to Israel's objections, is now able to go ahead.
Chiefly, Barnea criticized Netanyahu for keeping the agreement secret, even from his political allies, specifically Defense Minister and Substitute Prime Minister Benny Gantz, the leader of the Blue and White party. Netanyahu, he wrote, explained that he was afraid Gantz and Foreign Minister Gabi Ashkenazi (also from the rival Blue and White party) would leak the details, putting the agreement at risk.
Barnea further slammed Netanyahu for not informing the defense establishment of the secret clause, arguing that Israel's military and defense agencies must sign off on any deal that involves the sale of advanced weaponry to third countries. He noted that Netanyahu allegedly took the same route in the past when agreeing for Germany to sell Egypt advanced submarines.
The problem with Israel's silent acquiescence to the arms deal is the precedent it sets, Barnea concluded. Other countries, primarily Saudi Arabia, may condition any step towards normalization on the removal of the embargo on the sale of the most advanced weapons systems in the U.S. arsenal.
This isn't a case of peace in return for peace or even peace in return for freeing annexation of the West Bank, Barnea argues. "From now on, say normalization in return for weapons."