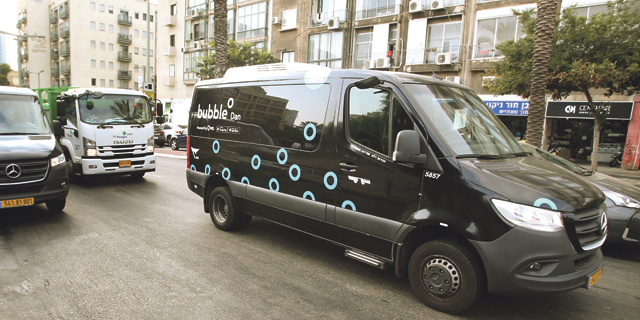 "Customers expect on-demand services and mobility companies need to keep up"
Speaking with CTech after Via's acquisition of Fleetonomy, the two companies describe how they came together based on their shared understanding of coping with 'the new normal'
James Spiro
|
15:15 11.10.2020
Following Via's acquisition of Fleetonomy last month, it appeared that the ride-hailing and fleet management platforms were on their way to a natural merger with executives describing it as a "no-brainer." However, this year has seen unique challenges presented to mobility and transport sectors as the coronavirus (Covid-19) pandemic slowed down the economy while simultaneously accelerating solutions that may help employees who work from home. Via's Oren Shoval and Fleetonomy's Israel Duanis and Lior Gerenstein shared their vision for a future where customers expect more data-driven solutions in public transit and general logistics platforms, and specifically, about how the rise in on-demand systems is causing end-users to expect a certain standard from companies who have successfully pivoted in a turbulent year brought on by lockdowns.
Fewer people are taking public transit, and some companies have seen a 50% drop in users as people stay home. Via's Shoval claims that the data that was collected before Covid-19 has helped Via, as well as services that use its software, to create better opportunities to keep people safe as they start leaving the house again.
"The legacy, heavy infrastructure public transit systems are not a good fit during Covid-19 because they are designed to handle the demand mostly for commutes," Shoval explained when talking about how Via and Fleetonomy can apply on-demand services to public transit. "People are commuting much less and also changing where they go... you want a system that can adapt to new demand power."
In a world where people can track exactly when their food will arrive home, or precisely when their package will be delivered, customers are also expecting that level of accuracy in their day-to-day mobility space. According to the companies, bus routes that are mapped out by city planners every 10 years can be tweaked and optimized every 10 seconds - helping save time, cost, and space on the road. "You manage a fleet of cars in the city, it can start with a chauffeur service, and then we can expand to ride-hailing and then logistics and deliveries," said Gerenstein. The common saying is that luxury ultimately becomes necessity - and customers will one day expect all products, services, or tools to be on-demand. What we've already seen in our recreation as we shift from live-broadcast to streaming will one-day spread to public transit systems and mobility solutions once the world opens its doors again. "It doesn't matter if you're the retailer, or the customer, or the fleet operator, things are changing. It's an opportunity for us accelerated by Covid-19," said Duanis.