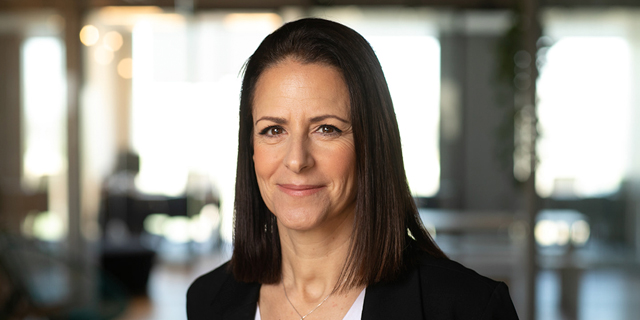 Tech@Work
Despite Covid-19, we had a chance to thrive, says Fyber HR manager
Not all companies saw 2020 as a chance to thrive on a personal and professional level. According to Fyber's Global HR Manager, it was one of their best years ever
For Fyber, it was all about trust. In March, it, like every other company, had to face lockdowns and its 250 employees were abruptly sent to work from home.
"The distance between people actually improved communications," said Fyber's Global HR Manager, Tzurit Golan. "This, in turn, gave the trust (especially in these times) a chance to thrive."
was ranked
in Dun & Bradstreet's annual list of the best high tech companies to work for - so it must be doing something right. CTech spoke with Golan about how the company maintained its morale, business goals, and even managed to win a few awards along the way. Company Name: Fyber
HR Leader: Tzurit Golan
Field of Activity: Ad-Tech and in-app mobile advertising.
Number of employees/locations:
250 employees worldwide in seven offices: Israel, Berlin, London, San Francisco, New York City, Beijing, and Seoul.
Professional background of HR Manager:
I have been a global HR leader for over 20 years, with experience in global tech companies at various scales. I currently lead Global HR at Fyber, where I have been for three and a half years now. Before joining Fyber, I was the Global VP HR in RRsat. Prior to that, I was the Head of Global HR in AudioCodes, Orbit, and Director of HR in Alvarion. I joined Fyber right after the merger between German company (Fyber), and Israeli start-up, Inneractive. I led the integration process (PMI), similar to what I did in the previous company I worked with.
On a scale of 1-10, how much did the coronavirus pandemic disrupt operations at the company?
Even though we were one of the first companies in Israel to move our operations to work from home in March, we are thankfully having a very good business year and productivity remained high. But the cultural aspect was disrupted as everyone remains at home. Generally, while business is strong, I believe there is a natural disruption to a small degree. Our managers and leaders have stepped up, ensuring things run smoothly - and our employee's dedication has proven incredible in mitigating major disruption.
Luckily as a global company, we are used to working virtually when we communicate with teams across our worldwide offices. We have strong and engaged teams who made the transition to work from home easier and smoother. Maintaining our organizational culture is a bit more tricky. We strongly believe in the personal connections between our employees and invest a lot in building this "family" feeling here. We adjusted some of our practices to adopt new routines and align with our employees to continue maintaining our strong bonds. We also expanded our personal reach to our employees to support their wellbeing during this time, which included fitness and yoga classes, volunteering, emotional and cognitive support - and putting an emphasis on increasing the frequency and transparency of our communication with employees.
We were humbled that this year out of all, we were selected to be one of Israel's best high tech companies to work for on Dun & Bradstreet's ranking, climbing substantially to the 18th spot. This vote of confidence from our people, especially now, was great to receive.
We recently launched a new learning and development initiative, as part of our investment in employees' personal development, called GrowthSpace. The platform is an online coaching and mentoring tool with certified coaches around the world. These interactive sessions provide engagement and inspiration. With the obvious hardships, the pandemic also created a great opportunity to shine the light on learning and development - topics that have become a major factor for employees` satisfaction. Part of our HR DNA is recognizing the talent we have in our company and how crucial it is to support and develop career paths, increase internal mobility, and build an environment of growth.
What positive and/or negative impact did the outbreak have on the human capital of the company?
Focusing on the positive, as our company always strives to do, we do see an increase in trust and engagement due to increased communications. While both were always key components in our company culture, the distance between people actually improved communications, and in turn, gave the trust (especially in these times) a chance to thrive. We gave our mid-level managers and employees abundant opportunities to engage more than ever before, and we are seeing it pay off.
Unfortunately, while some byproducts can be seen as positive - there is a strong feeling of missing our people's togetherness. While online communication is high, it cannot function as a substitute for a proper meeting - but leaves us hopeful for a big reunion once the circumstances permit.
What are the two major challenges you are coping with these days?
1. Maintaining employees' engagement
2. Maintaining the company's culture without personal, face-to-face interactions.
Are you actively recruiting? If so, what is the process and where can the applicants find you?
We are hiring for positions with our teams in Israel and all over the world - come join us!
We have an amazing talent acquisition team that knows the market like the palms of their hands and run the entire recruitment process. At Fyber, we put an emphasis on providing applicants and candidates with a very personal process. Each candidate has a dedicated Talent Acquisition specialist who is available for all communication and questions during the entire interview process, right up to greeting you at your new desk decked in Fyber swag (or rather in these days, a fun Fyber package sent to the new Fyberian's home) and interactive onboarding. Each process differs from position to position and is tailored to suit the needs of the specific role.
We are always looking for talented superstars to join Fyber. Do you think you have what it takes and wonder if there's a role at Fyber that you will thrive in? Check out our website or feel free to contact us at jobs@fyber.com.
Which changes forced upon you by the circumstances will stay in place after Covid-19 is over, and which are you most eager to revert back to normal?
For the time being, we will not go back to working five days a week at the office. Instead, we will build a hybrid model, something that we learned works well for us. It's a win-win situation where the employees enjoy the flexibility while the company saves costs. Some of the things we have all really missed are the small, yet important encounters: our hallway conversations, having lunch together in the offices and on our rooftop, and our amazing recreation activities such as parties, regional events, and more. We can't wait to get back to this - and will continue to engage globally on video until we can.