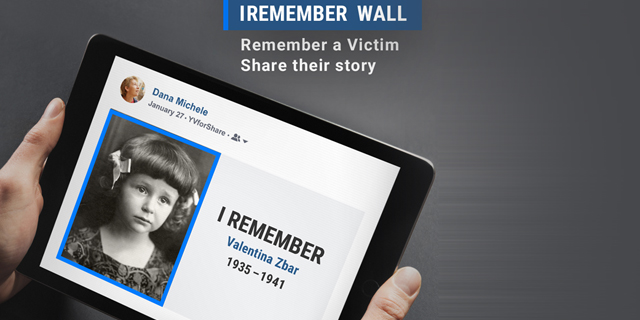 Israel's Yad Vashem commemorates Holocaust victims with IRemember Wall
The initiative allows people to participate in an online commemorative marking International Holocaust Remembrance Day
James Spiro
|
10:20 26.01.2021
Yad Vashem, the World Holocaust Remembrance Center located in Israel, has once again launched its IRemember Wall, whereby participants can be either randomly or specifically linked with the name of one of the 4.8 million names stored on Yad Vashem's Central Database of Shoah Victims' Names to commemorate International Holocaust Memorial Day, taking place on January 27th.
This year, Yad Vashem is partnering with Facebook to promote the project across social media. The wall, which will be available in six languages - English, Hebrew, French, Spanish, German, and Russian - can be easily shared on other social media platforms including Twitter and Pinterest.
Iris Rosenberg, Director of Yad Vashem's Communications Division, added that "by partnering together with Facebook, we are able to reach a wider international audience, which is crucial to keeping the memory of the Jewish victims alive and the meanings of the Holocaust relevant in today's complex reality."
Last year, 85,000 Holocaust victims were commemorated by participants from 175 countries, with those becoming 'ambassadors of memory' to make sure the atrocities of last century will never be forgotten or diminished. In recent years, actions taken by Facebook and Yad Vashem have become more pertinent in honoring Holocaust victims and their families, given the rise of Holocaust denial and anti-Semitism found on social media platforms.
Yad Vashem was established in 1953 by the Israeli government tasked with commemorating, documenting, researching, and educating about the Holocaust. It is located on the Mount of Remembrance in Jerusalem and takes up 45 acres with museums, monuments, and memorials. International Holocaust Memorial Day was designated as an international memorial day by the United National General Assembly in 2005.