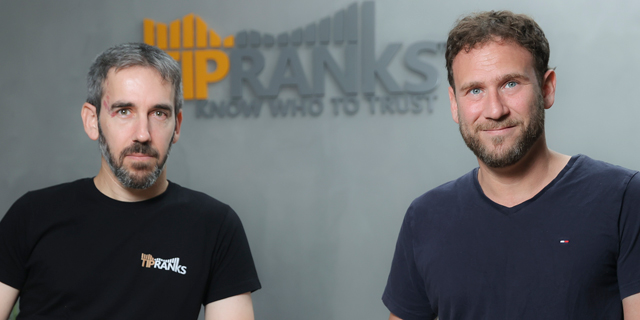 HR Post Covid
TipRanks: Covid-19 made our communication "more deliberate and proactive"
Every company wonders how their culture will be impacted by remote working. Here's what happened to TipRanks
"We would never have considered that working from home could be as efficient as sitting together," explained TipRanks CEO and co-founder Uri Gruenbaum. "Whereas in the past we could wander into one another's offices to discuss tasks, brainstorm, etc., now we have to be far more deliberate and proactive in how we communicate, and this has served us well."
TipRanks, which helps investors conduct data-driven stock research, has joined CTech for its HR Covid series to explore how the company - which doesn't have a strict HR department - managed its growth during the Covid-19 pandemic.
So to answer your question, in some ways it's been a 2 and in others a 9.
Which interesting technological tools do you use in employee management/recruitment? We utilize social media in our recruitment, in particular Facebook and LinkedIn. We keep the process simple and transparent for candidates. Of course, Zoom has become essential over the past year. It has been interesting to see that the recruitment process has not suffered from the pandemic. In fact, we've made amazing additions to the team over the past year. What positive and/or negative impact did the outbreak have on the human capital of the company? From the beginning, our priority was the wellbeing of our team. This meant providing staff with the flexibility they require to do their jobs well while balancing the needs of their families. We have lots of parents with young children working at TipRanks which has been particularly challenging when children have been home. However, everyone has been affected by the pandemic. We would never have considered that working from home could be as efficient as sitting together. However, working remotely has forced us to be extremely mission-driven and taught us to prioritize communication. Whereas in the past we could wander into one another's offices to discuss tasks, brainstorm, etc. now we have to be far more deliberate and proactive in how we communicate, and this has served us well. What are the major challenges you are coping with these days? One is to maintain the level of growth while still working from home. Although we're confident that we can keep and even increase the pace, it has been a challenging year and it would be remiss to ignore that.
website
. Applicants can send their CVs to
jobs@tipranks.com
. Which changes forced upon you by the circumstances will stay in place after Covid-19 is over, and which are you most eager to revert back to normal? We will continue to have flexibility post-Covid. Although we are desperate to get back to the office, it is likely that some staff will choose to work at least part of the time from home. As we globalize, we will continue to recruit staff overseas, although the bulk of the team will remain Israel-based. As Zoom became a normal way to communicate, we started to run regular webinars with our customers, and with thousands attending, were blown away by their enthusiasm. This is something we'll continue to do. Our customers are at the heart of everything we do. It is important to us to have face-to-face time together, so we will revert to doing fun activities together, in particular, a company trip to celebrate our achievements and say thank you to staff for excelling during this difficult time. We will also revert to doing activities with Holocaust survivors at the Amcha Center. We usually do activities with them a few times a year, and we sorely miss making a difference in their lives as well as in ours.