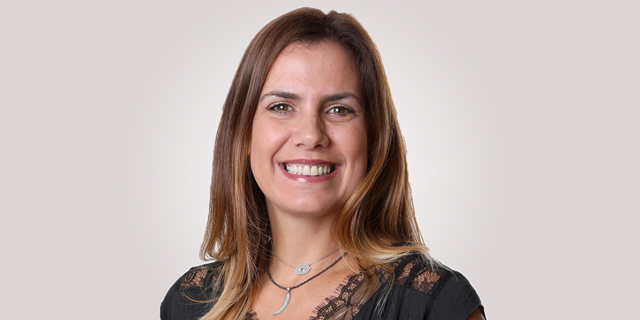 HR Post Covid
Siklu: "It is during trying times that a company culture is measured"
Covid-19 caused massive disruption across nearly all industries. Here's how Siklu rose to the challenge and came out stronger than ever
It can be hard for any company to keep its culture alive and well when everyone is sent home to work remotely for a year. It is in times like that when managers and employees must establish clear goals and expectations - all while remaining close as an organization.
"We are not driven by hierarchy and the feeling is that everybody, from the CEO to the most junior employee, is a part of a very intimate team with no distance," explained Sharon Kanterovich, VP HR at Siklu. "It is in such trying times that true company culture is measured, and Siklu has proved without a doubt just how strong and united we all are."
Siklu, which describes itself as "a very flat organization, very accessible", joined CTech for its HR Post Covid series to share how it kept its company culture alive during Covid-19 and achieved significant growth.
Company Name: Siklu Communication Ltd. HR Leader: Sharon Kanterovich, VP HR at Siklu Field of Activity: Siklu is in the business of providing connectivity at Gigabit speeds. Our wireless systems are being used across the world to bridge the digital divide, make smart cities a reality, and secure towns and critical infrastructure. Siklu is at the forefront of exciting new wireless technologies that will make Gigabits for all a reality, including Terragraph 60GHz mesh backed by Facebook. Number of employees/locations: 105 around the world in Petach Tikva, Israel and Silicon Valley, San Francisco. Professional background of HR Manager: I hold an MBA in HR Management and Consulting Development from The College of Management, with over 14 years of professional experience leading HR efforts for various global high-tech companies such as LiveU, N-trig, Check Point, Amdocs, and more. On a scale of 1-10, how much did the coronavirus pandemic disrupt operations at the company? We adapted to the new reality quickly due to Siklu's employees' passionate and innovative DNA. During the first few weeks of the first lockdown, we had to train our managers and employees on how to adjust their day-to-day work, one-on-one meetings, syncs, etc. to a virtual environment. We also provided extensive mid-level management training sessions to help them lead their teams to success while adapting to the new challenging reality. We have adapted and automated our product development methodology to accommodate remote working for our R&D team. Siklu supplied employees with equipment to build their home offices as well – from office furniture and computer accessories to implementing new technologies for virtual meetings. We also provided special support to parents with young children as well as special attention for those in quarantine. As a result, we saw high engagement and productivity-levels at the beginning of the pandemic that we still see today. Challenges were mostly around getting our "boots on the ground" to develop new geographic territories, but since this virtual reality quickly became the new norm for everybody, and Siklu's solutions were so essential for our customers to deliver those Gigabits quickly and across the world, we overcame. The pandemic increased the market demand for fast connectivity without a doubt. It was actually during Covid-19 that we launched a new breakthrough technology with our partner Facebook, that is revolutionizing our entire industry. The communication industry was also defined as essential for the Israeli economy, and because of that we were able to reopen our HQ offices in compliance with government regulations and Covid-19 restrictions. What interesting technological tools do you use in employee management/recruitment? Siklu is using Hibob, our people management platform, that has all the tools needed to tackle Covid-19. We use it to drive company culture and engagement with features such as Shoutouts and Kudos, which celebrate individual milestones and achievements. bob helps us stay connected and informed about company news or personal updates, and everyone in the company uses it. Our Org Chart and Directory were especially useful for new hires who onboarded remotely during Covid-19 and haven't had the chance to meet their teammates and peers face-to-face. We also use bob for talent management, employee life cycle, HR KPIs, headcount statistics, and for our annual feedback review process.
Our R&D team is using a project management platform called Jira that allows bug tracking and agile project management to streamline workflows, maximizes outputs, and sync remotely.
What positive and/or negative impact did the outbreak have on the human capital of the company? Over time, people really felt the need to fully come back to the office, to work in a more collaborative environment, to brainstorm and meet with others during our happy hours and events. Social distancing was without a doubt the most difficult impact on a company such as Siklu, which prides itself on making our people feel welcomed in a warm environment that creates a sense of belonging. Today, we're working in capsules and we're eager to see all employees together in the office, to see our global colleagues in person after such a long time, to see more face-to-face gatherings without any concern, interactions, and hallway conversations that are so crucial to Siklu's organizational culture. Despite that, we have come to appreciate just how much our employees care about Siklu. Everyone, from management to our junior employees, is not only performing above and beyond to get through this challenging time as smoothly as possible but is also pushing to attain exceptional achievements, contributing to our growth. Great team spirit and huge engagement by all that I found very moving. What are the two major challenges you are coping with these days? The first challenge is to continue a successful hybrid onboarding process of our new R&D and support team members that were recruited during 2020, representing 20% growth. To overcome that, we are offering virtual New Hire Orientation days (NHO), internal professional training courses by our company's veterans, online leadership development programs, and more. The second challenge as mentioned previously is the lack of "boots on the ground" for our sales team trying to expand into new territories. We are overcoming that challenge by creating online marketing campaigns targeting our audience and reaching more local channels. We are seeing an increasing growth in engagement by our audience who are eager to learn how to tackle the digital divide quickly especially during this pandemic. For our sales team, we have also made a digital presence training session available and added new digital research tools at their disposal. Are you actively recruiting? If so, what is the process and where can the applicants find you? We are hiring and growing all the time and are looking for talented candidates. As I mentioned, Covid-19 gave our business a big push and we have recently revamped our website in support of that increasing demand. We are also investing heavily in recruitment via social media and encourage our employees to recommend their friends using dedicated referral programs. The company, which was in the middle of hyper-growth when Covid-19 hit, moved to a full online recruitment process which included video interviews, digital home assignments, remote professional tests for developers, etc. Today we work in a hybrid model as we understand the need of our candidates to see and feel the office vibes. Therefore, while the recruitment process is done in a hybrid model, parts of it are also done face-to-face in our offices according to Covid-19 guidelines. Siklu career opportunities can be found on our
website
. Which changes forced upon you by the circumstances will stay in place after Covid-19 is over, and which are you most eager to revert back to normal? There is so much to learn from this year, in so many ways about us as individuals and as a company. We decided to take this drastic change as an opportunity to develop a more flexible mindset. That shift enabled us to maintain a highly motivated effective work culture from anywhere, our meetings are currently done virtually while reducing the number of participants to become more efficient. It is still hard to tell, but I predict that the hybrid model of in-office and working from home will stay with us post-Covid. Although as time passes, we're seeing that more and more of our employees prefer to work from the office, rather than work from home. I'm grateful that we are able to continue working from our HQ offices as an essential communication organization, and still preserve our unique organizational culture and the feeling of togetherness that is so typical of our company. Siklu is a very flat organization, very accessible. We are not driven by hierarchy and the feeling is that everybody, from the CEO to the most junior employee, is a part of a very intimate team with no distance. It is in such trying times that true company culture is measured, and Siklu has proved without a doubt just how strong and united we all are.