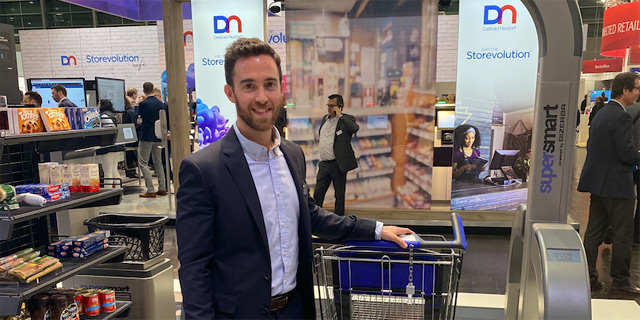 How Israel's SuperSmart hopes to win where Amazon lost
Amazon's 'checkout-less' stores were considered a failure - so how does a small Israeli company expect to revolutionize the global supermarket industry?
James Spiro
|
11:18 29.03.2021
In late 2016, retail giant Amazon had just revealed its latest product expected to change the supermarket game: Amazon Go. Using a variety of cameras, sensors, AI, and a personal app, users would be able to walk into a supermarket, pick up an item, walk straight out of the store, and have their account automatically charged with the exact cost of their purchase. It was going to change the world - until it didn't.
"Amazon Go is a big failure - today there is no doubt about that," said Yair Cleper, founder and CEO of SuperSmart. "At the beginning, they announced 3,000 stores, then reduced it to 300. Last year they had 28 stores and then closed another three. If that's not a failure for Amazon, I'm not sure what is."
"We are here to stay," Cleper said to CTech, seemingly trying to separate SuperSmart from Amazon Go, which has since disappeared into the history books. "We're not only stores' bridge to the next generation of retail, but we're here to take the next generation and implement that with a very high customer experience."
According to Cleper, Israel's third-largest supermarket Osher Ad is using the technology and even proposed funding to help with the project. Stores that have implemented SuperSmart stations have seen a 90% retention rate among their shoppers and more than 50% of their revenue coming through their units. The results, which he calls "a world record in terms of supermarkets" surely signal that something is resonating with shoppers who try the new experience of shopping with new technologies. In the year following Covid-19, the company saw 300% growth as stores were looking for new ways to keep shoppers visiting physical stores, but as quickly, safely, and efficiently as possible. It recently signed an agreement with Metro, a cash-and-carry firm that hopes to implement SuperSmart's solution across 25 countries including Czech Republic, Hungary, and Germany. Cleper also shared that they signed an agreement with a New York-based store, although he couldn't share which one. While technically a B2B company (SuperSmart offers annual subscriptions for supermarkets that lease its technology), Cleper likes to consider it a B2B2C company because at the end of the day it's there to serve the shoppers. And while the retailers are set to benefit from the service, it's the human side that inspires Cleper to make SuperSmart the industry standard 'in the next two years.' "The experience the shoppers were giving us in their feedback is that the 3-second checkout feels like magic to them," he said.