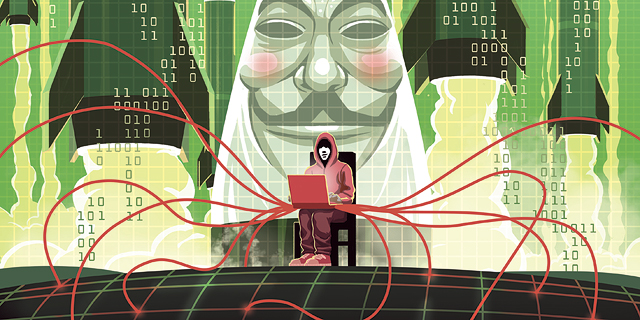 Analysis
As cyber wars escalate, Israeli tech gains an edge
With giant Russian cyberattacks against the U.S., the transition to online services during the pandemic and stricter regulations to protect data, Israeli cyber companies are set to benefit from 2021
Sophie Shulman
|
15:20 02.04.2021
2020 will go down in history as the year of the war against the coronavirus pandemic. However, although invisible to the eye, another battle has been waging in the wake of the online migration caused by people being forced to remain at home: the cyber war. The string of attacks on online services reached its peak with the exposure of the large Russian cyberattack on U.S. government institutions and companies who exploited a loophole in SolarWinds software, which lent the attack its name. The Israeli cybersecurity sector, which is considered a world leader in the field, finds itself at a key moment, which positions it to benefit from the escalation. Over the past year, against the backdrop of the growing need for cyber solutions, the local industry's exports climbed by 20% compared to the previous year, hitting a new peak of $10 billion. And so, a single industry, which employs only 1% of the workforce is responsible for 10% of total exports and a third of all tech exports. Israel itself is on the top of hackers' target lists. Last December, F5 Networks reported that Israel was the most attacked country in the world during the third quarter of 2020, with 180,000 identified attempts. "Although Israel is multi-talented in the cybersecurity arena, it falls victim to cyberattacks that aren't always sophisticated, and that's a reminder that vulnerabilities can be exploited anywhere, and basic information security infrastructure must be bolstered," Aran Erel who F5's Israel operations said.
The Israeli cybersecurity sector is made up of around 500 companies: publicly traded gants like CheckPoint Software Technologies and CyberArk alongside private companies like Imperva, SentinelOne, Cybereason Labs, Forescout Technologies, and Snyk. Israel is second only to the United States in the global share of active cyber companies: 59% of cyber companies operate in the U.S., while 13% operate in Israel. The other 28% are dispersed over more than 100 different countries. In addition, foreign cyber companies like Palo Alto Networks have Israeli founders or operate large R&D centers in Israel. At the start of 2021, Israel is in an excellent opening position. The local industry is robust and attracts many investments, can lead to a significant increase in exports, and create new jobs and professions.
"The cyber market doubles itself every year," explained Arik Kleinstein, co-founder and Managing Partner at venture capital firm Glilot Capital, which specializes in investments in later-stage companies. According to market data firm Statistia, global cybersecurity expenses are expected to climb to $250 billion a year until 2023. The uniqueness of the global cyber market is actually giving Israel an edge, as the market is divided and there isn't a single company that stands above the rest, but rather several which hold significant market shares. That enables small young cybersecurity companies to gain footing with large customers and achieve significant sales. The real locomotive of the tech industry Just like the forecasts predicted, 2021 opened with a boom with young Israeli cyber companies conducting huge funding rounds, some earning billion-dollar valuations and entering the unicorn club before they are even a year old. The total investments in the industry's large companies crossed the billion-dollar threshold in less than a quarter. By some estimates, if you add in all the investments in smaller companies too, the first quarter of 2021 produced $1.5 billion, half of the total amount raised the previous year. By and by, Israeli-owned BridgeCrew was sold to Nir Zuk's Palo Alto Networks, which has become an avid collector of Israeli cybersecurity companies.
Bloated valuations that stem from high demand
You don't need to be an economics whiz to see that the recent valuations of cyber companies reflect dreamlike revenue multipliers, but one needn't get too anxious. In today's booming market, which includes $200 billion in SPAC money that was raised over the past year and is just looking for a place to park, valuations in private funding rounds are mainly determined by supply and demand. These large rounds are designed to enable companies to invest in marketing. The pandemic year proved that it's possible to sell technological solutions remotely, including from Israel, without physically meeting with marketing representatives. At the same time, it spurred companies to develop products that are adapted to these times, and are easier to install and operate without the need for onsite customer service support, something that has given young companies born into the social distancing era a clear advantage. Even when the stock market eventually corrects and the reverberations become felt in the private investment market, companies that have raised funds will be better equipped to cope with a dry spell. That is the rationale for why venture capitalists are keen to give more money to experienced entrepreneurs who have already founded and managed companies, like Wiz's Assaf Rappaport or Fireblocks' Michael Shaulov. It's obvious that not all of those hundreds of Israeli cyber companies will survive or reach a significant scale. One of the main criticisms of the sector is the multitude of companies that operate in it. Israelis' rich military background drives them to build their own startups, which often deal with a single product or feature. There is no justification for there to be so many and expectations of consolidations have been circling the sector for years. Today's acquisition scene is dominated by CheckPoint and Palo Alto Networks, which are buying up startups that are still in development stages. The main demand is for cloud-adapted security solutions as well as developers of solutions that protect home appliances like televisions and refrigerators. As more Israeli companies reach heavyweight class, they will step into the acquisitions ring, and will be doing so at a time of price corrections, which will make business deals easier to reach. In the meantime, everyone is enjoying the abundance of money that is circulating in the market. Opportunities for growth Nimrod Kozlovski, Partner & Head of Tech Regulation at the Herzog, Fox & Neeman Law Offices, believes that the Russian cyberattacks against the U.S. were a real game changer for the industry. He thinks the SolarWinds incident is connected to other factors which will lead 2021 to be a record year in the cyber war, where awareness and the need for defensive solutions will increase, and enable the Israeli industry to leap forward. "The SolarWinds incident came amid a crisis of confidence between the East and West over technology," Kozlovski says of the attack. "In the past, no one asked where a software's source was or who was behind this or that innovative technology, but now there is an understanding that technology is a means of control. Americans understand that the Chinese are collecting information about their children through TikTok, and that has been translated to boycotting certain technologies and even enacting sanctions," he says.