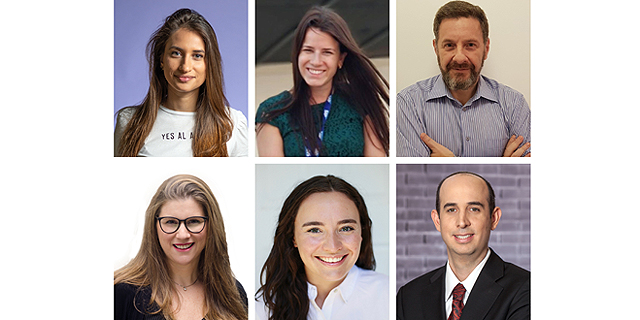 Jewish immigrants share their journeys home to Israel
On Israel's Independence Day, six immigrants from around the world shared what makes the country so special for them
James Spiro
|
08:32 17.04.2021
Each year, Israelis and Jews around the world celebrate Yom Ha'atzmaut, Israel's official Independence Day. While the country earned its independence on 14 May 1948 according to the solar calendar, its citizens celebrate it each year in line with the lunar calendar - so this year it falls earlier in April.
More than 70 years have gone by and Israel has transformed into a cultural and technological powerhouse. Despite Covid-19 and travel restrictions, the tiny nation is still attracting a mighty crowd of Zionists who choose to live in the land of the Jewish people.
For Stephen Barak Rozen, originally from Los Angeles, the move was more sudden. "After high school, I came to Israel for a one-year program at Bar-Ilan University," he explained. "I was enrolled at a university in New York and during my year here I realized that this is the place for all Jews to be and that I could not see myself leaving. I called my parents and told them that I am staying and, despite their attempts to convince me to only make Aliya after I finish college in the States, that was that." Twenty-five years later, aged 42, he is Partner in the High Tech and Venture Capital practice at Amit, Pollak, Matalon & Co. and has four children with his wife, Meirav.
"In the Netherlands, I grew up in a Zionist home, in a routine of life that included many visits to Israel, along with studies in a Jewish school, a Zionist youth movement, and so on," Batja Huisman told CTech. "But the program Massa was the straw that broke the camel's back and made me immigrate to Israel." Nine years later, aged 29, she is the Marketing Manager at Mine, a startup focused on data ownership. "Israel is a great fit, especially when targeting the high-tech market," agreed 32-year-old Darya Afonina, who came almost six years ago from Belarus to work at SAP R&D Center in Israel. "When I graduated from college around May 2020 - at the peak of the coronavirus crisis - I felt the need to pursue my career dreams," remembered 22-year-old Maya Waldstreicher. "Immigrating to Israel (from America) at that stage was not really my priority, but I always wanted to engage in innovation and technology, especially when it comes to promoting Israeli companies and the local ecosystem." After only eight months in the country, she is now Operations Manager at 365x NY scale-up program by Sarona Partners.
"Firstly, Zionism is the inspiration as a core to come to Israel," stated Leandro Roisenberg, who moved here from Brazil almost four years ago. Sadly, the 51-year-old also called the situation in his hometown "critical" regarding urban violence, economics, and other aspects of daily life.
Aside from Zionism, what else attracts you to Israel? "Security," Roisenberg affirmed. "The simple feeling of walking freely in the street, without having the sensation of urban crime." "Tel Aviv is, to me, the best city," said Huisman. "The feeling of freedom to be who you are is very much felt in this city. I'm closing a decade in Israel this year and I'm happy that I have built myself here in the last decade, as well as finding here the man who became my husband in the first year in Israel." "Because of this spirit that I mentioned earlier, the chutzpah, that runs deep in the people, Israel is a land of opportunities: nothing seems impossible to achieve," stated Kashmir. "I think that's what makes Israel so captivating. Its innovation ecosystem as well - it dares us to think about the next big idea, it's the land of the bold." Waldstreicher: "The directness and results in the Israeli ecosystem speak for themselves and I love it."
"While the Covid-19 situation is far from over almost everywhere in the world, it is basically over (at least for now) here in Israel," said Barak Rozen. "How amazing is that? A small little country, in the middle of nowhere, has essentially reopened – safely - its whole economy."
What are your plans while you're here?
"I'm fully committed to building bridges between the place I come from (Uruguay) and the place I choose to build my future in, and there is no better way to do that than through technology and innovation," affirmed Kashmir. "Israel is full of opportunities waiting around the corner and no one knows which is the next challenge that we will face, both on a national and personal level, and I want to be a part of that." Afonina: "My goal is to continue to build my life, home, and family here as well as to continue to strengthen my career." "My plans are to continue to do what I dreamed of doing and I'm lucky to be able to start doing it during such crazy times," said Waldstreicher. "Having multinational corporations to come and innovate in Israel is an important goal for me," explained Barak Rozen. "While the foreign corporations are not Zionists, bringing them here and opening the doors between them and Israeli businesses fulfills the Zionistic dream par excellence and it allows me to directly connect my Zionism with my professional passions and livelihood."