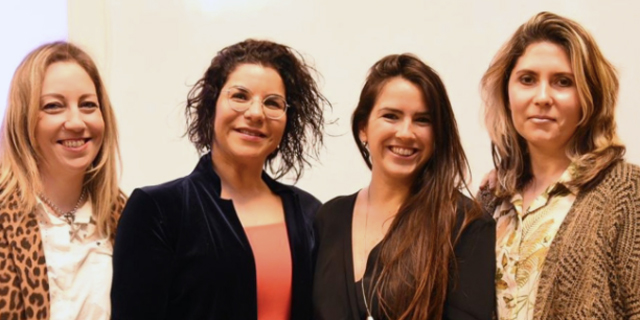 CTech Meets: The Fintech Ladies bringing women to finance
The Fintech Ladies IL community has more than 1,000 members and was created to empower women in the Fintech industries. CTech speaks with its founder to find out more
James Spiro
|
09:41 17.05.2021
Israel is made up of many different ecosystems that help individuals succeed within Startup Nation. Facebook groups, Accelerators, or Meetups can help with networking and a sense of community in the tech world. However, many of these still do not serve specific sectors such as women, ultra-orthodox, or Arab communities.
Enter Fintech Ladies IL. The non-profit community gathers women from around the country to empower women in Fintech industries and create a community that enables collaboration and cooperation, new project creation, and an open discussion platform. One of the ways it achieves that is through "Fintech, Ladies & Wine", a physical meetup event for women in the space.
Another member from PaymentsOp, Maria Bromberg, is the Head of Payments & Billing Projects Unit and is the final co-founder of Fintech Ladies IL. "Our goal is to create a network of connections that will endorse female presence in the Fintech industry," she added.
What are conventional attitudes to women in the Fintech space?
"We are still far away from gender balance," explained Michelson. "Women's decision-making presence in the industry is firmly underrepresented, the partnership is still not close to being equal."
"One good thing that exists in the finance industry is it has a larger women-man ratio than in the tech industry," added Revivo. "So females that are interested in such a shift to technology, may come with broader advanced knowledge on finance."
Aviasaf-Migdal: "Fintech is a brave new world of creativity and exploration, but you wouldn't necessarily know that by looking at the boards of most leading Fintech companies. Although representation of Fintech employees that are female is steadily improving, there are still barriers to gender diversity that hinder women to rise to the top."
"Any woman who tries to establish a career knows that it can be a challenge," concluded Bromberg. "Think about the boardroom and who you typically see seated at the table. Women in positions of board members, directors, or founders of Fintech companies are still rare across the globe."
What can women bring to Fintech that men can't, or won't?
Michelson: "I believe women can impact all industries, not only Fintech. I would ask, what can a woman bring that a man can't for any type of industry? And my answer would be everything."
"Both women and men can bring everything," agreed Revivo. "We need to have more gender neutrality than gender equality. Having said that - on top of the technology and financial expertise in Fintech, women also bring more emotional intelligence, the ability to let go of ego and create engagements – not only multi-tasking but also diverse knowledge and expertise that can serve the organization's needs and more."
"If we only have a small group of people who look and think alike creating the financial services of the future, it's likely those products will only fit the needs of people similar to them," said Aviasaf-Migdal. "With this in mind, it would be more logical not to encourage women to act like male leaders but rather asking men in power to adopt some of the more effective leadership behaviors more commonly found in women."
"We are equal, but we are not the same," added Bromberg. "Women are half of the world's population, yet many women across the globe are underserved, disregarded, and denied basic rights such as financial independence and education. I think that not only do we need more women in Fintech, but we need more women from different walks of life, social and cultural backgrounds to take part in the design of financial tools."
What are some of the ways we can encourage women to take part in more traditionally masculine areas, such as Fintech?
"In order for women to familiarize themselves with the Fintech industry and make an impact, we must make information, knowledge, opportunities, and networks accessible," said Michelson. "There is no need for competition or power games, rather we must find ways to cooperate with men and lift each other up."
Revivo highlighted three main ways women can penetrate the Fintech space. "Create more entry paths with the ability to understand what the hell it is before starting it; create more supportive communities (it can be sisterhood communities like ours or others), and leverage the knowledge and experience of senior females to promote the younger ones as we do in the 'wanna coffee' spot that we publish every month."
"Women often make significant professional sacrifices to have a family, with consequences for their economic and personal wellbeing," added Aviasaf-Migdal. "One way to level the playing field is to push for work-life balance for both genders."
Bromberg: "Fintech is a relatively new concept, the fact we already see it as 'traditionally masculine' saddens me and proves that we need to work harder to allow inclusion. We need to raise awareness of the career opportunities Fintech offers and encourage women to take such career paths. We need a community to lift us up and give us professional and emotional support."
Why does "Fintech, Ladies & Wine" exist, and what are some of the ways it builds the community?
"Fintech, Ladies & Wine exists in order to provide women in the Fintech space, and also women who want to join Fintech, a platform to learn from market leaders and most importantly to network, to form new connections, new alliances in the industry," explained Michelson. "I believe that this is how we build a strong community, by collaborating and helping one another to thrive."
"The beautiful thing was that once we decided to go through with this conference, senior leaders within the industry joined us immediately," remembered Revivo. "And it created a situation in which the conference was opened by Anat Gueta, the chairwomen of the securities authority, then Dr. Hedva Ber, who was the supervisor of banks at that time, joined her together with Facebook Israel's GM Adi Soffer Teeni."
Bromberg: "The ability to meet in person in an informal atmosphere is crucial for building strong interpersonal bonds. Fintech, Ladies & Wine is a series of events held by our community that combines professional discussions, panels, and presentations with mingling over a glass of wine."
"We invest many efforts in building the agenda, finding the precise space, bringing the best content and lectures and of course…food & wine for the right atmosphere," shared Aviasaf-Migdal. "During the Covid-19 pandemic, we have put a hold on these events but now we can finally plan the coming "Fintech, Ladies & Wine" events, stay tuned!"
What other sector would benefit from this kind of community?
Revivo: "Any sector that is not women-oriented, that needs more females in it, can enjoy such a supportive network of experts. Women that have done what you're about to do, or will experience what you've already forgotten that happened."
"Any sector," agreed Bromberg. "Simply because humans are social creatures, we need a tribe to flourish."
What interesting Fintech trends can we look forward to in 2021 and beyond?
Michelson: "I believe we are now experiencing the rise of the digital assets economy and this trend will continue to grow with tokenization of traditional assets and adoptions of different cryptocurrencies."
"The utilization of AI for algorithms in everything, not only algo trading will grow dramatically," predicted Revivo. "The ability to utilize Fintech apps and products from any device, thanks to 5G, and the larger amount of financial services that will be available online – we'll continue to see the faster digitalization pace that Covid-19 brought us."
"Fintechs have come to the realization that they cannot circumvent the regulations of the financial services industry, and incumbents have realized that the threat presented by digital-first banks and Fintech is not going away," added Aviasaf-Migdal. "Both sides realized they need to work with one another."
"The mix between technology and finance will lead to increased use of Autonomous Finance where financial services will be tailored to personal needs," concluded Bromberg. "I just hope that by that time we will teach the machines that a person's cultural and social background must be taken into account to optimize financial service processes and ensure that gender bias is removed from the equation."