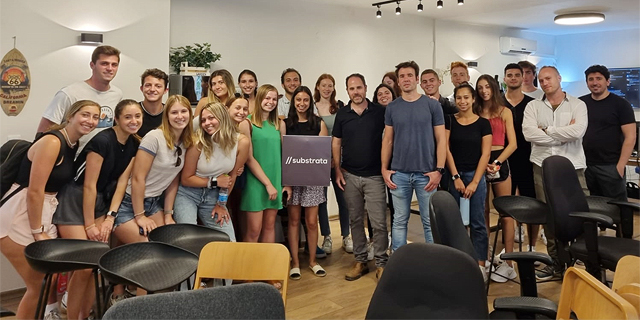 SubStrata's non-verbal communication AI might help fund your next startup
By analyzing interactions, hierarchies, and relationships in real-time, dealmakers can get a one-up on their sales or fundraising strategies
James Spiro
|
08:54 08.10.2021
According to the famous
'7-38-55'
rule, only 7% of our communication is done verbally with voice and body language making up the remaining 38% and 55% of how we interact with each other. The number is extraordinarily low, and yet there may be a new emphasis on its importance following the rise of Zoom meetings and the covering of our faces with masks still worn outside. Suddenly, our voice carries more weight and communicating over digital channels is becoming more regular in our interactions.
"I think we're the first and only company to analyze discreet power dynamics in negotiations, sales, and dealmaking situations between the two sides of the deal," explained Ori Zuckerman, the CEO and Co-Founder of SubStrata. "We do that through a deep analysis of non-verbal social signals, usually conveyed through body language, vocals, and other discreet signals."
During an example, Zuckerman showed how SubStrata captures the tone of written emails and suggests the best time to reply. It will also be able to analyze the 'turn-based conversations' between two people, showing the balance - or imbalance - of cutoffs, interruptions, or confrontations. Currently, the company's first patent is for audio abilities and soon it hopes to roll out video capabilities that will focus on posture, facial expressions, and more. Right now, the company is trying to overcome one of the challenges presented by our Zoom-led world: gaze alignment in the camera and where our eyes are looking on the screens.
It's easy to see how SubStrata's technology can be used in other sectors outside of sales or HR job recruitment. Think dating apps that can help nervous courters with their response times to new messages, or political parties who could train their candidates for more aggressive debate tactics. Even Zuckerman admitted that it could be a useful tool for defense industries and interrogation technologies, although he's hesitant to politicize the company. "Our focus is on new relationships because the social signals are very specific. We are great when conflicts are there - even if they're very covert." Fascinating questions arise when SubStrata's technology is used by people with different accents or cultural habits. While the company claims to be gender, race, and ethnicity-neutral, Zuckerman admits that usually "the stronger culture prevails" in negotiations, usually benefitting American English speakers. Cultures can be knocked or weakened depending on the number of participants in the meetings, and imbalances can occur and shift the 'upper hand' from one culture to another. "If there are more Chinese people in the room, the Chinese culture will be stronger," Zuckerman observed. SubStrata was founded in 2019 by Zuckerman, Baruchi Har Lev, and Eran Yessodi who each serve as the company's CTO and CPO. It is currently in the pilot stage and hopes to hit the commercial stage of its product in early 2022. So far, $1.15 million has been raised from nine investors, notably including SimilarWeb's Co-Founder and CTO Nir Cohen who now acts as an Advisory Board Member. The company has also received the guidance of four professors who are in the field of social signal processing, non-verbal communication, reinforcement learning, and social sciences to help identify the exact traits needed for analysis. "People say people either have it or they don't, and that you can't teach these things," Zuckerman concluded. "My personal agenda was to always analyze those things that are unable to be analyzed. This is my own drive - curiosity."