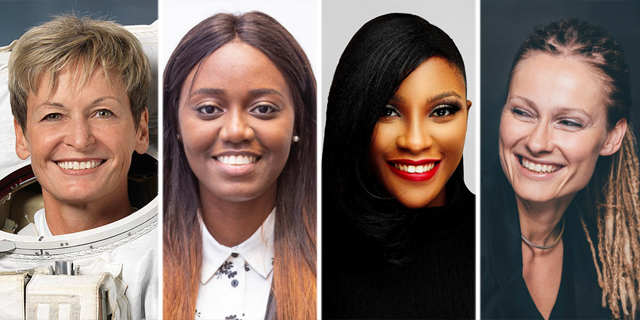 "People don't realize that every time we swipe a card or navigate a car we're accessing space tech"
Four female space experts spoke during a panel moderated by Israel's next astronaut about adopting dual-use technologies to better our future
Yafit Ovadia
|
08:50 12.11.2021
When Africa comes to mind, space typically doesn't follow. But the large continent's influence on the booming aerospace sector is growing, as investments in local space and satellite infrastructure are increasing. Several Israeli telecommunications companies, such as AMOS Spacecom and Gilat Telecom, are already investing their resources to help Africa develop the next-generation of innovation. Second-Israeli astronaut Eytan Stibbe is also the co-founder of Vital Capital, an investment firm that is uniquely focused on building infrastructure in Africa. "Our investments are focused on improving the life of local communities. Recently, during Covid-19, we established and implemented the Vital Impact Relief Facility to support local impactful SMEs (small-medium-enterprises) in Africa. The areas of our investment are usually supported by Israeli technologies such as in healthcare, agriculture, and information systems," Stibbe related to CTech during the Vital Capital's Development in Africa Through Space conference last Thursday which took place in an online format.
Stibbe spoke from NASA's Johnson Space Center in Houston, Texas, where he is currently undergoing training to be Israel's next astronaut. He is facing a 10-day mission aboard the International Space Station along with his crew, Ax-1, whose final date has been delayed yet again and set for February 21, 2022. "To me, Africa was a mystical remote frontier. It always aroused my curiosity. During the past 30 years, we've helped develop the African continent, whose culture is both rich and dynamic," he said.
On space policy, Ruvimbo Samanga, a Space Law and Policy Analyst from the small town of Bulawayo, Zimbabwe, noted that space is not exempt from the law, and already there are a series of binding and unbinding regulations that guide stakeholders in outer space, which are also beginning to apply to the private sector. Some include the Outer Space Treaty, the "constitution" of space; the Space Liability Convention; the Rescue Agreement; the Moon Agreement, and others. "There's an entire set of rules for how we should be engaging on foreign planets, and these non-binding rules are legal principles that can give non-binding guidance to how states, and broadcasting and satellite companies can operate as well."
That could translate to finding new sustainable resources or utilizing technology in innovative ways, noted Marais. "We need to think about making technology more robust, lightweight, and cheaper, such as the LED lighting that is used to grow vegetables aboard the space station, or like developing solar technologies that support space missions, water purification systems, and communication systems." She recommends that companies consider ways to grow sprouts and fungi for nutritional consumption, finding better ways to sustainably manage waste, and establishing a savvy space satellite communication network.
On that note, Samanga noted that Africa is the most susceptible continent to climate change. "People don't realize that it's important to have analogue test beds to carve out our future. Zimbabwe is interested in fostering growth in space through space products in terms of economic potential, but also serves as an important geopolitical region." By promoting space science, fostering space capabilities, and facilitating the exchange of ideas, African countries can better contribute to the space tech ecosystem, she said. "We have a very good plan to rewrite the narrative of space, and Africa will become an emerging space nation by building CubeSats, (small picosatellites that can help build local infrastructure)." This, however, depends on having a good internet connection, something that isn't commonplace in Zimbabwe, which has only 40% internet penetration, and can impede local ability to develop and build such technology. A limited African aerospace industry Bevania Martins, a Space Applications Specialist from Angola, discussed the space industry in Africa. "In Angola and in Africa in general, space and aerospace applications are a very limited industry." Despite that, many young people, she noted, are very enthusiastic about space exploration and space applications. "Even if this sector is predominantly male, there's room for people like myself. We must realize that this industry is not only for people who are astronauts, but also for those who work in a variety of different space applications. For someone like Eytan to make it to space, it requires a whole crew of people to help that mission take place."
While space seems like a pretty lofty subject, it can be approached from several different perspectives. "Space is a big realm: there's telecommunications, Earth observation, geographical applications, and manned missions. From a telecom standpoint, Africa isn't completely new to the commercial space industry, and has been using services from other countries, such as Israel." She noted that Angola has had telecom infrastructure since 1973, and during the civil war was guarded by tanks. She also cited Gilat Telecom, which in addition to its services, also provides training for African specialists, and helps establish local satellite communication infrastructure to enable internet, TV, and radio connectivity. "It's also important to realize that without proper internet connection, technology does not evolve. We hope to one day become fully autonomous," she said.