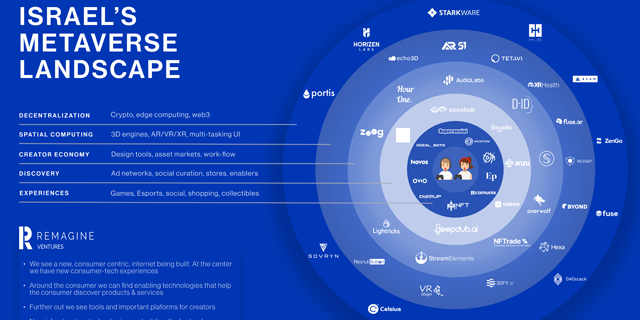 Mapping the Israeli Metaverse startup landscape
The Metaverse is the hottest buzzword in tech, both globally and in Israel. New research by Remagine Ventures has mapped the close to 50 Israeli companies and startups that are already active in building Metaverse technology
Elihay Vidal
|
14:15 24.01.2022
Israeli tech is intent on playing a major role in the Metaverse madness, with research by seed and pre-seed venture capital firm Remagine Ventures showing that the
local landscape
already includes almost 50 companies that are active in this blossoming sector. "Gaming is an entry point to the Metaverse, and we have very strong gaming talent in Israel and a growing group of B2C entrepreneurs who are at the cutting edge of consumer trends like NFTs, DeFi, etc.," said Eze Vidra, Managing Partner at Remagine Ventures. "A lot of them are waking up to the big opportunities in this market and we expect to see the number of companies in this space grow rapidly."
Israeli companies active in the Metaverse landscape
, Remagine Ventures divided up the sector into several field: Decentralization (Crypto, edge computing, web3), Spatial Computing (3D engines AR/VR/XR multi-tasking UI), Creator Economy (design tools, asset markets, work-flow), Discovery (ad networks, social curation, stores, enablers), Experiences (games, e-sports, social, shopping, collectibles). "To deliver the vision of the Metaverse, we share the belief that a new 'Internet' is being built with the consumer at its center and that Israeli startups can play a crucial role in helping create, operate and monetize it. New advanced infrastructure such as 5/6G, powerful GPU chips, cloud and edge computing and decentralized technologies (known widely as Web3) open the door for new opportunities," noted Kevin Baxpehler, Managing Partners at Remagine Ventures.
According to Remagine Ventures, "discovery" in the Metaverse is critical to help educate and onboard new consumers into the Metaverse, something that today is still very challenging. "What we are already seeing on the ground are a lot of new consumer facing experiences, from play-to-earn games such as Reb3lbots to immersive experiences on Roblox (Supersocial and Toya) to companies like Novos training the 'athletes of the metaverse'."
Israel Metaverse Startup landscape - according to Remagine Ventures
We see a new consumer-centric internet being built. At the center we have new consumer-tech experiences. Around the consumer we can find enabling technologies that help the consumer discover products and services. Further out we see tools and important platforms for creators. New infrastructure technologies are building the bedrock.
Decentralization (Crypto, edge computing, web3): Sovryn, Starkware, Horizen Labs, Celsius, HUB, Portis, Fireblocks, Beam, Zengo, Fuse, DaoStack Spatial Computing (3D engines AR/VR/XR multi-tasking UI): ByondXR, echo3D, AR51, Tetavi, XR Health, Fuse AR, Restsar, Peanut Button, Hexa, 3DFY.ai, VR Steps Creator Economy (design tools, asset markets, work-flow): AudioLabs, Zoog, Hour One, D-ID, SCRT Labs, NFTrade, Overwolf, Lightricks, StreamElements Discovery (ad networks, social curation, stores, enablers): CocoHub, Odeeo, anzu, Sayollo, Multinarity, Deepdub.ai Experiences (games, e-sports, social, shopping, collectibles): Novos.gg, Inception, Toya, Super Social, Rebel Bots, Art AI/Eponym, Ovio, Communix, Disrup