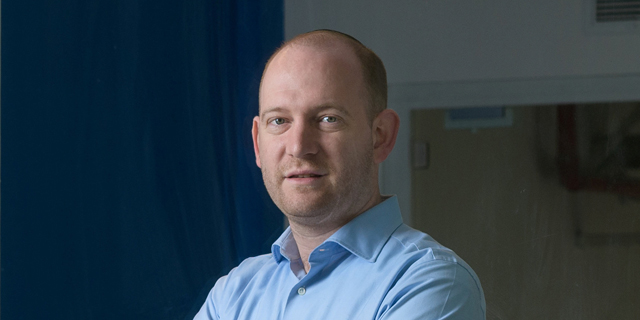 Interview
From the poker table to the yeshiva to revolutionizing the accounting world
He lived in Macau where he played poker for profit, came to Israel and became religious, married the daughter of a two-time Oscar winner, and is now attracting the biggest international investors to his Israeli startup aiming to revolutionize the accounting world. So, who exactly is Issac Heller?
Sophie Shulman
|
09:50 21.02.2022
Two weeks ago, a 61-year-old man with graying hair walked around the streets of Tel Aviv, and no one shot him a second glance. That never would have happened in New York. That man, Daniel Loeb, is one of the most well-known investors in the United States, the founder and director of the prestigious asset management firm Third Point. He's also known for his scathing letters to companies, using meticulous wording to deliver implicit threats to boards of directors. With the immense power of his company, which now manages assets totaling nearly $20 billion, he has already managed to lead the replacement of Yahoo's management and the appointment of Marissa Meyer, to oust the longtime CEO of Sotheby's and more. But Loeb came to Israel mainly because of Isaac Heller. Loeb's venture capital arm is invested in several Israeli companies: SentinelOne (the largest cyber IPO in Wall Street history) and the unicorns Forter, Verbit and NextSilicon. Loeb checked what was going on in all of them, but his time in Israel was mostly spent signing off on a new investment in Heller's company, Trullion, in its first funding following the seed round. The other investors in this round are also big names - Michael Eisenberg's venture capital fund Aleph, Artie Minson (formerly of Time Warner and WeWork), Bob Mylod Mylod (Chairman of Booking Holdings), Vik Shah (Zoom), David Bernstein (Airbnb) and Brandon Zell (Slack), all of which together have invested $15 million. We are not used to seeing such a strong group of reputable investors here in Israel, especially at such an early stage.
From basketball cards to Enron to the wheeling and dealing in Israel
Heller's life story could be a movie. But before we go to Hollywood, Heller has been learning about how some less than "kosher" business dealings work in Israel. "I was supposed to sign a contract to move to new offices in Tel Aviv. I sat and waited and waited, and the guy I was supposed to sign with did not come, he just disappeared. After a few days I saw the space we were supposed to rent advertised again, but at a much higher price". In the end Heller found other offices in the Montefiore neighborhood of the city, where a start-up scene is also developing. Since then he has been the target of Israeli business chutzpah.
"It seems like everyone who hears that we are opening a startup immediately tells his friends, and you can not imagine how they are attacking us now from all directions. They try offering us everything - ice cream and coffee machines for our workers, murals costing thousands of shekels for our walls. I only gave in to one item - music in the bathroom. I think that's a really good idea. I can pick the playlist and play my employees music that I like. When I was a kid in the US the music I listened to was considered 'indie', not really familiar, and in Israel Leonard Cohen and Talking Heads are part of the mainstream. It's fun." He smiles and adds, "and I'll throw in some country music, to introduce it to the Israelis." He arrives at the offices every day by train from his home in central Jerusalem, near Rehavia. "It is very important for my wife to live there and I love it - only in Israel can you live in two worlds: on the one hand one of the oldest cities in the world, and within an hour's drive - Tel Aviv, invented for all this," he says as he points to the bustling TOHA complex of hi-tech workers seen through the windows of the WeWork room where I met him, before the company's new offices were ready. And yes, he is also experiencing the difficulty of the industry in Israel in recruiting workers. "It's hard for us to find quality people. We have three new workers now, but we really need around 10." But Heller, who is in a good mood throughout our conversation, remains optimistic. "We will recruit 20 employees by the end of the year. We are a company that sells software that is infrastructure, and our average contract with customers is for 3 years, it will make recruitment easier." Trillion's software enables automatic upload of documents - PDF files, Excel spreadsheets with data, even contracts with customers and suppliers - to accounting systems and smart data entry via AI. Its advantage is that it conforms to the latest regulations, which are constantly updated, at the rate that existing software - those developed by German SAP and American Oracle decades ago and dominating the market - are unable to do, and therefore require extensive manual input. "And we already have 100 clients, including Israeli companies like Lemonade, Taboola and Pagaya, and we have partnerships with huge international firms, Deloitte and EY, who recommend us to their clients, and there are 15 other large American accounting firms that use our software themselves. We didn't even try to sell it to them!"
Rachel's mother, Jacqueline , a music and movement therapist, is from a Jewish family from New York. The two met when Waltz was studying in the city, at Lee Strasberg's Actors Studio, in the late 1970s. They married and moved to Germany, but Jacqueline felt cut off from the Jewish community and moved the family to London when Rachel was two years old. When she was 17, her parents divorced, and later the three children became closer to religion. Rachel even came to Israel to study at a religious high school in Jerusalem, and then went on to New York to study social work. Her brother also studied in Jerusalem, in a yeshiva, was ordained as a rabbi and still lives in the city. Her sister is an architect and lives in Tel Aviv. That sister got married in Israel in 2013, shortly after her father received his second Oscar, and when he arrived at the wedding in Jerusalem he was mobbed by the paparazzi. When Rachel married Isaac in 2016 the lesson had already been learned, and the wedding took place in New York. The Waltz family, like to keep a low profile, and Heller also requested not to talk about his famous father-in-law.
"I came across a Lemonade ad by chance, and I checked what this company was. I was amazed at the huge disruption it is making in the American insurance market - and I discovered that it is Israeli. The more I checked the names, the more I saw that it had a lot of Israeli workers, not just the founders. I understood that it was good to build a company here, with such employees." He did not imagine then that Michael Eisenberg, who had invested and accompanied Lemonade from the beginning, would do the same for his company.
Heller, his wife and eldest daughter, who was then a year-and-a-half old, landed in Jerusalem. In the mornings he studied at a yeshiva in Mea Shearim, in the evenings he tried to figure out what system he wanted to build, with no background in programming, "but I knew what the system needed to do. I recruited three programmers pretty quickly, and by the end of 2019 we already had the start of a product. I received money from my angel investors and left the yeshiva." He continued to study outside the yeshiva, but he admits that today he no longer has time for it. After the ad on LinkedIn and the first customers, in the summer of 2020, Eisenberg entered the picture. This happened after the German payment giant Wirecard collapsed and a "hole" of $1.9 billion was discovered in its balance sheet. 20 years after Enron, and it turns out that there are still quite a few very unbalanced scales. Eisenberg identified potential here, tweeting that he is looking for disruption in an industry controlled by a few large firms that together bring in about a quarter of a trillion dollars a year. Heller did not have a Twitter account at all, but he saw the tweet, hurried to register for Twitter and on the same day replied to Eisenberg briefly: "There is one being built in Jerusalem!". "We got along right away, and Aleph (Eisenberg's fund) led our $3.5 million Seed round along with Greycroft." And then came the big investors from the United States, led by Loeb ("he understands the field well, as an activist investor who makes money from reading reports").