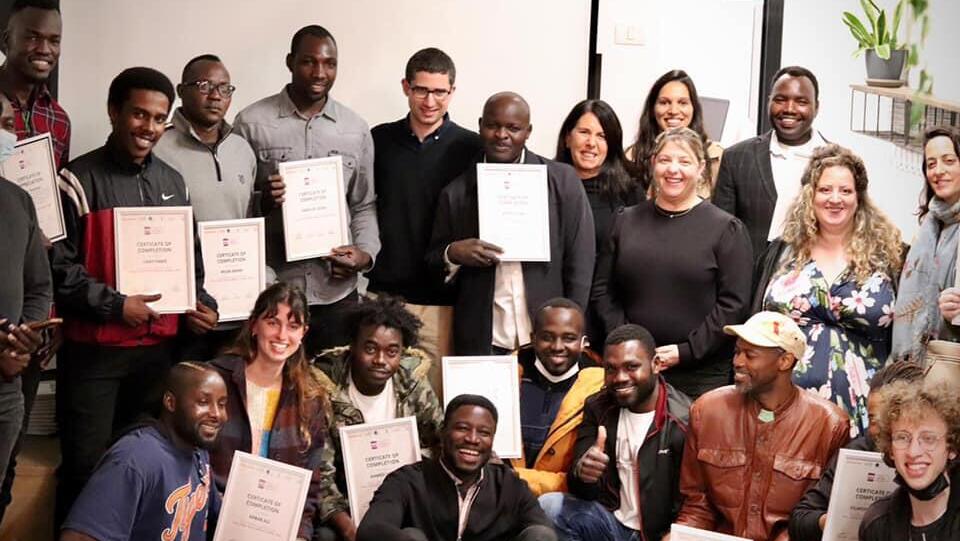 Promoting through coding: African refugees complete Tel Aviv coding course
"Our goal is to identify existing gaps and address them by making the 'Startup Nation' accessible," said PresenTense co-CEOs Khouloud Ayuti & Ariella Rosen. PresenTense aims to promote an inclusive society in which diverse communities are equally represented in Israel's tech ecosystem
Yonatan Sredni
|
09:16 29.03.2022
The smiling face of Usumain Baraka, a native of Sudan's Darfur region, was the first to greet me when I walked into The Platform, a municipal entrepreneurship center located in southern Tel Aviv. The festive occasion was the successful conclusion of the non-profit organization PresenTense's second coding course for African refugees. Baraka, who serves as the coordinator of Made in Tel Aviv, PresenTense's South Tel-Aviv entrepreneurship program, shared his fascinating backstory.
"I came to Israel alone at the age of 14 and was sent to the Neve Orde Youth Village, an Israeli boarding school," he explained. "After completing my high school studies there, I received a scholarship to the Interdisciplinary Center (IDC) in Herzliya where I earned a BA in Government, Diplomacy & Strategic studies and an MA in Public Administration." Baraka also managed the African Student Organization (ASO) in Israel, which he also co-founded, which was responsible for integrating dozens of students in higher education and worked with many academic institutes throughout Israel.
Baraka smiled and waved to the crowd of students filling the hall, many of whom greeted him warmly with a hug. Although he was educated in Israel, Baraka closely identifies with the African refugee coding students and it is clear they view him as a mentor. Baraka is quick to point out that a few graduates from last year's inaugural course were hired as paid teaching assistants to this year's class of students.
The program itself is sponsored by PresenTense, an Israel based non-profit which promotes an inclusive society in which diverse communities are equally represented in the entrepreneurial ecosystem in Israel, and runs with support from the ARDC (African Refugee Development Center) and the Tel Aviv Municipality. In addition, the Citi Foundation, which has committed hundreds of millions of dollars over the last few years to help marginalized communities enter the workforce, has continued its support for PresenTense, with investment in various programs, mainly within Israeli-Arab society.
"Although we are not involved in this specific program, we support PresenTense in whatever they do," said Sagit Lampert, Public Affairs Officer at Citi Israel, who was present at the event. "The reason we work with PresenTense is that we fell in love with this organization that focuses on innovation and how to bring innovation to minorities, especially in the periphery, giving them tools and empowering them."
Ariella Rosen, co-CEO of PresenTense, explained the impetus for initiating this specific coding course. "We understood that there was a need for professional training for African asylum seekers and refugees in South Tel Aviv where there is a large community with people from diverse backgrounds who can fit into the high-tech world if given the right skills and opportunities," she said. "The need existed before we got there, but it wasn't met. This program is unique because through our partnership with the ARDC we were able to reach the community and provide it to them."
According to Rosen, the pilot course last year included 13 participants with 8 graduates, while this year there were 26 participants with 13 graduates.
What is your goal for the program? Are hi-tech companies reluctant to hire this course's graduates because of their uncertain legal status in Israel?
"The program's goal, originally, was to provide the basic programming skills that the participants need to be able to enter ARDC's bootcamp," said Rosen, "and amazingly two of the participants started working in startup companies immediately after graduating the course. This caused the change in the course's main goals - to help participants integrate and get employed in high-tech. We have no doubt that technology companies will benefit from employing the course's graduates, who are dedicated, motivated and hard working."
Have hi-tech companies expressed willingness to hire graduates of this course?
"Our experience with hi-tech companies thus far has been positive," Rosen said, "We are building partnerships to increase the pool of potential employers, whilst also advocating and confirming equal pay and terms."
Does PresenTense help this course's graduates find jobs in hi-tech?
"Our goal is for at least 50% of the participants to be integrated into the high-tech industry," said Rosen, "so these days we are working on collaborations with leading technology companies in the economy in order to create employment opportunities for the participants. We believe that in order to solve the employment challenge in high-tech, the integration of diverse populations in companies is critical. This is also where the graduates of the programming course come into the picture. In addition, we give them more skills in the areas of entrepreneurship and career development, resume writing, design thinking, job interview tools and so on."
PresenTense co-CEO Khouloud Ayuti responded to criticism that the organization should place its efforts in helping full-fledged Israeli citizens rather than African refugees.
"At PresenTense we work with diverse populations in the geographical and social periphery and many audiences," she said. Beyond that, we believe that in order to become a diverse and inclusive society, it is necessary to give the tools we also give to the refugee community. The community of asylum seekers numbers 28,000 in total, 10,000 of whom live in south Tel Aviv. In order to become a truly diverse and inclusive society, we must provide the tools also to the refugee community."
How do you define "success" for this program?
"We measure success in several ways," said Ayuti. "One of which is the integration of graduates into high-tech companies. But another way is their personal development and their desire to develop within this world, so for example if one of them decides to become independent and develop websites for local businesses it is a success. The tools they receive in the course can be used by them for other channels that are not just high-tech."
"A win-win-win situation"
"This was my first coding course," said Zakaria, a graduate of this year's program who hails from Sudan and hopes to land a job at a hi-tech company in Tel Aviv as a frontend or backend developer. "I am so proud."
"Studies prove diversity and inclusion are a win-win-win situation for all involved," said Ayuti and Rosen. "Our goal at PresenTense is to identify existing gaps and address them by making the 'Startup Nation' accessible. More than anything, our course and immediate impact proves the importance of creating opportunities and invitations to take part in the ecosystem, leading to the desired diverse companies."