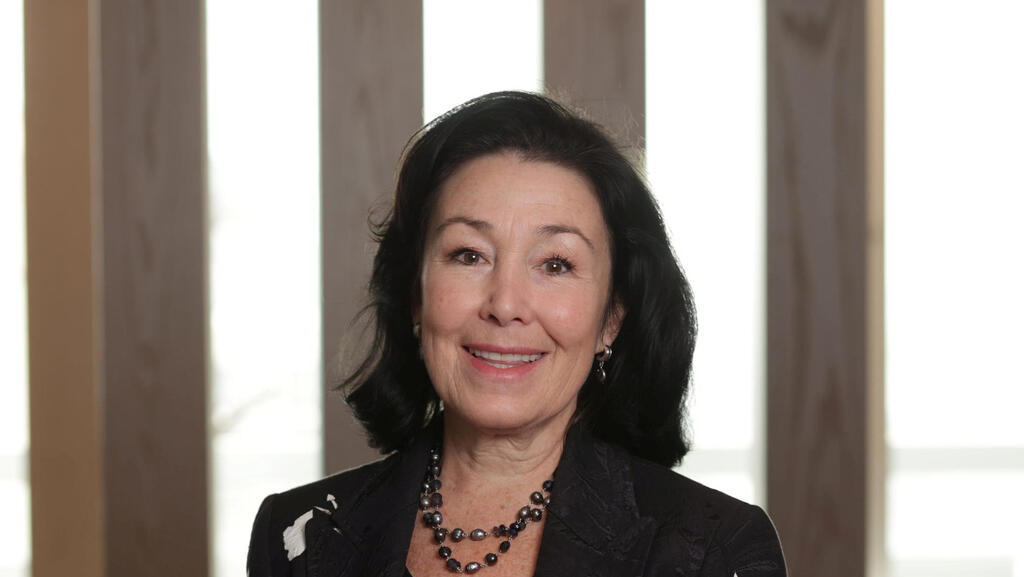 Interview
Oracle CEO on market shakeup: "It is not the end of the world, it's an opportunity"
Safra Catz, the CEO of technology giant Oracle, believes that the current crisis in the markets was predictable, and that it gives rise to business opportunities
Meir Orbach
|
09:55 20.05.2022
When Safra Catz, CEO of technology giant Oracle, is asked about the current crisis in world markets she refuses to get excited. "The current crisis was predictable. This is not the big fall I experienced in the past. I already went through the internet bubble burst in 2000, the banking crisis in 2008, and we had our own small crisis in March 2020, with the market crash due to the pandemic, and then we came back," she said in an exclusive interview with Calcalist.
Catz adds that "as soon as interest rates started to rise and inflation began to climb, the market began to react, but this is not the end of the world - this is an opportunity. This time it hurts everyone, and stocks collapse every night. Is this an overreaction? It depends on the stock. There were stocks that were too high and in such situations there are wonderful opportunities, such as when we acquired Sun Microsystems in 2009."
Although Catz, who was born in Israel (the interview with her was conducted in English and fluent Hebrew), believes that the new market that is developing today will also have opportunities, she is reluctant to make hasty decisions. "I think it's too early to make decisions. There are opportunities but no one is used to the new value of the companies," said Catz. "The question is whether the company can survive or is it burning its cash."
Many cloud companies, and Oracle among them, enjoyed economic prosperity and growth during the pandemic period due to the rush of many companies in the world to the cloud. The phenomenon of digital transformation has led many companies to accelerate processes beyond the cloud and invest huge sums very quickly to be able to stay alive while many businesses have been shut down. But in recent months, when the Covid-19 panic has calmed down and the global economic situation is uncertain, there is concern about the digital transformation coming to a halt, especially from entities that would prefer to do so at slower rates.
Catz is not afraid of such a stoppage. "I do not think there is or will be a halt in the digital transformation. Big companies are moving very slowly and they know they have to move forward. There are many companies today that understand that if they do not move forward fast their competitors will do so and they will be left behind. Industry companies move forward so they can have digital relationships with their customers."
According to Catz, all the companies will eventually be in the cloud. "Everyone will go to the cloud, the only question is who they will go with. Every company has a different offer and every customer has different needs. Companies must move into the 21st century and everyone knows that."
"There's something wrong with the decision with Nimbus"
Catz, a native of Holon, immigrated to the United States with her parents when she was young and serves as CEO of the American software giant, founded by Larry Ellison, since 2019, after serving as co-CEO from 2014.
Oracle is currently traded at a value of about $200 billion and employs 132,000 people worldwide. Catz is considered one of the most senior and influential executives in the global technology industry and in the American economy in general. She was previously president of Oracle and also served as the company's CFO. She currently also sits on the board of directors of the Walt Disney Company and was previously also a director at HSBC Bank.
In Israel, the Oracle branch is managed by Eran Feigenbaum and employs about 400 people in three centers: Petah Tikva, Tel Aviv and Beer Sheva. In October 2021, Oracle established for the first time in Israel a server farm on Har Hotzvim in Jerusalem at a cost of about $200 million, thus becoming the first international player in the cloud field to open an Israeli server farm.
But Oracle's relations with Israel have been overshadowed by a black cloud in the past year. "We have great respect for the Israeli government but think it made a mistake in the cloud tender," says Catz, who has previously expressed outrage over Oracle's loss in the tender. The Nimbus Project, the Israeli government's cloud tender that ended last year, was won by AWS and Google cloud, with Microsoft and Oracle being the two big losers. The value of the tender in its first phase was estimated at NIS 4 billion.
At a press conference in July 2021, Catz said: "This is a decision that is very difficult to understand." About a year after the tender, when Oracle appealed its results and was rejected, Catz is still sure that the decision can be changed and especially that it is bad and dangerous for Israel. "We continue to fight because it looks bad. We opened our data center with nine underground floors and 95% of it is already occupied and we are going to set up more activities. Our cloud works wonderfully in the private sector in Israel and in the public and private sector across the world. I feel that there is something wrong with the decision with Nimbus."
Catz, who is known as an executive who speaks her mind, is not afraid to say that in her opinion the choice of the two companies included considerations that were non-professional and non-business related. "I hope people will take a good look at who was chosen. It is not right to send Israeli government information outside of Israel. The two companies that won have not yet opened a data center in Israel. They do not plan to open a data center underground ever.
"We are still the only international public cloud currently active in Israel," Catz added. "When we decided to set up a data center here we did not receive any government promise. We opened a data center without any commitment with our own money and we are the smallest company of all the companies that were there in the cloud auction - Microsoft, Google and Amazon."
Despite the criticism, Catz clarifies that the Israeli government's decision does not affect the company's activities in Israel. "Our Israeli customers want us. I believe in every Israeli government that operates here and people sometimes reconsider decisions," Catz says, perhaps hinting at the possibility of changing the Israeli government's decision.
Winning the cloud tender also has added value for cloud companies due to the connection it provides to local security bodies. Throughout the tender, Oracle claimed that it had been wronged and when it appealed the tender, news came out from various bodies that the reason for its failure in the tender was, among other things, its level of security. The opinion of the ICT and Defense Division stated that Oracle's cloud services significantly fall short of the proposals submitted by the other competing companies.
When Safra Catz is asked about the issue of information security, she is angry and laughs. "The subject of our security makes me laugh. Of all the things that can be said about us, this is completely not true. We are the company that is most preoccupied with this issue and nine different government ministries dealing with secret issues entrust their information to us.
"The local intelligence community has approved us. We are behind the management of huge loads of information of secret government materials. We are known as the most secure company in the world. Our architecture is built on security. We build the cloud in a way that our network is completely secure. Everyone who says something about our security is suspicious to me," says Catz and clearly hints that these things are not true and possibly even tainted by foreign considerations. Catz adds that "I do not think you have ever heard of a security breach with us, while with the competitors you hear quite a bit."
As stated, despite the loss in the tender, Catz emphasizes that the company remains committed to Israel. "We are constantly here and doing everything it takes to be in the local market."
"Every employee chooses whether to work at home or in the office"
Catz visits Israel at least once a year. "We come to Israel on Remembrance Day because my husband comes from a bereaved family from 1967. And when they come, we stay longer, and I meet with clients and young people in the industry. I come to Israel as a vacation, but it is very important for me to talk to our clients in Israel."
During her recent visit to Israel, Catz traveled to the Emirates and she expressed great joy at the peace between the two countries. "I came back from the Emirates and there I emphasized how important it is to make peace with Israel. I really liked that I could come to Israel straight from the Emirates. I was here on Independence Day and then I went to the Emirates and then I came back and it was very exciting for me."
Catz says that the pandemic period has fundamentally changed the way companies in general and especially high-tech companies work. The lightning quick transition from full-time work in offices to work from home and then back to offices created a great deal of confusion in policy between the tech giants. Recently all the major technology companies have announced a return to work from the offices with some flexibility.
At Oracle, Catz says, the situation is different. "Our approach allows our employees to work from where it is best for them. We have opened the offices but working from there is optional. Many want to go back to the offices and work face to face while others want to do laundry at home between meetings. We have not made any decision to force employees back. I was not in my office In Texas for months."
Oracle has been very active in the past in acquisitions around the world and in Israel, but it seems that in recent years the company's appetite for acquisitions has been significantly smaller. Catz does not rule out new acquisitions, with its last most significant one coming in 2016 when it acquired Ravello for half a billion dollars, a company that has since closed. "It all depends on what's here and I have not yet made a decision. There are a lot of new companies and they are very worthy. We did not make acquisitions for a long time because we bought companies that were at a good price. But now we have focused on internal development and wanted to connect everything we did in the past."