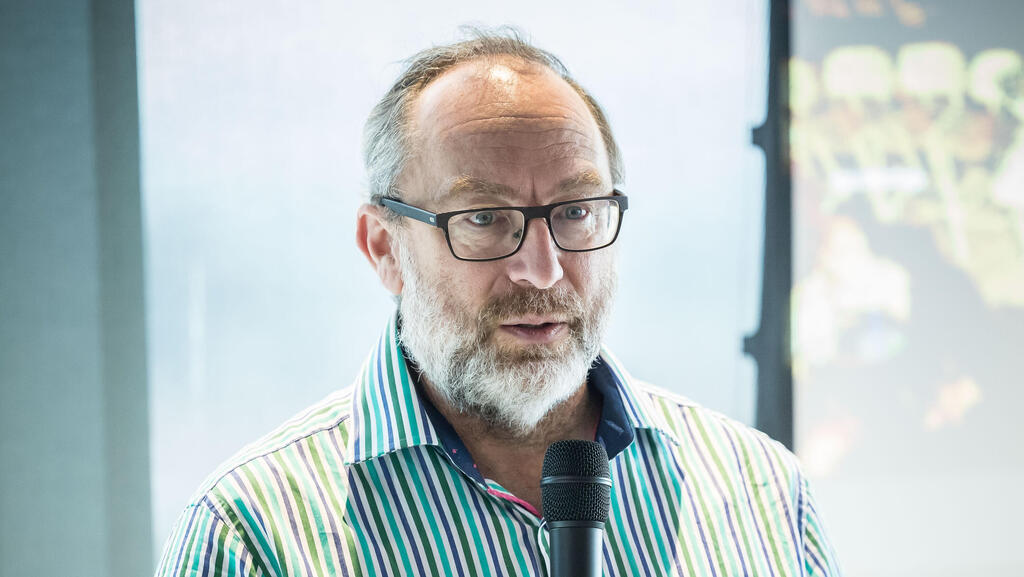 Wikipedia's Jimmy Wales on online toxicity, Musk, and the battle for internet accuracy
"I sent Musk an email offering help, I am happy to give him some thoughts," Wales told CTech.
James Spiro
|
12:04 21.11.2022
The world is watching Twitter and viewing it as either the greatest show on Earth or a nightmare coming to life. New owner Elon Musk has been reinstating old accounts that allegedly broke its rules and has introduced sweeping new features and policies that are fundamentally changing the way we communicate online.
Some say the efforts are noble; others have expressed sincere concern for the future of internet discourse.
"I would very much like to see a world in which Twitter, or something like it, is a global space for thoughtful discourse and also has some fun elements," said Wikipedia co-founder Jimmy Wales, speaking with CTech during a visit to Israel last week. "It doesn't have to be serious all the time - just without all the toxicity and without algorithms that promote the toxicity."
In an era of toxicity and misinformation online, somewhere lies Wikipedia. Founded in 2001 by Wales and Larry Sanger, the free online encyclopedia is maintained by "largely a bunch of very geeky people" of passionate experts, researchers, or neurotic fact-checkers who collaborate through its wiki-based editing system. Wales estimates that there are approximately 60,000-80,000 Wikipedians who contribute to its system every month.
In its early days, the open-source nature of Wikipedia made some people cautious of its commitment to honest and accurate information. Academics, including the English teacher of this writer, banned it as a source in essays ensuring that students relied on traditional paper encyclopedias. In two decades that would change. Today, as Wales met with young talented students at the Innoviz offices during his trip to Israel for the Atlas Awards, teenagers were lining up to get a selfie. By all accounts, Wikipedia had turned Wales into somewhat of a celebrity.
"What we always said back then was look, you can tell students not to look at Wikipedia, but you can also tell them not to listen to rock and roll music, but they will. And what I think teachers should do instead is share how to use Wikipedia, which is a great opportunity to start teaching lessons about the quality of information, the process of gathering knowledge and what's trustworthy and what isn't, and what we think about that. Simply because this is a crucial life skill."
Wikipedia is curated by a team of administrators but Wales maintains that it is sourced from accurate news articles, academic papers, and other official documents to make sure its users have access to the truth. Wikipedia is considered today to be an authoritative voice, but its changing nature and human finger on the pulse of its information have drawn criticism - no less from Musk himself, sparking a public spat between the two.


"Wikipedia is losing its objectivity @jimmy_wales," Musk tweeted earlier this year. Wikipedia made headlines for changing, and then locking, its definition of the word "recession" following disappointing economic figures coming from the Biden Administration. Press secretary Karine Jean-Pierre had used a different meaning of the word to avoid negative headlines, and moments later Wikipedia matched its definition to align with the American government, attracting widespread attention. "Reading too much Twitter nonsense is making you stupid," Wales retorted with a link providing more information.
Wales argues that over time, science and history develop in a way that requires official records to be updated and changed to include new discoveries. He shares how in Wikipedia's first year it had used a publicly available 1911 edition of Britannica as a base to import some of its information as a starting point. It was a mistake.
"It turns out a lot has changed because there's been additional archeological research and a broader set of sources," Wales explained. "There were enough changes where it was easier just to go from scratch. If you want to talk about germs and viruses, in 1911 it would be different from today… That's natural, as a species we are always learning and coming to different understandings."
In many ways, Wales and Musk are both in control of two very different beasts. Whereas tweets are individual thoughts from individuals that stay as part of history, Wikipedia intends to remain the authoritative source for history itself by changing with the times. The challenge is acknowledging how past generations will get information from one front page of Wikipedia, but future generations will read about that moment from the same, highly edited and restricted, page. An example Wales uses for this predicament is the claim made by President Bush that there were ever weapons of mass destruction in Iraq.
"We have transitioned to today which \[the consensus\] is that probably he didn't have these things. How do we get from A to B, and what were the key elements in time which persuaded journalists and the public? How did that change happen in Wikipedia? I find it really fascinating."


While the online encyclopedia claims to get its facts from respected news outlets, the ideological leanings of publications such as the New York Times or the New York Post, and the preferences of the moderation teams, could skew the angles of how facts are presented both of the present and when looking back on the past.
As an experiment, CTech visited the front pages of America's three most recent presidents and assessed the language choice to describe the men. All facts are cited by mainstream news outlets, and yet while it refers to inflammatory language by President Trump as 'racist', it labels President Biden's bigoted remarks about people of color as 'insensitive'. Wikipedia states that Trump is a 'liar', yet it remarks how Biden 'exaggerates the truth'.
The front page also included many of President Trump's accurate insidious private scandals, and yet it omits any mention of a negative scandal involving his predecessor, President Obama.
"This is the sort of thing that we chew on a lot," Wales admits. "It's very interesting… a piece of that is because Wikipedia relies on sources and it reflects on what sources say. There is an extent to which Trump is fundamentally different from Biden - so the idea that the language should be the same because they are somehow fundamentally the same is not true. I think with most politicians you can find examples where they have exaggerated the truth and that's not great, but it's rare to find a president who is completely at odds with the reality on a consistent basis the way Trump was."
It is not the facts that get Wikipedia scrutinized, but the editorialization of those facts that sometimes land it in trouble and attract attention from folks like Elon Musk. Wales argues for highly researched and referenced information that can be traced and sourced; Musk is taking a laissez-faire approach to content and free speech that has included firing almost his entire content moderation team and reinstating the accounts of Trump and Kanye West. Both agree they want toxicity removed from online discourse - and yet they disagree on how to get there.
Musk has already tackled toxicity and misinformation in his own way, applying a "Community Note" (formerly Birdwatch) on tweets that share inaccurate information or facts that omit necessary context. Earlier this month the White House was forced to delete a tweet after users could contest the fact that the high rise in social security benefits was credited to Biden and not required to match high levels of inflation set out by a Nixon policy from the 1970s. Still, Musk's turbulent few weeks at Twitter have shown there is a long way to go. "I sent him an email offering help, I am happy to give him some thoughts," Wales said.
For Wales, the answer might lie in WT.Social. The next generation of Wiki Tribune will take the form of a social media platform looking at the problems of quality of information and journalism online. The idea is that content will be prioritized "based on the post by the most trusted members of the community as judged by the most trusted members of the community." He is also writing a book to be released in the future about trust in society and how it has broken down. He intends to explore how Wikipedia can trust the online information it uses as sources and reflect on how the platform has become trustworthy over the years.
"Wikipedia is not a large free speech open platform like other social media. This makes our community management problem much easier. And so while I am often critical of how toxic a lot of social media is, I also acknowledge they've got a tough problem." The venture has been sped up and is not quite ready for launch but Wales tells CTech WT.Social is running on a test site. "I need to get back to work. I'm thinking of tweeting and asking if any Twitter coders need jobs... I might tweet that now," he concluded.