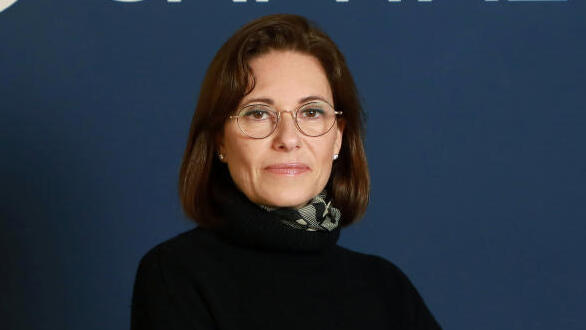 Interview
"If we do not work to save the Zionist enterprise, we will lose everything we built"
Yodfat Harel Buchris, Managing Director at Blumberg Capital and one of the leaders of the high-tech protest, is fighting for her home
Meir Orbach
|
20:16, 06.04.23
"In everything in our lives, the only thing that matters is trust. It's the ABC's of everything. Credibility, transparency, clear rules of the game, and a commitment to the world to abide by the rules. And all of this is being destroyed by the judicial coup," says Yodfat Harel Buchris, Managing Director in the American venture capital fund Blumberg Capital, who became one of the leaders of the high-tech protest against the proposed judicial overhaul led by Prime Minister Benjamin Netanyahu's coalition.
"The house is falling apart, and you have to build rules and see how everyone recommits to the rules of the game. In a place where there is no understanding of rules, communication and transparency, nothing good can grow," she noted.
To what extent can the proposed judicial reforms hurt high-tech?
"The damage to the high-tech industry can be substantial. We are creating a perfect storm, inside and out. The industry grew on the basis of trust in ideas that, in the first stage, are only in the heads of entrepreneurs. In the end, we invest in people who have some idea that has a chance of succeeding. Trust between entrepreneurs and investors is the basis, and when it is violated there is no industry; everything will go down the drain. That is why the protest arose. I am very proud that an industry that has constant competition within it is now cooperating. I see people with different opinions than mine who understand that if they do not work to save the Zionist enterprise, we will lose everything we built."
According to Harel Buchris, "high-tech is the most egalitarian industry in Israel: it employs ultra-Orthodox men and women, Ethiopians, the Arab minority and promotes companies from this sector, with LGBT people also being an integral part. All of this will go to waste because the coalition wants to change the Supreme Court and wants to save certain people from going to jail."
"I learned what business patience is"
Harel Buchris has been accompanying the high-tech industry for years. Unlike many investors in the field, she also held many positions in industry and the traditional economy, which provided her with a broad view of the local industry. On the way to her current position, she passed through many stations. After a childhood in Tel Aviv, her family moved to Kfar Saba, where she served as the chairperson of the student council in high school. Quite a few of her classmates from that time also participated with her in demonstrations against the judicial reforms. In the army, she served in the navy and after the end of her service, she went to Amsterdam, where she began working in a Swiss bank. Her father was born in the Netherlands and her grandparents survived the Holocaust. "I returned to Israel following my father's request to open a new business for the Japanese market (her father Elhanan Harel heads the Harel-Hertz Investment House which promotes business relations with the Japanese market) and for about ten years I spent extended periods in Japan. There I represented a series of leading Israeli companies, and this is part of the basis for my business experience. I learned business patience and business precision from them, the issue of cultural differences and how to bridge cultural gaps to promote greater goals."
In 2003 she decided to set out on her own and joined the Orbotech company. "There I managed their venture capital fund, until they recommended closing the fund because it was not suitable for the company's activities. I thought they would ask me to leave the company, but they asked me to establish a medical imaging activity and acquire companies to create a new business channel. The unit I built was sold to General Electric and I moved forward and got an opportunity to manage Tamares, the investment company of Poju Zabludowicz , which held shares in, among others, El Al and the biotech company Protalix. I was also involved in the laying of the submarine cable to Israel through Tamares."
Part of her activity at Tamares was in the fields of real estate and hotels. The real estate arm of Tamares, Tamares Real Estate, merged into British Israel, which was sold in 2010 to Melisron, controlled by the Ofer family, in what was one of the largest real estate deals at the time. Harel Buchris led the transaction from the British side. She then left the company in acrimonious fashion. According to her, "In 2013, after there was a business dispute about the bonus that I and the team should receive, we went to arbitration with the late attorney Eli Zohar and I had to resign from the company, but I got what I deserved."
She then joined the National Labor Court as a public representative and was involved in a series of precedent rulings such as the Tipping Law, according to which the tips received by the server at the end of the work day constitute part of the wages paid to them. "I was there for eight years and it was actually to use the business experience I gained in a place that accepts people who are not lawyers, and gives them the opportunity to be part of rulings that do not concern labor law. It was once-a-month volunteering."
Along the way, she served as a director in a number of companies and entities, including El Al, Castro, the Weizmann Institute, Protalix and Discount Bank. "Then my husband Pinchas Buchris (former 8200 commander and former director general of the Ministry of Defense) established his fund SOMV, and I was asked not to make private investments anymore. After that I joined the board of Discount Bank. From February 2016 I served as chairman of the bank's innovation and cyber committee, and I have been serving on the bank's board of directors for seven years."
"Funds are slowing down in order not to empty their coffers"
In September 2018, she joined the venture capital and investment fund Blumberg Capital. The VC was established in 1991 by David Blumberg and Bruce Taragin who are still very involved in its activity. "They are both Zionist Jews who visit the country a lot," she says. "We restarted Blumberg's operations in Israel, and since then I also serve on many boards of startup companies. These companies are at different stages. Some are still in the concept formation stage and others are recruiting advanced rounds. I try to work with them on finance, strategy and product, and less on technology."
What was your investment policy in Israel in recent years?
"The fund continued to invest very intensively even during security and financial crises, but there is no unique allocation of resources for Israel. The best companies receive investment. Even when there are global crises, balances are created between territories. The fund has no Israeli investors and this is something that is currently being worked on. The private institutional investors know that Israel is part of the fund's agenda."
And how did you respond to the unusual jump in high-tech in 2021?
"2021 is not a representative year. We had 11 exits, three IPOs and one SPAC merger; and we made 15 new investments and 17 follow-on investments, and really this is a year that by no means represents anything. In 2022, on the other hand, we made eight new investments, of which four were in Israel and the rest in Europe and the USA. We invest in early stages and know that there is a long way to go. The talk of an economic crisis produces a slowdown in investments, but does not change the way of thinking about the world. It's time to slow down the pace, research trends and understand what the world will look like in five years, when a startup you're investing in reaches a significant financial stage. In 2008, for example, we invested $8 million in the company DoubleVerify. After 14 years and many ups and downs the company went through, it was issued on Nasdaq in 2021 and generated a profit of hundreds of millions of dollars for the fund. It took 14 years and demonstrates well that we are not in a hurry. The lifespan of each fund is 10 years, but we wait for each fund to be exhausted."
What's your activity been like in 2023?
"This year we have already invested in several companies - four in the U.S. and one in Israel. The global crisis slows down the pace, but it also allows us to reach very large returns because we can get larger shares in companies at a lower value. Those who know how to approach companies at very early stages will show the highest returns when the exit arrives. Yes, there is a pause, fear and reorganization, but the investment cycle that begins during a financial crisis often results in higher returns."
How do you explain the slowing of investments and fear in the high-tech field?
"There are many factors for this. Most funds in the world raised a lot of money in 2021. Therefore, the stoppage is not related to the fact that there is no money. On the contrary, there is a lot of money circulating in investment funds. It could run out next year or in 2025. When the interest rate was zero, investors put more money on long-term technology. When interest rates rise, investors prefer to put the money in channels like bonds and reduce exposure to funds. That's why we now see many funds slowing down the rate of investments, so as not to empty their coffers. There are two opposing trends here - there is an excellent axis for investments on the one hand, and on the other hand investments are slowing down because there is no certainty regarding the state of the markets."
What do you think will be the consequences of the widespread layoffs in the large multinational companies?
"This is an opportunity for entrepreneurs. These layoffs, in my estimation, will push talented entrepreneurs, who until now avoided starting companies because they enjoyed the conditions in the big companies, to start thinking about the next stage of their career, and what they want to do when they grow up. This is an opportunity to reach talented people who will drive the world of technology in ten years. Crises in the past have given birth to great and interesting companies. This is an opportunity for our industry. An example of this is Wiz. These are a bunch of talented people who were at Microsoft after the sale of Adallom and did amazing work. When their commitment there ended, they founded one of the fastest growing companies in the economy and set in motion an entire industry. Such people left Amazon, Meta and other companies."
So there are many people who have these dreams of unicorns and exits?
"Not all of them can be sold for a billion dollars. When you raise a fund of $200 million, you invest in 30-35 companies. Not all of them will be sold for $500 million or more. So you look for those that have the potential for a billion-dollar sale. When you create a mix, you know that some of the companies will be closed, some will be sold for less than $100 million and some somewhere in the middle. Therefore, in a time of crisis like today, there will be entrepreneurs and funds that will be forced to close companies or merge them."
Do you see a situation where it will be possible to recreate 2021?
"In 2021, Israel flourished in the world, and funds were raised on an unprecedented scale. Israel was recognized not only as the place that gives birth to companies, but as a place that grows large companies. They always laughed that we are only good at technology and we proved that we know how to reach sales of hundreds of millions of dollars in various companies. Some $26 billion entered Israel. We never imagined that such a large number of multinational companies would open centers here. This will not happen again. We are seeing a situation that we created with our own hands, which will not return. I had long conversations in 2021 in which I said, 'Look, if God forbid something happens in the U.S. and they change the high-tech taxation system, or our taxation system, a situation will arise where most of the money will enter the American market and it will collapse our market.' I didn't know we were going to do this to ourselves following the judicial coup. High-tech knows how to handle wars, but here something happened that we did not expect. We are destroying high-tech with our own hands."
One of the phenomena of 2021 was secondary deals - entrepreneurs who sold shares before the exit. Can this happen today?
"Nowadays there is no secondary in the early stages, it was a hallucination in 2021. The secondary was a good and legitimate instrument to give entrepreneurs a breather. But it is impossible to act like that in a crisis year. The way we operate at the fund today is to give attention to what is being done and not to raise money. It's our job to lend a hand and give more money when needed, but to be very methodical and data-based. In 2022, the air came out of the balloon. A lot of money is still coming into the country, but the first quarter of 2023 is very scary, considering how little came in, and we are at an unprecedented low. We are returning to sanity, but the descent downward is rapid."
The judicial reforms have seemingly gone into hiatus at the moment. How do you feel now, as someone who is at the heart of the protest leadership?
"There is no doubt that what happened on Tuesday last week (Netanyahu's announcement of the reform delay) should have happened a long time ago. I don't know why the prime minister waited so long. There is a desire for talks and a broad consensus to lower the level of the flames. There is a serious problem of trust and just 72 hours before the announcement of the suspension, the announcement of the dismissal of Defense Minister Yoav Gallant caused an explosion and I have very hard feelings."
Do you believe in the mediation process with the president?
"On the one hand, I appreciate that entering the president's house is an important thing that will advance us to an important place, but on the other hand, it comes with great anguish, because Netanyahu's first response to the warnings of the security establishment, instead of taking the warnings seriously, was to fire the defense minister. This is a very serious crisis of confidence. It is not possible that as soon as someone speaks up, they behave like the dark regimes of the past. I hope that some of the negotiations and the current pause will lead to the restoration of trust, and the civil society that has been active in the last few weeks will be part of the negotiations. I know that we, the high-tech people, will back up whoever enters the room and will help forge a broad consensus for the cementing of democracy."
Where do you think the State of Israel is heading?
"I very much hope that the result will be true democracy. We will not give up and we will not go back. We will not allow the democratic state to fall, we will not live in a dictatorial state. I have no doubt that the masses will return to the streets as soon as they will be called upon. I have no fear. We are in a very severe economic crisis and we all chose to stop everything and work on the protest, and we will return to the streets in full force if it is required. If it seems that in June they plan to continue with the judicial coup, then the public will return to the streets and will not let the country become a dictatorship. A government was elected and I respect that fact very much, but I don't agree with everything it says. However, I am a law-abiding citizen and fulfill all my obligations, and I will not give up my values.""
Is there any room for optimism today, on the eve of Passover?
"We've already had several miracles so far. The first, that we were able to spontaneously bring masses of people to the streets who showed that the country is important to them. The second miracle was the joint strike of the Histadrut and the employers on the same day. It was an exciting event and you saw the power of working together. The third miracle taught us that we also know how to stop when necessary."