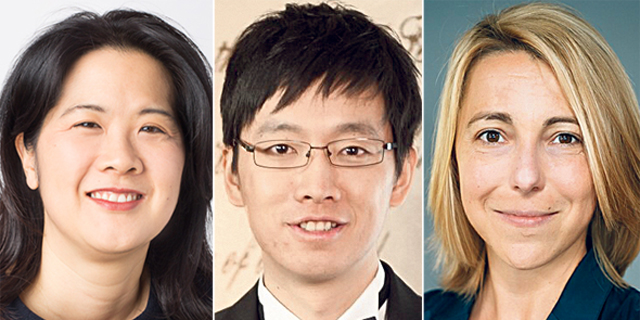 Israeli Tech Comes to London
On September 13-15, top tier innovation leaders from the U.K. and Israel will gather in London to take part in an exclusive invite-only innovation event by Calcalist
Calcalist
|
16:04, 30.08.17
On September 13-15, top tier innovation leaders from the U.K. and Israel will gather in London to take part in an exclusive invite-only innovation event by Calcalist.
Following a three-day event held last November, Calcalist is hosting a technology conference at this global financial hub for the second time.
Under the banner "The Next Game Changers," the event will focus on domains including cybersecurity, Fintech, sports technologies and innovation in retail.
The three-day event will kick-off with a social event at the Strand's trendy Radio Rooftop Bar. The main event will take place the next day in Camden Market. In the third and last day, startups from Israel and the U.K. will get a chance to confer with investors and potential corporate customers.
For further details click here.
Keynote speaker Nir Barkat, mayor of Jerusalem and one of Israel's most prominent venture capitalists, will be joined by Xavier Rolet, chairman of the London Stock Exchange. An industry veteran, Mr. Rolet held past positions at Goldman Sachs, Credit Suisse, and Lehman Brothers.
An infrequent visitor to public events, London-based Israeli-born business magnate Tedi Sagi will attend the conference. The co-founder of online gambling technology company Playtech, Mr. Sagi solidified his ownership of London's iconic Camden Market over the last three years, invigorating the popular arts and crafts market through the use of technology. Mr. Sagi's latest venture, "Labs," a new shared-offices company, is set to open its first offices at Azrieli Sarona Tower, a new high-rise built in the center of Tel-Aviv.
English soccer coach and head of performance at Manchester United Football Club Tony Strudwick will talk about the application of technology in professional sports. Mr. Strudwick, a Ph.D. in sports science, began his career as a player at Colchester United.
Simon Devonshire, an investor and a former Entrepreneur-in-Residence for the U.K. government, will talk about turning governmental agencies into innovation hubs by collaborating with technology startups to deliver better service. Mr. Devonshire, a former European director of Telefonica's business accelerator Wayra, was named an Officer of the Order of the British Empire (OBE) in 2016 for his services in support of entrepreneurship.
Gareth Rees-John, global digital director at popular fashion retailer Topman, a Topshop brand, will speak about the retailer's digital transition, and the process of turning a brick-and-mortar success into online success. Mr. Rees-John joined Topman in 2013 as head of commerce.
Chris Ulliot, a former technical director at GCHQ, the British Communications Intelligence Agency, and the chief information security officer at RBS, will talk about defending one of the world's largest banks against cybersecurity threats. Mr. Ulliot joined RBS in 2016.
Other participants scheduled to attend the event include the following:
• Carlos Domingo, founder and managing Partner at Spice VC, a $100 million venture fund, focused on blockchain technologies. Mr. Domingo served as CEO of Telefonica's research and development division. He founded Wayra, Telefonica's business accelerator. In 2015 Mr. Domingo joined Dubai-based mobile operator du, as a senior executive of innovation and new business. He is also the founder of members-led seed and early-stage investment company Dubai Angel Investors.
• Mike Hodgson, head of innovation engagement at British Telecommunications. An innovation evangelist within the British operator, Mr. Hodgson is responsible for identifying disruptive technologies and influencing portfolio and supplier relationship plans in the company.
• Jean-Marc Patouillaud, general partner at Partech ventures, a European venture capital firm managing assets worth 850 million Euro. The fund's portfolio companies include Paris-based video sharing website DailyMotion and transportation pioneer Hyperloop One.
• Kevin Smith, London regional chairman at KPMG. At the conference, Mr. Smith will moderate a global investments panel.
• David Quarrey, Britain's ambassador to Israel, will attend the conference. Before taking his current post in 2015, Mr. Quarrey served as private secretary to Tony Blair in his position as the British prime minister, and as director of foreign policy at the British national security secretariat.
• Philippe Cerf, managing director of Credit Suisse in the investment banking division based in London. Mr. Cerf is the co-head of the bank's telecom, media, and technology group. An industry veteran with 25 years experience Mr. Cerf has advised on a large number of cross-border merger and acquisition transactions.
• David Buttress, partner at venture capital firm 83North. Based in the firm's London offices, Mr. Buttress joined the Israel-based firm 2017, after serving as the CEO of online food-delivery company Just Eat. Mr. Buttress led Just Eat to a 2014 initial public offering which valued the company at 1.47 billion pounds, the largest technology IPO in Europe in a decade.
• David Fogel, co-founder, and investor at Accelerated Digital Ventures, will also attend the event. Mr. Fogel, a former deputy director at Wayra UK, started his career in Israel, where he worked for a software services company. Mr. Fogel mentored in five startup accelerators in three continents and worked with more than 350 startups.
• Zack ("Tzahi") Weisfeld, head of Microsoft for Startups. With a mission of reconnecting Microsoft to the startup world, Microsoft's accelerator program founded by Mr. Weisfeld has already hosted 647 startups that raised nearly $3 billion, with three IPOs and 45 exits under belt.
• Helen Normoyle, chief marketing officer at pharmacy chain Boots UK. In past positions, Ms. Normoyle served as chief marketing officer at real-estate company Countrywide and as a director at the BBC.
• Megumi Ikeda, managing director at Hearst Ventures, a corporate venture fund focused on media and interactive technologies, and general director of its European arm. Mr. Ikeda is also a board member of London-based software company Signal Media Ltd. She previously headed the European arm of the Peacock Equity Fund, GE Capital and NBCUniversal's $250 million venture fund.
• Itxaso del Palacio, an investment partner in Microsoft Ventures, Microsoft's corporate venture capital arm, and head of its European investments. She is a teaching fellow and coach at the Imperial College Business School at Imperial College London. Previously she was a principal at the Lepe Partners LLP Bank.
• Ningyi Teng, an investment director at Fosun UK, the UK-based representation of one of China's biggest investment companies, Fosun International Ltd. The company has invested in the likes of Club Med and owns 28 Liberty Street, previously One Chase Manhattan Plaza. It has made significant investments in Israel, the latest being its acquisition of the Israeli Dead Sea mineral cosmetics company Ahava in 2015.
• Lior Simon, Vice President and Head of Israel at Arbor Ventures, a London-based venture fund specializing in early stage investments. Previously she was an associate at Menlo Park, California-based venture capital firm Sequoia Capital.
• Doron Zauer, partner at Indigo Global, an advisory investment and capital management firm with a focus on emerging markets. The firm works with clients in Asia, Europe and Israel.
• Aasaf Anolik, Head of Innovation at Amazon Web Services, a subsidiary of Amazon providing on-demand cloud computing platforms. He is also a mentor at Techstars, a U.S. based startup accelerator.
Representatives of Israel-based startups, venture capital firms and financial firms scheduled to attend the event include the following:
• Haim Shani, general partner and co-founder at Israel Growth Partners
• Yifat Oron, CEO of LeumiTech
• Raffi Kesten, managing partner at Jerusalem Venture Partners
• Nir Blumberger, venture partner at Accel
• Harel Beit-On, founder and general partner at Viola Growth
• Fiona Darmon, partner and chief operating officer at Jerusalem Venture Partners
• Yossi Moldawsky, co-founder, and chairman at Plus Ventures
• Daniel Shinar, CEO of ClalTech
• Limor Beker, managing director at Hamilton Lane
• Tal Barnoach, general partner at Disruptive
• Nimrod Kozlovski, partner at Jerusalem Venture Partners and Herzog Fox & Neeman
• Elad Serfati, Senior Vice President at OrCam
• Asaf Peled, Founder and CEO at Minute Media
• Perry Davidson, Founder, and CEO at Syqe Medical
• Boaz Yaari, Founder, and CEO at Sharegain
• Liron Damri, Co-founder at Forter
• Tal Rubinstein, Co-founder at Shupperz
• Moshe Zviran, Dean of the Coller School of Management at Tel Aviv University Shmulik Arbel, Head of commercial sectors at Bank Leumi
• Moshe Lahmani, Chairman of Shikun & Binui
• Alon Spitzer, CEO of Eden Jerusalem Center Development Company
• Ido Erlichman, CEO of Crossrider