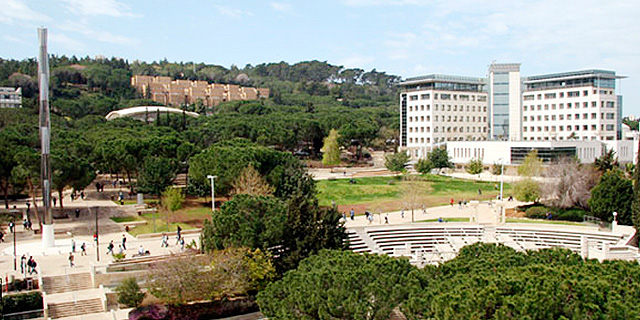 Israeli Universities Continue Fall in Global Ranking
Some of Israel's biggest universities dropped out of the top 100 spots in the 2017 Shanghai Ranking
Sefi Krupsky and Hagar Ravet
|
15:36 28.08.2017
Israel's universities are continuously losing ground in global ranking. Once in the top 100 spots in The Academic Ranking of World Universities (ARWU), some of Israel's biggest universities have been steadily dropping out of the top spots in the list.
Its evaluation focuses on scientific output, with criteria such as the number of Nobel laureates and Field Medalists among alumni and staff, research output and quality, and per capita performance.
Only one Israeli university, the Technion-Israel Institute of Technology, is ranked within the top 100 spots in this year's list, published August 15, falling from the 69th place to the 93rd.
Once ranked in the 53rd place, the Hebrew university of Jerusalem, Israel's leading education institute in the past, dropped from the 87th spot to the cluster of 50 institutions ranked below the 100th spot.
Ranked in the 92nd place in 2013, Israel's Weizmann Institute of Science has been ranked in that same cluster for in the last three years.
Other Israeli universities dropped to even lower places in the global ranking.
Regarded as one of the factors that enabled the growth of the local innovation hub, academic research funded by the government is only a small part of the overall research and development activity taking place in Israel. With hundreds of multinationals corporations including Apple, Alphabet, Facebook and Microsoft, much of the activity is funded by non-Israeli entities.
With 4.3% of the GDP spent on research and development, Israel tops the OECD scoreboard, but over half of the capital comes from the pockets of non-Israeli entities, according to a report published on August 15 by the national Israeli bureau of statistics. Over a third comes from Israeli registered commercial companies.
While Israel ranks first among OECD countries when it comes to monetary investment in private secondary education, it ranks last in its investment in public secondary education. The Israeli spending on private education is 41.5% per capita GDP, versus only 10.9% per capita GDP on public education, according to a study published last week.
Israel's score in the Programme for International Student Assessment, a worldwide annual study by the OECD measuring the scholastic performance of 15 year olds in terms of reading, math and science, also known as the PISA test, remains below the OECD average. The strongest Israeli students rank in the bottom of third of OECD countries; the weakest are ranked last.
The low scores do not represent the actual time students spend in classrooms. In terms of classroom hours Israel is second only to Australia and Denmark among OECD countries. In terms of annual school days it tops the OECD charts.
Heavily funded by the government, Israeli university and research institutes carry a heavy debt. Trying to alleviate these hardships Israeli government nearly doubled government spending on higher education since 2011, according to a spokesman for the Israeli governmental Council for Higher Education.