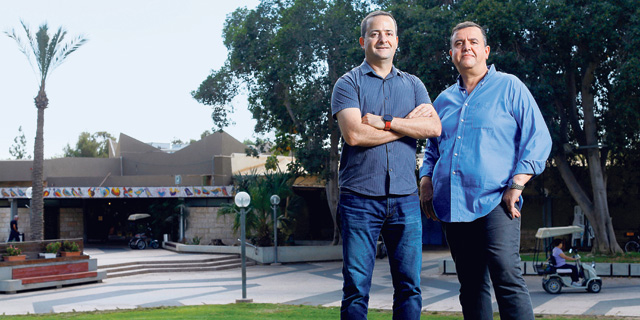 In a Kibbutz-Run Venture Capital Operation, Commune Members Weigh In
With stakes in three companies, one of them sold to a Mexican piping company for $1.5 billion, Israel's Kibbutz Hatzerim runs a varied investment portfolio, reflecting a five-year strategic plan
Keren Tsuriel Harari
|
08:45 06.11.2017
In August, Mexico-based pipes and chemicals company Mexichem SA announced plans to acquire an 80% stake in irrigation company Netafim Irrigation Inc. for $1.5 billion, from private equity firm Permira Holdings Inc. Kibbutz Hazterim, a rural desert community of around 800 people in Israel's south, would receive $241 million out of the deal.
In 2006, when the company sold 16% of its shares to two Israel-based equity firms for $25 million, it was laready a joint venture of Hazterim and two other nearby kibbutzim. In 2011, London-based private equity firm Permira acquired 61.3% of the company's shares according to an overall valuation of $850 million.
Water scarcity has made Israel into a leader in advanced irrigation systems and desalination processes. Born out of a need for an irrigation method that would be suitable for desert conditions, Netafim has grown into a global business that generates revenues that can be put into use. Now with three operational firms, including a jojoba oil manufacturing firm and a waste management firm, Hatzerim runs a varied investment portfolio, reflecting a five-year strategic plan conceived by a financial board of directors and external advisers. It includes investments in real-estate funds, private equity funds, and Israel-based startups.
Like other kibbutzim, the commune itself is administrated by a management team. The financial board of directors is made up of seven position holders, including the community's accountant, a human resources manager, and seven kibbutz members, some with no financial education, who chosen by the community once every three years.
"Typically, kibbutzim eat away 95% of their profits and and only invest about 5% in the business. We have managed to thrive on 5% of our profits for years, and we invest 95% in the business," said Mr. Ben Simon.
The board of directors also plans the community's annual budget, working with a model that puts a price tag on the work of Kibbutz members. If one member of the community wants to open an independent business, like a physiotherapy clinic, the kibbutz will assist in setting up the business, and profits would go to the community. If the clinic does not provide the Kibbutz member with a full-time job, that person would be required to take on additional part-time jobs. Now, the kibbutz already has an active law office, a deli operated by kibbutz veterans, a graphic design firm, a film production company and a children's Yoga class.
Messrs. Barkai and Ben Simon are both locals. Mr. Ben Simon grew up in Dimona, an Israeli town known for its proximity to Israel's nuclear facilities. Mr. Barkai grew up in Kibbutz Degania, on the shores of the Sea of Galilee. He moved to Hatzerim with his wife who grew up in the community, and started working as a department manager at Netafim after completing his engineering studies. He worked at the company for 17 years, his last position being chief operating officer, before moving to other companies, but returned as chairman of the board.
The community's portfolio now includes investments in online learning startup Gool Ltd., in radar company Artsys360 Ltd. and in combustion engine developer Aquarius Engines (AM) Ltd. The kibbutz takes a minority position in these investments. After getting the nod from the board's investment team, board management weighs in, and the commune's members also get to weigh in and ask questions. "We invest in disruptions—things that are one of a kind. We do our own due diligence and consult external advisers. In the end the decision is put into the hands of the board's management. Some of the board members have no relevant background, but they get to weigh in and a decision is made," said Mr. Barkai. Netafim, with its global ties, can greatly contribute to a startup's success, he said.
"We don't waste time. If there's a match, the money will transfer hands quickly," he added.
Update: This article was revised to reflect the correct spelling of Mr. Barkai's name.