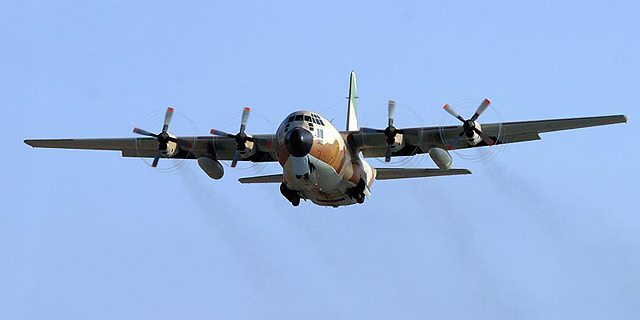 Elbit Signs $74 Million Contract with Israel's Defense Ministry
The 13-year contract will see Elbit provide and operate flight simulators for the Israeli Air Force
Lilach Baumer
|
17:07 06.12.2017
Elbit Systems Ltd., an Israel-based defense and homeland security manufacturer and contractor, announced Wednesday that it signed a $74 million, 13-year contract with the Israeli Ministry of Defense.
For daily updates, subscribe to our newsletter by clicking here.
The contract will see Elbit set up and operate a flight simulator training center for the Israeli Air Force (IAF), providing two interconnected simulators that enable both single and squadron training, and also a ground crews simulator that enables highly accurate training in aircraft maintenance procedures. The center will simulate two types of transport aircrafts.
The first is the upgraded Lockheed C-130 Hercules, a four-engine aircraft originally designed for the transport of troops, medevac, and cargo. The Israeli Air Force has had a C-130H squadron since the 1970s, and upgraded them in 2015 with technology from Elbit and Israel Aerospace Industries Ltd.
The second is the C-130J Super Hercules, purchased by the Air Force in 2014. It can carry 94 paratroopers and their equipment, 128 soldiers, or four military SUVs. Its capable of covering nearly 2,485 miles (4,000 km) in one flight. "We are proud to have been selected by the (Israeli Ministry of Defense), especially since it comes on the heels of the successful completion of the upgrade program of the IAF's C-130H aircraft fleet," said Yoram Shmuely, general manager of Elbit's aerospace division.
Established in 1966 and headquartered in the northern Israeli port city Haifa, Elbit is dual-listed on Nasdaq and the Tel Aviv Stock Exchange. The company and its subsidiaries operate in a variety of military-oriented and technological domains, including communications, aerospace, land and naval systems, surveillance and reconnaissance.
Earlier today a report published by The Citizen Lab, a laboratory based at the University of Toronto, linked Elbit subsidiary Cyberbit to a spyware used by the Ethiopian government to track Ethiopian dissidents.