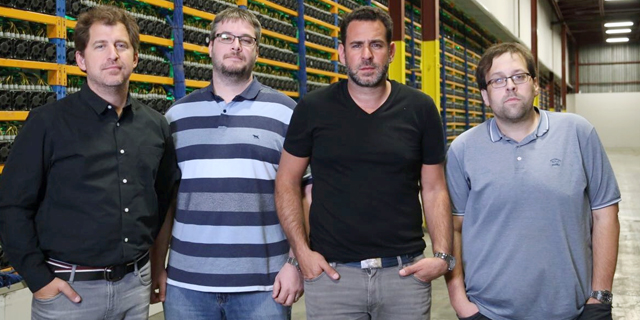 Canadian Crypto Mining Company Finds Way to Tel Aviv Stock Exchange
Backbone Hosting Solutions will be merged with Israeli shelf company Natural Resource Holdings. The latter's stock price shot up over 4000%
Orr Hirschauge, Amarelle Wenkert and Dror Reich
|
07:59 07.12.2017
Quebec-based cryptocurrency mining company Backbone Hosting Solutions Ltd. will be listed on the Tel Aviv Stock Exchange once a merger deal with a Tel Aviv shelf company closed Wednesday is finalized.
For daily updates, subscribe to our newsletter by clicking here.
Currently operating three cryptocurrency mining server farms in industrial facilities in Quebec, the company was registered in Canada in July. It only started operating in recent months, but the co-founders say its thousands of servers mined crypto-coins worth $5 million in a period of a month between October and November.
According to Mr. Grodzki, the company has 30 employees and is one of the biggest buyers of cryptocurrency mining equipment built by Chinese crypto-mining powerhouse Bitmain. It also runs a server repairs operations, with employees that were trained in China to repair Bitmain's equipment on site, saving the company the downtime involved in sending servers over to China for repairs.
After being approached by Calcalist, the company founders added the affiliation to Backbone Hosting Solutions on their LinkedIn accounts. No other employees of the company could be found on LinkedIn.
The server farms operated by the company require 27.5 megawatts, making it a considerable crypto-mining activity, with a power consumption equivalent to "35
(sports

)

arenas working with all power and lighting 24 hours a day," according to Mr. Grodzki. Operating in Quebec the company benefits from low electricity prices and weather that enables it to operate its servers without air-conditioning ten months a year, Mr. Grodzki explained. Backbone owns one of the facilities hosting its server farms and leases other facilities through companies registered by Messrs. Grodzki and Quimper under the latter's residential address in Montreal. Mr. Quimper explained in an interview with Calcalist that the companies registered, Onyx Hostings Inc. and Zen Hosting Inc., were used to keep rent prices down. "If the (owner) knows that this is a bitcoin company he'll ask for triple the price." When asked about the company's wish to go public given the current rates of bitcoin and the reported rate at which the company is mining coins, Mr. Grodzki explained the co-founders would like to grow the operation "very aggressively," and believe going public would be a good way to raise the necessary cash.

Stock exchanges worldwide have been cautious when it comes to listing cryptocurrency companies, considered too volatile and unpredictable. On September 18, Canadian cryptocurrency mining company Hive Blockchain Technologies Ltd. began trading on the Toronto Stock Exchange. Hive Blockchain is backed by Genesis Mining, one of the world's largest Bitcoin miners.

Most publicly traded cryptocurrency mining companies, such as Bitcoin Services, Inc. and MGT Capital Investments, Inc. are traded on over the counter.

Mr. Grodzki said that the Tel Aviv Stock Exchange would be "the perfect environment to launch new technologies." Mr. Grodzki further said, both he and Mr. Bonta are Jewish and frequently visit Israel where they have families.