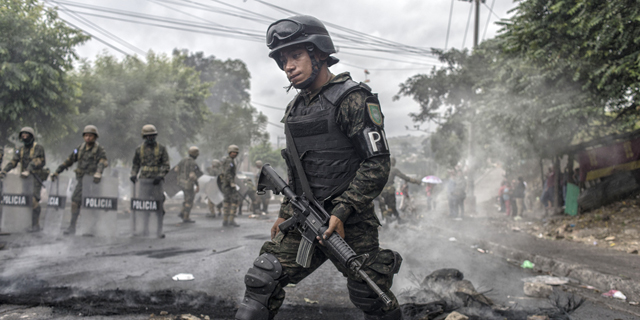 Activists Out to Change Israel's Arms Exports Policies
On Tuesday, activists interrupted a speech by Israeli Prime Minister Benjamin Netanyahu calling to stop weapon deals with Honduras
Amarelle Wenkert
|
18:04 21.12.2017
Israeli activists are protesting exports of Israeli-made arms to Honduras, citing human rights violations by Honduran security forces. Honduras has seen weeks of violent protests following a disputed election on November 26.
For daily updates, subscribe to our newsletter by clicking here.
The Associated Press first reported on the activity of the activists on Tuesday.
Earlier this month, a report by The Citizen Lab, a laboratory based at the Munk School of Global Affairs at the University of Toronto, revealed that the Ethiopian government targeted computers of advocates of the Oromo ethnic minority group with spyware provided by Israel-based defense contractor Elbit Systems Ltd.
The spyware tool, called PC Surveillance System (PSS), was developed by a subsidiary of Elbit called Cyberbit Ltd.
The Oromo group represents around 35% of Ethiopia's population, according to a 2007 census. In November 2015, a plan to expand the capital Addis Ababa into the Oromia region sparked protests, causing the government to impose a state of emergency and leading to clashes resulting in hundreds of casualties.
Cyberbit's spyware is not the first Israel-made spyware identified by Citizen Lab. Last year, Citizen Lab researchers uncovered a spyware made by Israel-based surveillance company, the NSO Group, which was used by a customer in the United Arab Emirates to target human rights activist Ahmed Mansoor. The same spyware was later found to be used to target activists, journalists and political opposition in Mexico.
Citizen Lab published a list of other potential Cyberbit clients, which includes the Royal Thai Army, Uzbekistan's National Security Service, Zambia's Financial Intelligence Centre, and at the Philippines President Rodrigo Duterte's palace.
In November, Israeli Lawmaker Tamar Zandberg criticized Israel's policies on the export of weapons and military technologies in a post to her Facebook page.
Ms. Zandberg's criticism was triggered by an Israel Police criminal investigation into UAV manufacturer Aeronautics Defense Systems Ltd. The company has allegedly carried out a live demonstration of one of its suicide drones on an Armenian army post, at the request of its client, the Azerbaijani army. In August, the Israeli Defense Ministry began investigating the allegations, which Aeronautics denied. An Israeli court has issued a sweeping gag order on all details about the investigation, which has been underway since September. In her post, Ms. Zandberg wrote that she had appealed to the Israeli Minister of Defense Avigdor Lieberman, requesting that he cancels Aeronautics' license to export drones to Azerbaijan, where, she said, they could be used to fuel the ongoing conflict between Azerbaijan and neighboring Armenia, violating the fragile ceasefire agreement between the two countries.