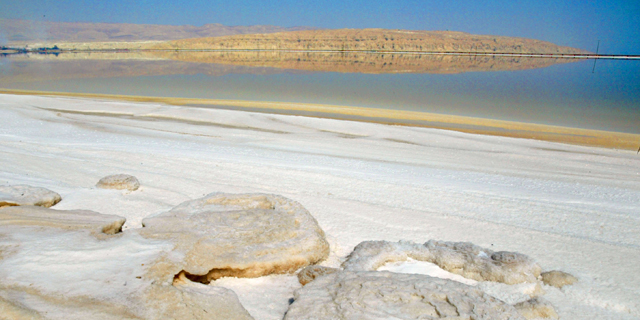 Dead Sea Receding by 3 Feet a Year, Report Says
As the beleaguered body of water dries up, the environmental and economic consequences are dire
Lior Gutman and Tofi Stoler
|
18:49 14.02.2018
The Dead Sea is receding at a rate of 1.2 meters (3.3 feet) each year, Israel's Ministry of Environmental Protection said in a report published Monday. The report is based on 10 years of research and data on the environment in Israel, gathered between 2004-2014.
For daily updates, subscribe to our newsletter by clicking here.
With a coastline shared by Jordan, Israel and the Palestinian territories, the Dead Sea is known as a tourist destination for its breathtaking landscapes, the natural mineral content in its water, which is used for medicinal and cosmetic purposes and for being the lowest point on earth, at 430.5 meters (1,477 miles) below sea level.
Recent years have also seen an increase in the formation of sinkholes near the Dead Sea area, causing the collapse of roads, structure and the land itself. According to a 2017 article in the Journal of Geophysical Research, more than 6,000 sinkholes have formed in the area over the past 25 years.