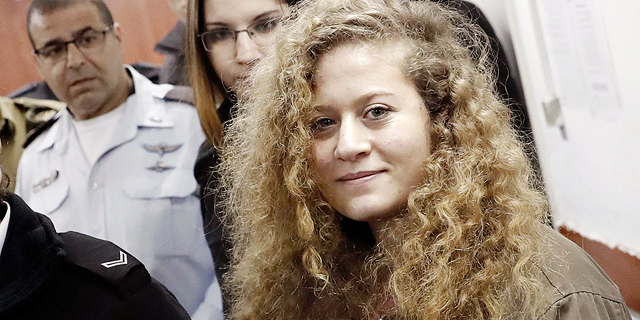 Israeli Lawmaker's Twitter Account Suspended After Tweet Saying Palestinian Girl in Custody Should Have Been Shot
Twitter suspended the account of right-wing Israeli lawmaker Bezalel Smotrich after he published a tweet saying a Palestinian 17-year old placed in custody for slapping and kicking Israeli soldiers should have been shot, "at least in her kneecap"
Omer Kabir and Tofi Stoler
: 2018-04-24T13:19:37..
Bezalel Smotrich, an Israeli parliament member from the Israeli right wing Jewish Home party was suspended from Twitter for 12 hours on Monday night after tweeting that Palestinian teenage girl Ahed Tamimi, which is currently in custody in an Israeli prison, should have been shot. Eytan Fuld, a spokesman for Mr. Smotrich, confirmed the details on Monday.
For daily updates, subscribe to our newsletter by clicking here.
The tweet was posted on Sunday as a reply to former Jewish Home member of parliament Yinon Magal, who tweeted a video of Ms. Tamimi confronting Israeli soldiers in a past protest, stating he was happy she was still in custody. Mr. Smotrich replied tweeting he was actually sad to see her in jail. "In my opinion, she should have been shot, at least in her kneecap," he said adding that "this would have put her under house arrest for life."