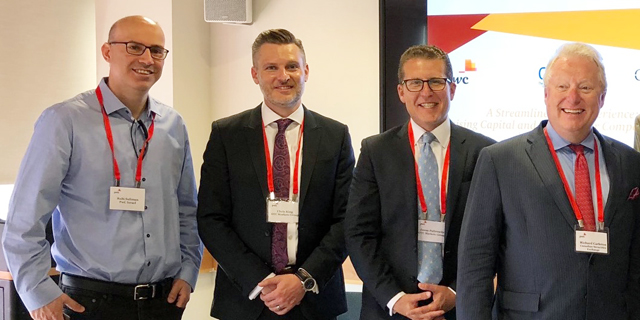 The Canadian Securities Exchange, OTC Markets Group Court Israeli Cannabis, Blockchain Startups
66 out of 371 companies currently listed on the Canadian Securities Exchange have cannabis-related businesses
Lilach Baumer
|
11:04 11.05.2018
The Canadian Securities Exchange (CSE), an alternative stock exchange in Canada, has partnered with New York-headquartered the OTC (over-the-counter) Markets Group to offer early-stage companies a new initial public offering program in North America, and they are setting their cap at Israeli startups.
For daily updates, subscribe to our newsletter by clicking here.
Last week, CSE CEO Richard Carleton and OTC Markets Group executive vice president Jason Paltrowitz visited Israel to meet with leaders in the local business and tech scene. While over 60 Israeli companies are traded in the U.S. through OTC Markets Group—including Israel's largest telecom Bezeq, Bank Hapoalim, Elbit Vision Systems Ltd. and Elron Electronic Systems Ltd.—this is the first time the CSE has reached out to Israeli companies.
Both the CSE and the OTC Market offer companies the ability to sell their securities without the significant expenses related to a major exchange. The new partnership gives interested companies the ability to target both Canada and the U.S. and offer their securities both ways, Mr. Paltrowitz explained in a phone interview with Calcalist last Wednesday.
The CSE was formed in 2003 to provide a less expensive, less bureaucratically heavy-handed alternative to existing stock exchange markets, who may not always fit small companies looking to raise capital publicly, Mr. Carleton said.
In recent years, the CSE attracted technology companies in areas including fintech and cybersecurity, and a surprisingly high number of cannabis-related companies—66 out of 371 companies currently listed on the exchange, according to Mr. Carleton. "We've been very supportive of that industry," he said, "and it's been one of the real success areas of the exchange."
In Israel, Cannabis-related issuers have been gaining steam on the Tel Aviv Stock Exchange in recent months, with four listed companies pivoting to medical marijuana focus on the heels of regulatory changes in the country that could see it become a major exporter.
"Without going into specifics, we've certainly been speaking with several players of the cannabis world in Israel," Mr. Carleton said.
The CSE also launched a blockchain-based clearing house in February, through which blockchain-based assets could be sold as tokens. 24 related companies have already listed since the launch, Mr. Carleton said, and the first tokens are expected to be offered in early 2019.
"I believe that the tokenization of securities is inevitable," he said. "As a young exchange, as an entrepreneurial exchange, we actually have the opportunity to embrace the technology to provide listing, clearing and settlement services for tokens."
In Israel, blockchain-related companies rocketed in recent months on the Tel Aviv exchange. Investors' hype and the speculative nature of at least some of the ventures led to increased scrutiny and a regulatory cold shoulder. Currently, only one company with cryptocurrency as its core business is listed on the exchange, following a merger with a Quebec-based bitcoin mining operation.
"Yes there are more risks in these companies than perhaps more established companies, but the returns involved from investing in companies that do succeed and grow can be extremely attractive for investors," Mr. Carleton said. However, he specified, the exchange will not list cryptocurrencies as a commodity, only the securities of corporations.
"Sunlight is the best disinfectant," Mr. Paltrowitz said. "The public markets are the best place for these types of issues to be out in the light, and for the market to be able to dictate, through the disclosure of the company and its performance, what the valuations are."
No Israeli companies are currently traded on the CSE, but following last week's meetings several companies have started the process, Mr. Carleton said, adding he expects to see the companies listed within four to six months.