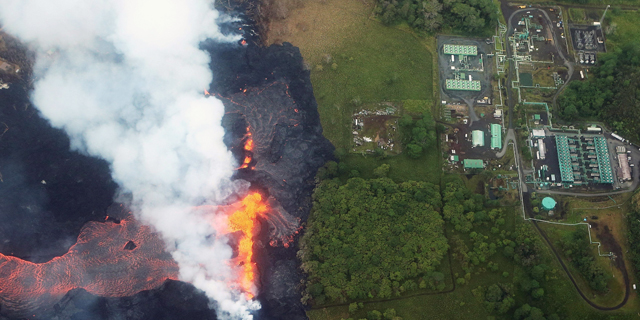 Lava Impact on Hawaii's Puna Power Plant Imminent
The plant, owned by NYSE-listed geothermal energy producer Ormat, supplies 25% of the Hawaiian island's electricity
Tofi Stoler
|
16:31 23.05.2018
Lava from Hawaii's Kilauea volcano is nearing the island's Puna geothermal power plant, after eruptions intensified in the past 24 hours. The 38-megawatt plant supplies 25% of the island's electricity. The natural disaster has caused extensive damages to properties and open spaces throughout the island, forcing circa 2,000 inhabitants to evacuate, so far. On Saturday, one man was injured by volcanic debris, which struck his leg as he was on a third-story balcony.
For daily updates, subscribe to our newsletter by clicking here.
In a civil defense message released Tuesday, the Hawaii County Civil Defense Agency confirmed lava is slowly flowing into the plant's property.