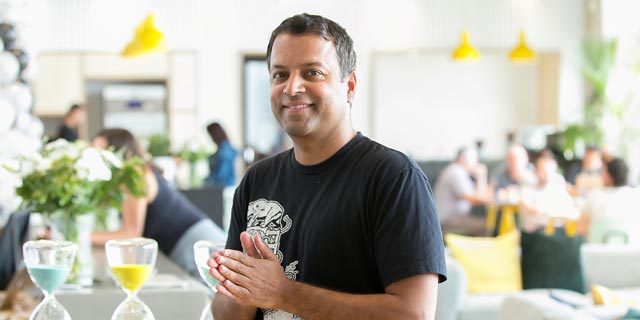 Interview
WeWork's Shiva Rajaraman on Using User Data to Optimize Buildings
The company's Chief Product Officer wants to use data coming from sensors placed on desks and in common spaces to make communities more cohesive
Meir Orbach
|
17:22 27.05.2018
Last summer, Shiva Rajaraman left a coveted position at Apple after only six months to join the real estate company WeWork as its chief product officer. Asked about his team's core activity, Mr. Rajaraman says it centers around data—how to gather it, how to analyze it, and what to do with the knowledge derived from it. The company started putting sensors on desks and in common spaces to understand how they are being used by people so it can optimize its locations "on an ongoing basis," Mr. Rajaraman said in a May interview with Calcalist.
For daily updates, subscribe to our newsletter by clicking here.
Mr. Rajaraman now leads the company's global technology team of around 400 people, some 100 of whom are based in Israel.
WeWork can do a lot with the data that flows through its many coworking spaces, he said. According to recent documents, WeWork currently operates 234 locations in 22 countries.
To emphasize how challenging it is to construct a user's journey in actual architecture, Mr. Rajaraman reverts to his past experience. In 2014 he joined Spotify as a vice president of product after leading product management at YouTube. When you take a look at a website you can trace every click, Mr. Rajaraman said. "But when you look at a room, you don't know how people are using rooms, desks, common spaces," he said.
"We offer spaces and services for different people, and we need to understand how people utilize the space. There are a lot of interesting analytics," Mr. Rajaraman said.
WeWork, which was founded in 2010, takes out long-term leases on office properties, redesigns them as trendy coworking spaces and parcels them out to startups as short-term rentals.
Earlier this month, Bloomberg reported that Danish star architect Bjarke Ingels, founding partner of Bjarke Ingels Group A/S, has joined WeWork as chief architect. Mr. Ingels has already collaborated with WeWork on its education venture, dubbed WeGrow. He is also involved in the construction of WeWork's new headquarters on New York City's Fifth Avenue.
Beyond answering to members' needs and improving their day-to-day, Mr. Rajaraman says WeWork could use the large amounts of data it collects to make forecasts, and help companies get more productive over time.
According to Mr. Rajaraman, the question on his team's mind is how to pull people together and make communities more cohesive. "The more we can bring these connections together, that's a very powerful network we can build," he said.
WeWork recently rolled out a recommendation add-on to its membership app. "You can start telling WeWork about your goals and needs, and our community managers can start programming events for these needs and help members connect with other members," Mr. Rajaraman said.
Bond documents submitted ahead of WeWork's first bond offering in late April—in which it sold $700 million worth of bonds—revealed information about the private company's financial performance. The company reported revenue of $886 million and a cash flow of $244 million for 2017, investing $1.5 billion that year to fund global expansion. The bond filing showed that WeWork will owe $5 billion in payments on its many leases through 2022 and another $13 billion for 2023 and onward. WeWork is backed by a $4.4 billion investment from SoftBank Group Corp.'s Vision Fund.
The next horizon for WeWork, Mr. Rajarman said, is the urban space.
"The spaces people work in are just a key element of what a city fabric looks like," he said.
"When I look to the future I'm very excited about our ability to do things beyond the workspace, and ensure we can start to be much more involved in how a community works and operates together, bringing our services to cities at scale," he said.
"It is really exciting when you look at the very large cities emerging in the world, whether in Asia or Latin America, we are turning a lot of our attention to those areas."