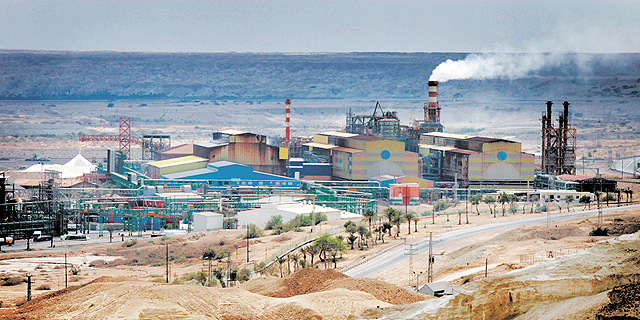 Israeli Lawmakers Want to Tie Dead Sea Mining Rights to its Rehabilitation
Minerals extracted from the Dead Sea net Israel hundreds of millions of shekels a year, but the body of water is receding at an annual rate of 1.2 meters (3.3 feet), causing multiple sinkholes in the area and collapsing buildings and roads
Omri Milman
|
17:06 06.06.2018
The Israeli parliament's finance committee wants to tie the Dead Sea's mining rights, currently licensed to Israel Chemicals Ltd. (ICL) until 2030, to its rehabilitation, according to a Wednesday committee meeting.
For daily updates, subscribe to our newsletter by clicking here.
A February report by the Israeli Ministry of Environmental Protection said that based on data gathered between 2004 and 2014, the dead sea is receding at an annual rate of 1.2 meters (3.3 feet). The shrinkage has resulted in thousands of sinkholes in the area, causing the collapse of the ground and with it roads and buildings.
Mr. Gafni stated that he is of the opinion that the expiration date should be moved up from 2030, and a negotiation with ICL attempted beforehand. "It will cost money, we may end up demanding things they did not do, but we can't have a situation where we wait, reach the deadline, and everything goes wrong. The damages will be much greater." He added that legal ways should be considered to make sure ICL cannot block the tender.
The meeting concluded with a resolution for the committee's special team, headed by Mr. Rosenthal, to publish a position paper with recommendations for both the tender and the rehabilitation, with a specific timetable for all relevant goals.